EXCLUSIVE
View Terms & Conditions

View Terms & Conditions

The £10 Clarks digital gift card giveaway ("Promotion") is subject to the following terms and conditions. By entering the Promotion entrants will be deemed to have read and accepted these terms and conditions.
The Promotion is organised and operated by Future Publishing Limited trading as My Voucher Codes incorporated in England and Wales under company number 02008885, whose registered office is Quay House, The Ambury, Bath, BA1 1UA ("Promoter").
The Promotion is open to all UK residents aged 18 years or over except employees of the Promoter, their families, agents and anyone else connected with the administration of the Promotion.
The Promotion will run from 13 Apr 2022 23:00 until 30 Sep 2022 22:59 ("Promotion Period").
All entrants who during the Promotion Period: (i) subscribe to receive the Promoter's electronic marketing; and (ii) Great Little Trading Company / GLTC confirms have spent £150 or more (excluding VAT, all gift card purchases and top-ups and delivery or collection charges) at Great Little Trading Company / GLTC (the "Qualifying Purchase(s)") via the link provided on www.myvouchercodes.co.uk ("Promoter's Website") shall be eligible to receive a free £10 Clarks ("Gift Card(s)").
You will not be entitled to a Gift Card if you click on any other links or visit any other websites before making your purchase at Great Little Trading Company / GLTC or if you make use of any other offer or promotion in connection with your purchase which is provided by the Promoter or Great Little Trading Company / GLTC (including any discounts, codes, savings, credit and/or points).
Only one (1) entry per entrant during the Promotion Period shall be accepted.
Gift Cards redeemed against Great Little Trading Company / GLTC purchases will be available up to 90 working days following the date of the qualifying purchase.
Gift Cards may be downloaded via the "member section" of the Promoter's Website. Entrants should note that Gift Cards may expire after a certain date and their use may be subject to the retailer's own terms and conditions.
No entries from agents, third parties, organised groups or applications automatically generated by computers will be accepted. No incomplete or corrupted entries will be accepted. Any entries not made during the Promotion Period or otherwise in accordance with the entry instructions and these terms and conditions will be rejected.
The Promoter reserves the right to substitute, in its sole discretion, the Gift Card with an alternative award of equal or greater value.
The Promoter reserves the right to cancel the Gift Card in the event of: (i) the Qualifying Purchase being cancelled by {merchant name}; or (ii) the entrant cancelling, returning or part-exchanging the Qualifying Purchase.
The Promoter reserves the right to ask for satisfactory proof of identity, age and/or address as a condition of awarding the Gift Card.
The Promoter reserves the right to postpone, void, cancel, suspend, or amend the Promotion where it becomes necessary to do so. Any changes to the Promotion or these terms and conditions will be posted on the Promoter's Website at www.myvouchercodes.co.uk.
Personal data submitted by entrants in connection with the Promotion will be processed by the Promoter in accordance with the Promoter's privacy policy, which is available at www.myvouchercodes.co.uk/privacy.
To the maximum extent permitted by law, the Promoter, its agents and/or distributors will not in any circumstances be responsible or liable to compensate entrants or accept any liability for any loss, damage, personal injury or death occurring as a result of use of the Gift Card except where caused by the negligence of the Promoter, its agents, distributors and/or that of their employees. Your statutory rights are not affected.
The Promotion and these terms and conditions are governed by the laws of England and Wales and are subject to the exclusive jurisdiction of the English and Welsh courts.
EXCLUSIVE
View Terms & Conditions

View Terms & Conditions

The £5 Clarks digital gift card giveaway ("Promotion") is subject to the following terms and conditions. By entering the Promotion entrants will be deemed to have read and accepted these terms and conditions.
The Promotion is organised and operated by Future Publishing Limited trading as My Voucher Codes incorporated in England and Wales under company number 02008885, whose registered office is Quay House, The Ambury, Bath, BA1 1UA ("Promoter").
The Promotion is open to all UK residents aged 18 years or over except employees of the Promoter, their families, agents and anyone else connected with the administration of the Promotion.
The Promotion will run from 13 Apr 2022 23:00 until 30 Sep 2022 22:59 ("Promotion Period").
All entrants who during the Promotion Period: (i) subscribe to receive the Promoter's electronic marketing; and (ii) Great Little Trading Company / GLTC confirms have spent £100 or more (excluding VAT, all gift card purchases and top-ups and delivery or collection charges) at Great Little Trading Company / GLTC (the "Qualifying Purchase(s)") via the link provided on www.myvouchercodes.co.uk ("Promoter's Website") shall be eligible to receive a free £5 Clarks ("Gift Card(s)").
You will not be entitled to a Gift Card if you click on any other links or visit any other websites before making your purchase at Great Little Trading Company / GLTC or if you make use of any other offer or promotion in connection with your purchase which is provided by the Promoter or Great Little Trading Company / GLTC (including any discounts, codes, savings, credit and/or points).
Only one (1) entry per entrant during the Promotion Period shall be accepted.
Gift Cards redeemed against Great Little Trading Company / GLTC purchases will be available up to 90 working days following the date of the qualifying purchase.
Gift Cards may be downloaded via the "member section" of the Promoter's Website. Entrants should note that Gift Cards may expire after a certain date and their use may be subject to the retailer's own terms and conditions.
No entries from agents, third parties, organised groups or applications automatically generated by computers will be accepted. No incomplete or corrupted entries will be accepted. Any entries not made during the Promotion Period or otherwise in accordance with the entry instructions and these terms and conditions will be rejected.
The Promoter reserves the right to substitute, in its sole discretion, the Gift Card with an alternative award of equal or greater value.
The Promoter reserves the right to cancel the Gift Card in the event of: (i) the Qualifying Purchase being cancelled by {merchant name}; or (ii) the entrant cancelling, returning or part-exchanging the Qualifying Purchase.
The Promoter reserves the right to ask for satisfactory proof of identity, age and/or address as a condition of awarding the Gift Card.
The Promoter reserves the right to postpone, void, cancel, suspend, or amend the Promotion where it becomes necessary to do so. Any changes to the Promotion or these terms and conditions will be posted on the Promoter's Website at www.myvouchercodes.co.uk.
Personal data submitted by entrants in connection with the Promotion will be processed by the Promoter in accordance with the Promoter's privacy policy, which is available at www.myvouchercodes.co.uk/privacy.
To the maximum extent permitted by law, the Promoter, its agents and/or distributors will not in any circumstances be responsible or liable to compensate entrants or accept any liability for any loss, damage, personal injury or death occurring as a result of use of the Gift Card except where caused by the negligence of the Promoter, its agents, distributors and/or that of their employees. Your statutory rights are not affected.
The Promotion and these terms and conditions are governed by the laws of England and Wales and are subject to the exclusive jurisdiction of the English and Welsh courts.
Offers for Great Little Trading Company / GLTC were last updated Thursday 30 June 2022 13:12
Great Little Trading Company / GLTC Codes That You've Missed
FAQs
Can I get a GLTC discount code?
There are codes available from time to time, all of which will be listed on MyVoucherCodes, along with exclusive discount codes and other deals and offers.
What delivery options are available at Great Little Trading Company?
There's the standard delivery, this will take up to 3 days to arrive. For convenience, they also offer next-day and named-day delivery options, with both morning and evening options when naming your day.
How long do I have to return my order?
You'll have 30 days to return the order, they item must be complete, unused, unwashed, unassembled and in a saleable condition. You must also include the receipt.
Full details of the GLTC returns policy are on their website
.
What payment methods are available?
GLTC accept payments made by Visa, MasterCard, Delta, American Express and PayPal. Interest-free finance and buy now pay later options are available with Klarna.
Using Your Great Little Trading Company Discount Code
With these simple instructions, you can use a GLTC voucher code to save money toys, kids storage, kids furniture and more.


Click to show your favourite discount code on the MyVoucherCodes GLTC page. A new window will pop up that reveals the code, which you can copy and use for great savings later.


MyVoucherCodes will send you to the GLTC website where you can browse their extensive collection. It's easy, just open the previous window.


Shop for your favourite products at GLTC, and add items to your shopping basket.


Click on the checkout button in the top right-hand corner of the website.


Double-check that your GLTC discount code is valid for your products so you can get great savings.


Enter your GLTC voucher code into the 'Gift card or discount code' box to the right of your order details and click apply.


Once your order total has changed, you can check out and enjoy your discounted GLTC products.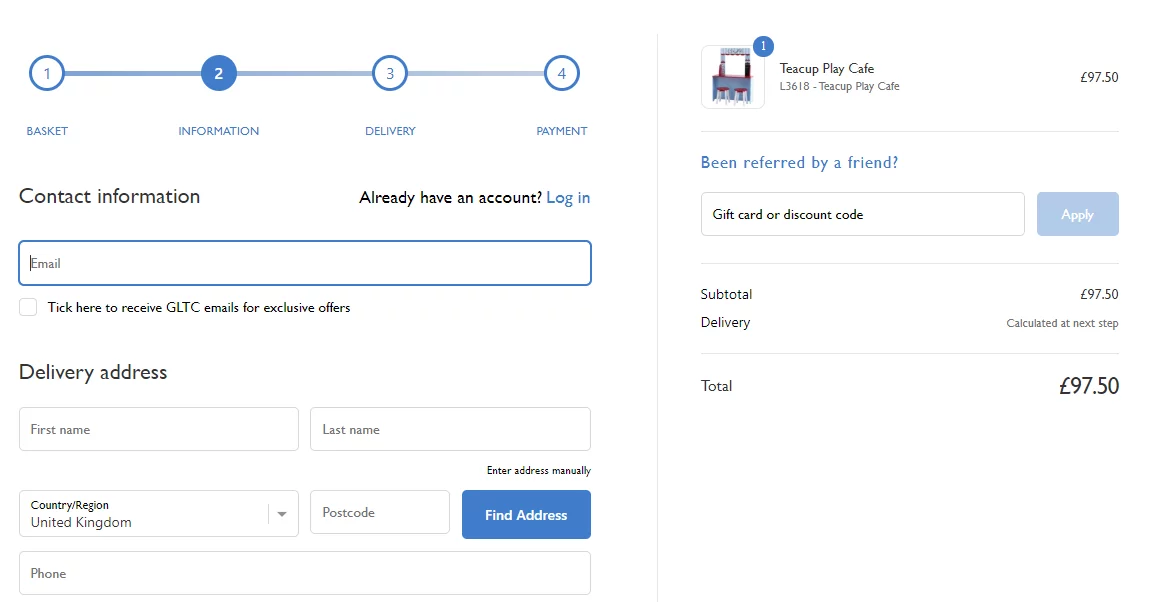 Getting The Best GLTC Deals
Here are a few hints and tips from our experts, so you can enjoy even more savings at GLTC.


Be the first to know about exclusive GLTC offers by subscribing to their newsletter. They'll let you know about special news and offers so you'll never miss a bargain. You'll also get £5 off your next order and £5 worth of points for every 6 months you're subscribed.


Make the most of GLTC's 30 Night Comfort Guarantee. If you don't feel satisfied with your mattress purchase, you can return it free of charge within 30 days of it being delivered.


You can save money if you refer a friend to the GLTC. Their Mention Me programme allows you to get £20 off your next order! Plus, anyone you introduce to them will get £20 off their first order too.


Check out GLTC on social media. They'll share all their latest deals, fab competitions, and keep you feeling inspired on platforms like Facebook and Instagram.


You can also discover the looks you love and shop their shop their Instagram. They give away great prizes in their monthly competition, so tag your photos with #mygltc for the chance to win.


Make sure to sign up for the GLTC Rewards scheme. By doing so you'll earn points and exclusive rewards every time you shop.
Seasonal GLTC Offers
Want to grab a pre-Christmas bargain? Then make sure you check out the GLTC Black Friday sales. GLTC Black Friday traditionally falls on the fourth Friday in November; the day after Thanksgiving. Last year they offered 25% off a range of children's toy storage, bedroom furniture, kid's beds and more. Make sure you don't miss it this year by subscribing to their newsletter.
Space Saving Storage
For such little people, children do take up a lot of space and with toys, clothes and essentials for every occasion, you quickly find yourself overrun with stuff. So whether you're looking for somewhere to stash away those toys, organise those clothes or put away those books GLTC will have exactly what you need. Not only will you be saving on space, but you'll also be able to save a bit of money too.
If you're looking for something modular that you can add to as they grow older and accumulate more to tidy, check out the range of stackable storage. By going for a more modular approach you can tailor your storage solution exactly to your needs and your space. By buying exactly what you need you'll also save by not having to purchase large expensive storage that you don't need.
As kids get older and they learn to read and write they'll quickly collect a lot of books to help them on their reading adventures. So whether it's the fun Large Townhouse Bookcase or the minimalist Greenaway Bookcase in Oatmeal you'll find the perfect space-saving storage solution for you.
GLTC's range of playroom storage will give you all the strength and looks of built-in furniture without the cost. Sturdy enough for all the extra weight and little bumps and accidents you'll find them lasting for years to come. If you're after something just for the horde of toys then the Barbican storage range makes a great value solution.
So check out the latest Great Little Trading Company Discount Codes and deals and save on space and your hard-earned cash.