Holiday Extras Hints & Tips
Get all those little additions sorted with Holiday Extras, and you can make sure your getaway goes off without a hitch for less with these fantastic hints and tips:
Book well in advance to find yourself some absolute bargains on the extras, it could save you a small fortune on your getaway.
Sign up to the newsletter to get all the biggest and best Holiday Extras offers, sent straight to your inbox. All you need to do is pop in your email address to start saving.
Make use of the search bar so you can find and compare the best Holiday Extras deals for your trip.
FAQs
How Can I Get A Holiday Extras Discount Code?
The best way to grab a Holiday Extras code is to check in with MyVoucherCodes before you book your airport parking. The team is constantly updating their page with the best parking deals available. You'll even find exclusive savings that you won't find anywhere else.
Can I Cancel My Holiday Extras Airport Parking Booking?
Yes, it's quick and easy to cancel a booking. Simply log into the website and click 'Cancel' on the booking you wish to terminate. They will send you a confirmation email to let you know everything has gone through. You can get a cancellation invoice for insurance purposes if required.
Can I Amend/Cancel Non-Refundable Products?
Unfortunately, non-flexible bookings cannot be changed, cancelled, or refunded once they are booked. You can only adjust personal details. Only book these products if you are sure of travel. Cancellation invoices for insurance claims will show no refund has been made.
What Is A Late Return Cover?
Late return cover protects you from potential extra charges if your flight is delayed. If your provider does add extra payments to your booking because of late arrival, these fees will be refunded. You'll need to hang on to any receipts and flight documentation in case you need to claim.
Seasonal Holiday Extras Deals
Holiday Extras has many discount codes available throughout the year, varying from month to month.
During the festive period, Holiday Extras holds a Christmas competition with the opportunity to win the 'Better Start' package including an airport hotel, airport parking and airport lounge for your next trip.
You can also get the very best out of winter breaks to destinations such as Amsterdam, Iceland and Dublin using Holiday Extras.
Using A Holiday Extras Discount Code
Follow our simple instructions for using promo codes to get a discount the next time you shop with Holiday Extras.
Click to show the voucher code on the MyVoucherCodes Holiday Extras page. You will see a separate window which tells you that a new tab has been opened and your discount code has been applied automatically.
MyVoucherCodes will automatically take you to the Holiday Extras website in a new tab.
Enter the airport you are flying from, as well as the time and date you would like to park and collect your car into the Holiday Extras website.
You will then be offered different parking options such as park and ride and meet and greet. Here you can select your preferred parking option.
Holiday Extras will then offer you a range of parking packages. Simply choose the most useful package for you by clicking 'book now'.
A new page will show options of more money-saving extras. You can choose to add these, or simply click 'continue to payment' on the right-hand side of the screen.
The last step is to easily enter your payment information and enjoy your Holiday Extras savings!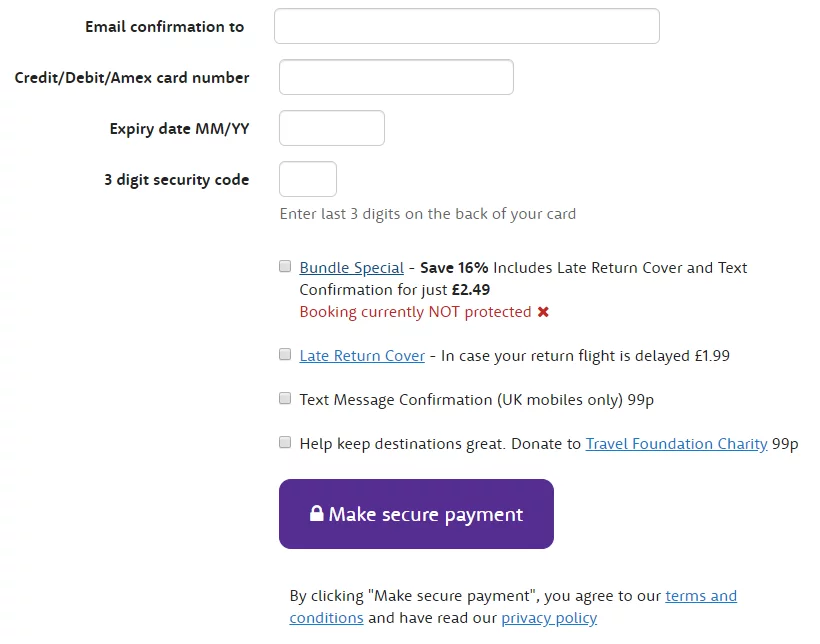 Holidays Extra Airport Parking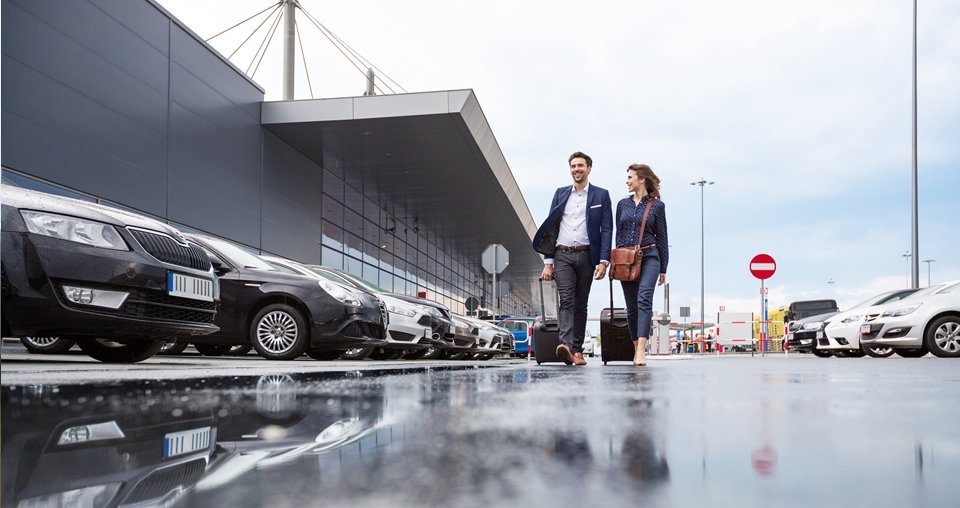 One of the fantastic features about booking holidays and travel experiences though Holidays Extras this season is their amazing airport parking features & services. You can now save up to an incredible 70% off airport parking when you book online with Holiday Extras!
With spacious airport parking in popular locations such as Manchester, Birmingham, Stanstead, Luton, Glasgow & Cardiff just to name a few - we recommend that you pre-book your airport parking arrangements before your holiday so that you can save lots of money on your holiday and travel. Check out a huge range of online airport parking customer reviews, which have been given an amazing average score of 9/10!
When it comes to airport parking types, Holiday Extras currently offers 3 main types of parking availabilities: Park & Ride parking, Meet & Greet parking and On-airport parking. Airport parking prices start from an incredible £22.09 per week (which is equivalent to only £2.76 a day). And what's more, should you want to cancel the airport parking you can - absolutely free of charge.
Holidays Extras Discount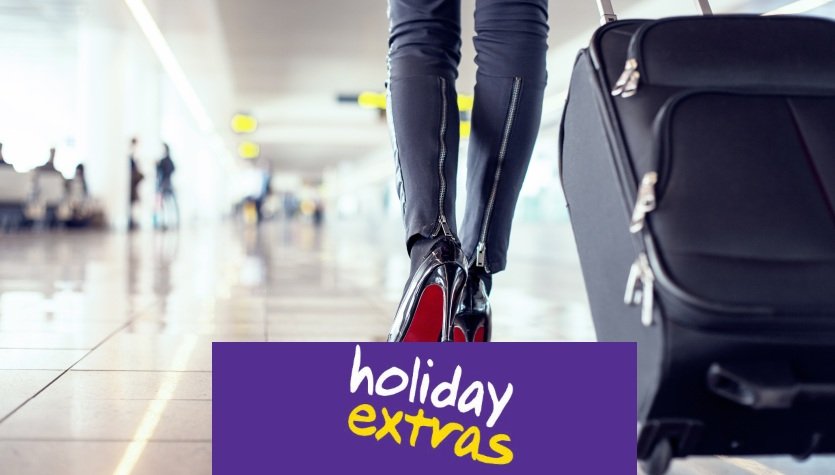 When it comes to booking the holiday of your dreams and travel, nothing makes it better than bagging yourself a holiday discount and offer that you can't resist this season. And what's more, when you browse online at Holiday Extras, you'll discover a huge range of discount codes & offerings on the latest travel destinations and holiday experiences of the moment.
Shop and browse for a variety of Holiday Extra discount deals and codes online. With amazing offers on deals on convenient and safe airport parking, comfortable & relaxing airport hotels and much more - shopping online now for Holiday Extras discount deals has never been so good.
Holidays Extras Insurance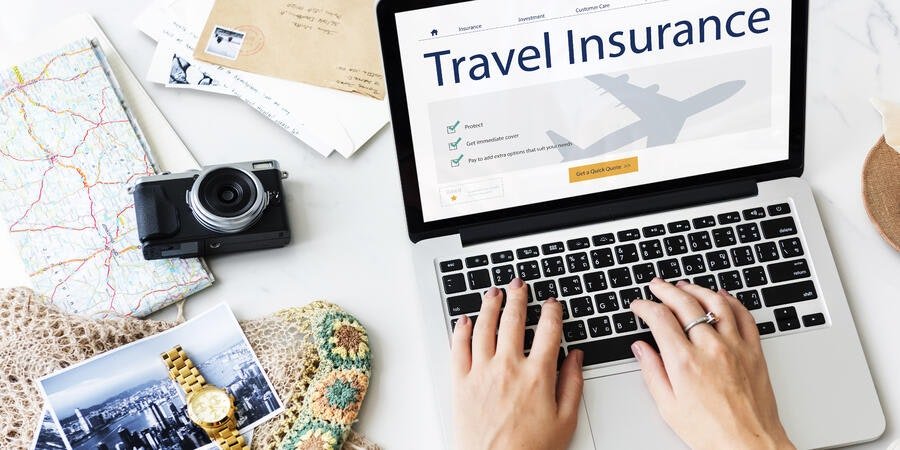 Travel Insurance is so important when going away, even more so now during a global pandemic. The good news is that Holiday Extras has a fantastic insurance policy range which gives all travellers a peace of mind and much-needed reassurance before (and during) a trip.
Holiday Extras travel insurance or holiday insurance is a form of precaution and is essentially a purchase of security and protection for yourself. When going on holiday and travelling, you spend money on everything from transport through to accommodation and luggage - not forgetting to mention things like potential health and medical care too. Holiday Extras makes purchasing insurance super-easy and completely hassle-free.
With Holiday Extras insurance, you can rest assured that should anything go wrong before or during your vacation, you're covered against unforeseen incidents that could potentially impact your trip negatively. They offer varying types of fantastic insurance policies from a single trip policy to annual travel insurance and even cruise insurance too for those booking a sailing trip away.