Holiday Extras Hints & Tips
Get all those little additions sorted with Holiday Extras, and you can make sure your getaway goes off without a hitch for less with these handy hints and tips:
Book well in advance to find yourself some absolute bargains on the extras, it could save you a small fortune on your getaway.
Make use of the search bar so you can find and compare the best Holiday Extras deals for your trip.
Sign up to the newsletter to get all the biggest and best Holiday Extras offers, sent straight to your inbox. All you need to do is pop in your email address to start saving.
FAQs
How can I get a Holiday Extras discount code?
The best way to grab a Holiday Extras code is to check in with MyVoucherCodes before you book your airport parking. The team is constantly updating their page with the best parking deals available. You'll even find exclusive savings that you won't find anywhere else.
Can I cancel my Holiday Extras airport parking booking?
Yes, it's quick and easy to cancel a booking. Simply log into the website and click 'Cancel' on the booking you wish to terminate. They will send you a confirmation email to let you know everything has gone through. You can get a cancellation invoice for insurance purposes if required.
Can I amend/cancel non-refundable products?
Unfortunately, non-flexible bookings cannot be changed, cancelled, or refunded once they are booked. You can only adjust personal details. Only book these products if you are sure of travel. Cancellation invoices for insurance claims will show no refund has been made.
What is late return cover?
Late return cover protects you from potential extra charges if your flight is delayed. If your provider does add extra payments to you booking because of late arrival, these fees will be refunded. You'll need to hang on to any receipts and flight documentation in case you need to claim.
How do I use my Holiday Extras discount code?
Follow our simple instructions for using promo codes to get a discount the next time you shop with Holiday Extras.
Click to show the voucher code on the MyVoucherCodes Holiday Extras page. You will see a separate window which tells you that a new tab has been opened and your discount code has been applied automatically.
MyVoucherCodes will automatically take you to the Holiday Extras website in a new tab.
Enter the airport you are flying from, as well as the time and date you would like to park and collect you car into the Holiday Extras website.
You will then be offered different parking options such as park and ride and meet and greet. Here you can select your preferred parking option.
Holiday Extras will then offer you a range of parking packages. Simply choose the most useful package for you by clicking 'book now'.
A new page will show options of more money-saving extras. You can choose to add these, or simply click 'continue to payment' on the right hand side of the screen.
The last step is to easily enter your payment information and enjoy your Holiday Extras savings!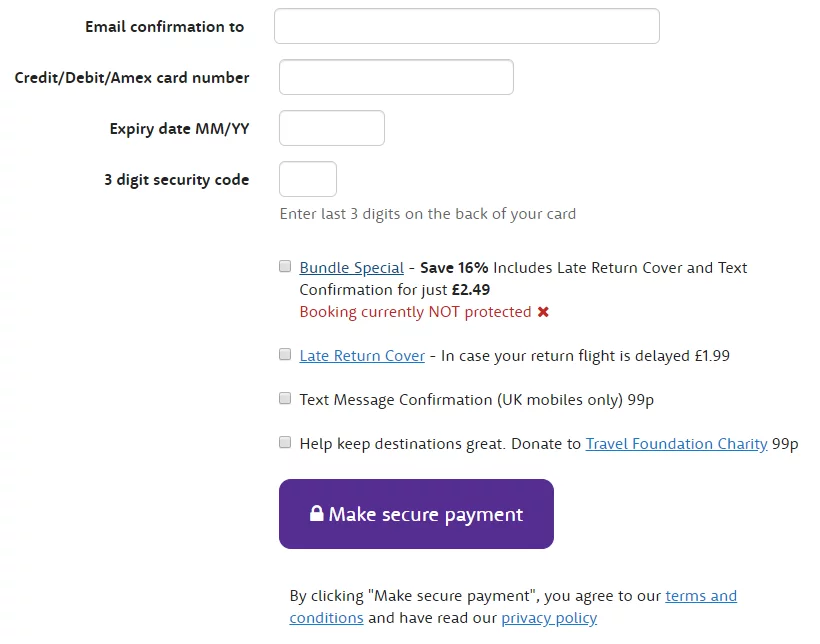 What seasonal deals does Holiday Extras offer?
Holiday Extras has many discount codes available throughout the year, varying from month to month.
During the festive period, Holiday Extras holds a Christmas competition with the opportunity to win the 'Better Start' package including an airport hotel, airport parking and airport lounge for your next trip.
You can also get the very best out of winter breaks to destinations such as Amsterdam, Iceland and Dublin using Holiday Extras.
Find the parking for you, no matter where you're flying from.
Find the parking for you, no matter where you're flying from.
Heading on holiday should be a stress-free time, but with extras getting more and more complicated, it's a bit overwhelming. There are different kinds of parking at different airports and they all come at different prices.
So, we've put a list together of the different kinds of parking available at the different airports, so you can head on holiday, without worrying about the little details.
Gatwick
For
an economical option
, it's worth checking out the park and ride services. Simply park and catch a bus to the terminal. With frequent buses you won't have long to wait, and it's affordable.
For a more premium service, the meet and greet option is for you, with friendly staff members who will grab the keys and park your car for you, so you can focus on catching that flight.

An early flight or a long journey can seem a little daunting. But with options for hotel stays you can start your holiday a day early.
Heathrow
There's plenty of options for
budget-conscious holiday-makers
, with the park and ride option, you can just park up and get on one of the frequent buses. For those who don't mind a walk, there's the park and stroll option. With spaces within walking distance of the terminal, there's no fuss.
Heathrow's also got options for meet and greet parking if you fancy something a little more leisurely. Throw in the hotel and taxi options and there's plenty to choose from.
Manchester
Manchester airport
is convenient for anyone travelling from the North of England. With similar options like meet and greet parking, park and ride and park and stroll, you've got options for every budget. For those who don't want to jump on a plane after the drive up, head to a hotel for some pre-holiday relaxation.
Stansted
No matter your budget, you've got
plenty of choice at Stansted airport
. With long stay, mid stay and short stay options, you can pick the one that matches your budget and you think is the most convenient.
With short stay options to match your budget, you can choose the one that's right for you. With short stay economy, you can save a few quid. With short stay premium you can save yourself the walk, with car parks right near the terminal.
You not only have the meet and greet option, but there's the option of meet and greet plus. A more premium service that includes fast track passes and a driver that will pick up your car from the terminal.
Birmingham
A convenient airport to fly from for people in
the Midlands
, with the regular offerings, like park and ride, park and stroll, meet and greet, and the option of booking a hotel room, there's an option for everyone.
Edinburgh
With some low-cost options,
Edinburgh has got brilliant parking
for any budget. It's worth checking out the special offers available to really make the most out of your money this holiday season.
With extra wide spaces, meet and greet options, valet's that come with a no-wait guarantee, you can't go wrong.
Wherever you're flying from, it's worth checking out MyVoucherCodes. With all the latest offers and deals, you can grab a great saving on your next getaway.