View Terms & Conditions

View Terms & Conditions

This offer is not cumulable with other offers.
View Terms & Conditions

View Terms & Conditions

Terms
Offers for Ray Ban were last updated Tuesday 19 October 2021 10:37
Ray Ban Codes That You've Missed
Most Popular Ray Ban Code & Discount
FAQs
Is there a Ray Ban sale?
They do offer sales, but a lot of their discounts tend to be specific to certain ranges. To find out about what their discounts cover and how much those discounts are, it's worth checking out MyVoucherCodes.
Can I get a Ray Ban discount code?
Yes, they offer discount codes. You can find the latest codes listed at MyVoucherCodes, alongside any deals, offers and information on any Ray Ban sale that may be running.
Is there a Ray Ban student discount?
Yes, they offer a huge 33% off orders for students. All you need to do is head to the Ray Ban student discount page, verify your student status using UNiDAYS, and you'll get a discount code for your order.
Ray-Ban Money Saving Hints & Tips
Ray-Ban Discount Code
Ray-Ban sunglasses are a real investment, so it's worth a check to see if there is a money-saving coupon available. Stay tuned to MyVoucherCodes for all the latest deals and discount codes for this famous brand.
Ray-Ban Free Delivery
Ray-Ban offers complimentary shipping on all orders, meaning that you don't have to pay anything extra to get your hands on your designer shades. Orders are usually delivered in 3 business days.
What Else Does Ray-Ban Offer?
Why settle for the same look as everybody else? With Ray-Ban you can create one-of-a-kind sunglasses by choosing different colour lenses. And that's not all; you can even add a personal message to the frame to make the shades truly your own.
Using Your Ray-Ban Discount Code


Take a look through the many discount vouchers we have available and find the one that fits your order.


In a separate tab, open the Ray-Ban website and search for the items you want to purchase.


Add all relevant items to your cart and double-check to ensure they are included in your discount.


Once finished, proceed to checkout making sure you have everything you need.


Copy and paste your Ray-Ban discount code into the 'Promo Code' box and click 'ACTIVATE CODE' to complete your process.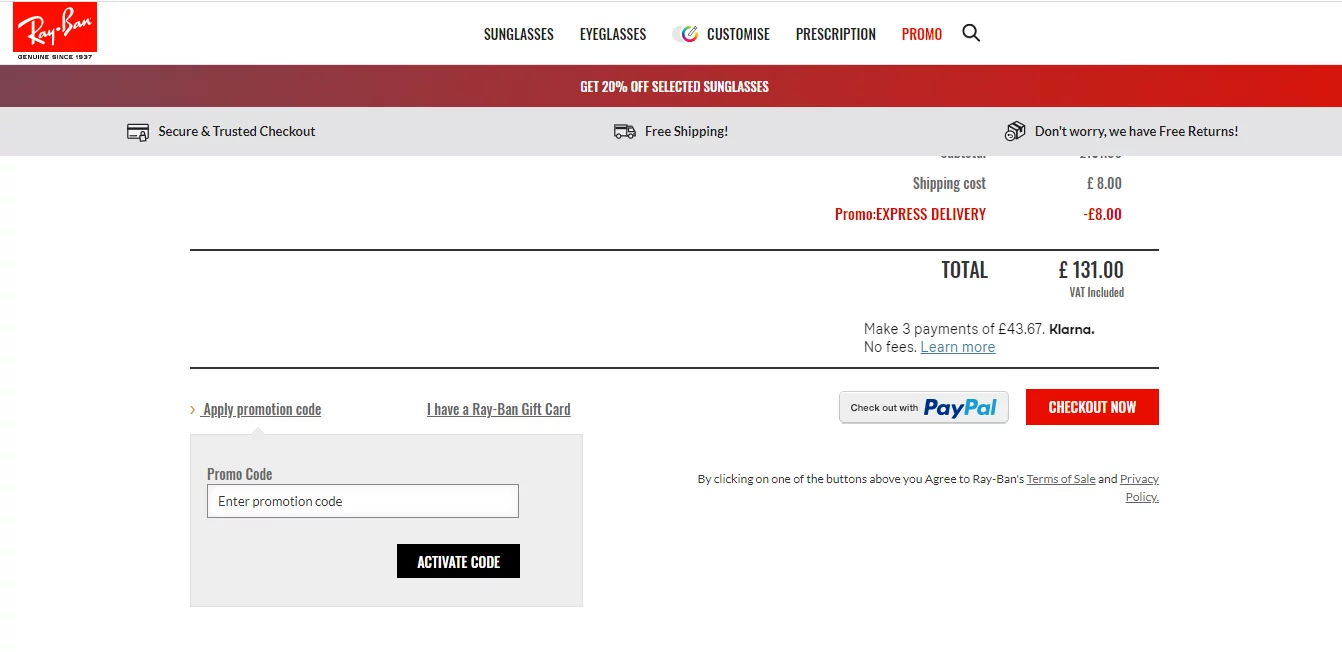 Shop Ray-Ban's Classic Sunglasses this Summer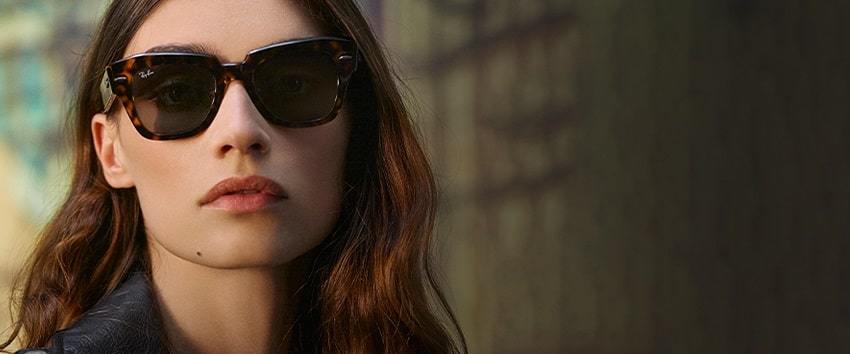 As the sunnier seasons arrive, now is the perfect time to treat yourself to a pair of Ray-Ban sunglasses to get you through the sunny days ahead. Ray-Ban has a stunning collection of sunglasses for women, men, and kids, ensuring your new sunglasses are the perfect fit and style for you this summer 2021. Choose from Ray-Ban's bestselling styles, and make the style your own with the wide range available.
Ray-Ban Aviator
You can't go wrong with Ray-Ban's iconic Aviator Classic sunglasses, the ultimate frame for both men and women this season. With 14 colours to choose from, including frame and lens colour, it's easy to customise this popular frame to perfectly suit your tastes.
Ray-Ban Hexagonal
If you're a fan of the classic Aviator sunglasses, the Hexagonal sunglasses are a Ray-Ban staple with a unique twist. Make the most of sunglasses this summer by exploring new shapes and styles.
Ray-Ban Wayfarer
The Wayfarer Classic sunglasses are another classic Ray-Ban style to treat yourself to this summer. With an updated version of the iconic design recently introduced featuring a more delicate frame and slightly softer eye shape, the Wayfarer sunglasses are ideal for those who want a signature frame fit for everyday wear.
Ray-Ban Justin
If you're a fan of the Wayfarer sunglasses, you're guaranteed to love the Ray-Ban Justin Classic sunglasses. Inspired by the wayfarer design, the Justin sunglasses feature slightly larger rectangle lenses for a bolder style.
Ray-Ban Clubmaster
The Clubmaster sunglasses boast a quirky frame, inspired by the 60s counterculture. The distinctive shape is guaranteed to give you an edge this summer.
Ray-Ban Erika
The Erika design is one of the most popular styles of sunglasses for men. With a classic retro shape and vintage qualities, the Erika sunglasses are a Ray-Ban classic.
Prioritise Style and Functionality with Prescription Glasses from Ray-Ban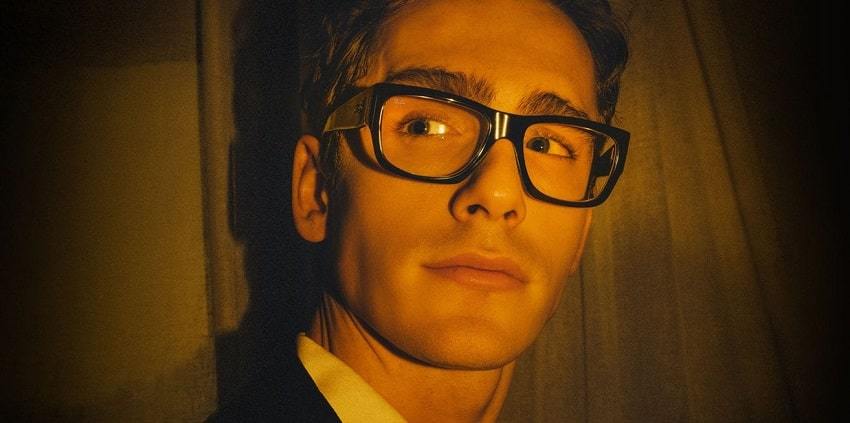 If you require eyeglasses or prescription lenses, you don't have to miss out on a pair of Ray-Ban frames this season as you can add prescription lenses to sunglasses, optical and custom styles. With the whole range of Ray-Ban frames available for prescription glasses, it's never been easier to choose a pair of eyeglasses and sunglasses for both tastes and necessity.
Ray-Ban Prescription Glasses
Ray-Ban offers a wide range of eyeglasses for men and women, ensuring you're not missing out on stylish eyewear even if your vision needs a little extra support. With a range of frames available in several iconic designs, classic shapes, and a style to suit every face, choosing your new pair of glasses at Ray-Ban is simple. Decide on your desired frame shape such as pilot, square, round, rectangular, oval, and geometrical to achieve your desired look. Whether you prefer your eyeglasses to take centre stage, or you prefer a more delicate and subtle addition to your face, you're guaranteed to find the perfect pair at Ray-Ban.
Ray-Ban Round Metal
The Ray-Ban round metal optics are an ever-popular style. Inspired by the 1960s, the round metal eyeglasses are a retro and unisex style, loved for their distinctive shape.
Ray-Ban Prescription Sunglasses
As we emerge into the sunniest months of the year, a reliable pair of sunglasses is vital. For those who need an everyday prescription, finding a pair of sunglasses you love can prove to be more challenging. With prescription sunglasses from Ray-Ban, you have access to the entire sunglasses collection simply by including your prescription requirements as an add-on, ensuring you can prioritise the style and purpose of your new purchase.
Enjoy Summer Savings in the Ray-Ban Sale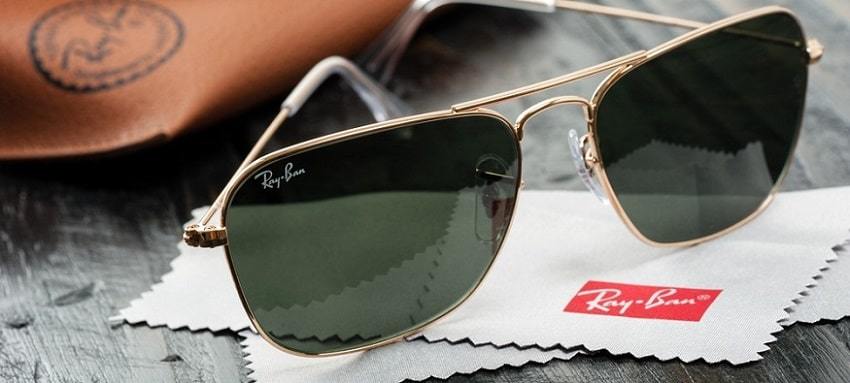 If you're a fan of the finer things in life and you're currently on the lookout for a new pair of designer sunglasses to debut this season, it's easy to get a quality pair of designer glasses for less with Ray-Ban's online promos and discounts. Visit the Ray-Ban today and explore the sale collection to bag a bargain on your next designer purchase.
Ray-Ban Sale Sunglasses
The Ray-Ban sale offers price reductions on a range of women's and men's styles that are just too good to go. With a range of frame styles and lens colours available in the promo sale, you're sure to find a discounted pair of glasses you'll love. Enjoy up to 50% off popular styles for men and women, including Ray-Ban's iconic aviator sunglasses, the perfect frame this summer.
Ray-Ban Sale Eyeglasses
If you're after something slightly more practical, Ray-Ban also offers up to 50% off promo eyeglasses in the optics sale collection. You can get prescription glasses for men, women and kids for half the price with the same great style Ray-Ban promises. Choose from the range of frame types, shapes and colours available to ensure your prescription glasses elevate your vision and style in the best way possible.
Ray-Ban Promo Offers
As well as sales, Ray-Ban regularly offers fantastic promos on a range of collections. You can get 20% off selected full-price sunglasses and eyeglasses, including bestselling styles. Make the most of Ray-Ban offers and treat yourself to popular frames such as Ray-Ban Wayfarer sunglasses for a fraction of the price, just in time for the arrival of sunshine.