EXCLUSIVE
View Terms & Conditions

View Terms & Conditions

Get an extra 5% off the marked price of all products from Orchard Bathrooms, Mode Bathrooms, The Bath Co., The Heating Co., Reeves, Schon, Kirke, Accents, and The Artist Collection with code MVCVP5 when you spend £250 or more at VictoriaPlum.com. Extra 5% off only applies to these selected products, not the whole order. This offer may not be combined with other promotions, offers, voucher codes or price matches. We reserve the right to extend or withdraw this offer at any time, without prior notice
Offers for Victoria Plum were last updated Friday 30 July 2021 14:34
Victoria Plum Codes That You've Missed
Most Popular Victoria Plum Code & Discount
| Offer Description | Expires | Discount Type |
| --- | --- | --- |
| Exclusive Extra 5% off Orders over £250 plus Up To 60% in the Mid-Summer Sale | | Voucher Code |
| Save up to 40% off Last Chance to Buy | | Sale |
| Up to 45% off Heated Towel Rails in the Sale | | Sale |
| Save up to 25% off Selected Toilet Seats | | Sale |
| 15% off First 2 Orders for New Trade Account Holders | | Deal |
Victoria Plum Hints & Tips
Kit out your bathroom and have it looking beautiful with Victoria Plum, ad with these useful hints and tips, you can save a great amount of money on your order:


Check out the Victoria Plum offers section for all the biggest and best deals they have to offer; you can save big.


Get peace of mind with your purchase thanks to the Victoria Plum price match promise, so if you find it cheaper elsewhere, they'll do their best to match the price.



Save on the extra costs with Victoria Plum free delivery, so you won't have to cover the cost of postage when you place an order.


Get signed up to the newsletter to get all the Victoria Plum deals straight to your inbox, and to top it off you'll get £20 off your first order too.


Buy now and pay later with Victoria Plum finance options, helping you to spread the cost of your purchase.


FAQs
What Payment Methods do VictoriaPlum Offer?
You can pay using Visa, Visa Electron, MasterCard and American Express cards. You can also pay by PayPal. There are discount codes and voucher available at MyVoucherCodes.
Do VictoriaPlum.com Offer Finance Options?
Yes. There are buy now-pay later options and 0% interest-free credit options. For more information, check the
finance options
page.
Do VictoriaPlum Offer Free Returns?
Yes. With a 14 day no-quibble returns and refund policy, you can get free returns. See the
returns policy
page for more information.
What Delivery Options are Available?
There are options for delivery direct to door, this is free on orders over £399. You can also get premium delivery to a room of your choice.
How can I get a Victoria Plum voucher code?
The best way to pick up Victoria Plum codes is to check in with MyVoucherCodes before you place an order. Our team collects the best deals available to help you save on your new bathroom. You might even catch an exclusive code for savings you won't find anywhere else.
Are there Victoria Plum Showrooms?
No. To help keep their prices low, Victoria Plum has elected not to have showrooms that customers can visit. They feel that their website provides a better shopping experience than a showroom would deliver and cuts unnecessary costs that would raise the price.
Using Your Victoria Plum Discount Code
Find out how to apply your Victoria Plum discount code using our helpful step by step guide below.


Find the Victoria Plum voucher code you'd like to use on the MyVoucherCodes website.


Click on the code and a new window will appear. You can copy the code from here.


Visit the previous window, where MyVoucherCodes will have automatically redirected you to the Victoria Plum website.


Add beautiful bathroom furniture to your basket.


When you're ready to check out, click the basket icon in the top right-hand corner of the web page.


Click 'View Basket and Checkout'.


Apply your Victoria Plum promotional code by entering it here. Click apply.


You will be taken to a page where you can see all of the items in your basket. Click 'Checkout'.


Enter your details and check out as usual.


Enjoy your savings and wait for your gorgeous new bathroom items to arrive.


Buyers Guides - What's in a Tile?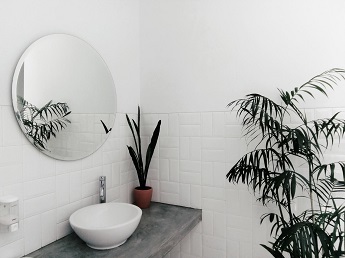 Bathroom tiles are a simple but super effective way of stamping your style on your space. But if you think that's just about picking your favourite colour, you need to read this guide to picking the perfect tile.
Highlight Features
If you're proud of your tub or in love with your sink, you can use your bathroom tiles to draw the eye to it. Whether it's using plain white tiles to highlight colour or a surround your tub with dark tile to draw the eye.
Funky Floors
Your floor tiles could be plain old white if you want, but with a little creativity your floor could become a standout feature. It's about playing with the colours you want and the tile layout to produce something that's a little bit different.
Size matters
It doesn't matter what you've heard, size really does matter. If your room is small it's no good having giant tiles that look out of place. Equally if you've got a massive space, tiny tiles won't be cost effective and it'll take three years to finish. Make sure you consider the size of your room before making a decision.
Standout Showers
Your shower enclosure is a strong feature and you can take your bathroom look up a notch by utilising the tiles inside. This is another area to let your style run wild and create something truly unique. There are loads of ways you can use your tiles to liven up your bathroom, and one of our Victoria Plum discount codes will keep your bank happy too.
Buyers Guides - Bathrooms to Soak In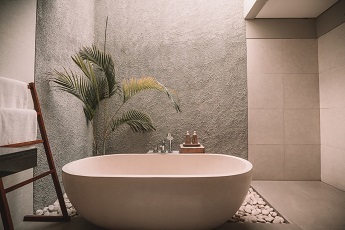 Bathrooms are often left to last when it comes to home improvements. The fancier rooms of the house get all the attention, but this is where you get time to yourself to soak and unwind after a long day. And if you've got kids it's where you hold family meetings from your throne, it should look its best. So, what style bathroom should you go for?
Edwardian Bathrooms
The Edwardians are known for their opulence and that shows in the bathroom style. Think luxurious roll top baths, high cistern toilets, and traditional taps for timeless elegance. This is a clean and classic look that stands the test of time.
Contemporary Bathroom
If you prefer something a little more modern, you'll be looking at contemporary bathrooms. This means clean lines and defined shapes that draw the eye. You'll have loads of choice as you put together your contemporary bathroom and they'll all have that prime finish to them.
Botanical Bathroom
Inspired by nature, botanical bathrooms use light and colour to create the most relaxing place for a soak you can imagine. It's a brought bring a hint of the outdoors, inside and getting the rainforest feel without going overboard. Make sure you add a rainforest shower head for extra points.
Rustic Bathrooms
The rustic look has been popular all over the house and the bathroom is no exception. This is about getting warming woods and traditional features into your room that bring that country vibe. It's like shabby chic but with deep bathtubs.
Buyers Guides - Small Bathroom, Big Style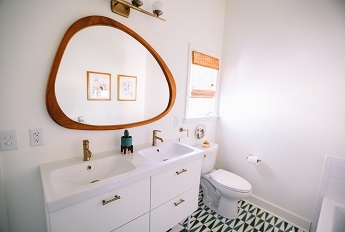 If you've got a small bathroom it can feel like there's not a whole lot you can do with it, but there are designs choices that can make your little sanctuary shine. Here are a few of our favourite design tips for small bathrooms.
Always Consider Space
This one sounds obvious but it's easy to forget on some details. Making sure the door opens outwards, choosing wall hung sinks, and looking for small fittings are simple ways you can maximise your space.
Minimalist is Best
If you're trying to make the most of your space, it's no good cramming it full of cabinets and shelves. Keep it to the essentials and things you'll use. The most important thing is creating a space you can use comfortably, and not sitting on the toilette with your legs jammed against a cabinet.
Go Frameless
A great way of saving space going for a frameless shower enclosure. This will give you the same splash proof space without taking up unnecessary room. And an added bonus is they look super sleek and stylish in every bathroom, large or small.
Combination Style
If you can get one fixture to do multiple jobs, you'll be onto a winner. Combination vanities are a superb way of utilising your space well to create something roomier. They pull together the sink, toilet, and storage in an efficient package, and they're often cheaper than buying individually.These are just a few of the ways you create a gorgeous bathroom in a smaller bathroom, and if you pick up one of our Victoria Plum voucher codes, you'll save more than space.
Which Baths Best?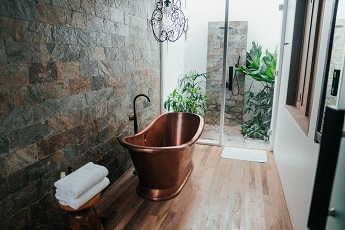 If you're planning a bathroom upgrade in 2021, the bathtub is probably the centre piece. To help you make the right choice and stop money from flowing down the drain, here's our guide to Victoria Plum Bathtubs.
Victoria Plum Straight Bath
Straight baths are the most common in Britain because there are options that suit every budget and they are more economical with space. They're simpler to fit and it's easier to add a shower screen which gives you loads of options.
Victoria Plum Free Standing Bath
Free standing baths are an eye -catching focal point for your bathroom that screams luxury. There's nothing like a soak in an opulent tub and these baths offer a soak experience you can't get in other baths. Size is a factor though. Not every bathroom has the space for a good free standing and it's not worth trying to squeeze one in.
Victoria Plum Bath Panel
Bath panels are a fantastic way of adding interior detail to your room. You can put your style on the room without investing in a new tub. The wooden panels are gorgeous and the create a stunning aesthetic that you won't see anywhere else.
Victoria Plum Whirlpool Bath
Whirlpool is the final word in luxury and spending and evening with the bubbles and a glass of wine is all you need to find your centre. Naturally, these baths are some of the most expensive out there, but if you've got the budget, they are a luxurious option that will redefine bath time.