EXCLUSIVE
View Terms & Conditions

View Terms & Conditions

1. The £10 Currys PC World Incentive and Motivation digital gift card giveaway ("Promotion") is subject to the following terms and conditions. By entering the Promotion entrants will be deemed to have read and accepted these terms and conditions. 2. The Promotion is organised and operated by The Global Voucher Group Limited of Imperial House, Imperial Way, Newport NP10 8UH ("Promoter"). 3. The Promotion is open to all UK residents aged 18 years or over except employees of the Promoter, their families, agents and anyone else connected with administration of the Promotion. 4. The Promotion will run from 18 May 2021 23:00 until 31 Dec 2021 23:59 ("Promotion Period"). 5. All entrants who (i) subscribe to receive the Promoter's electronic marketing during the Promotion Period and (ii) Wayfair confirms have spent £250 or more (excluding all gift card purchases and top-ups and delivery or collection charges) before 31 Dec 2021 23:59 at the Wayfair via the link provided on www.myvouchercodes.co.uk ("Promoter's Website") shall be eligible to receive a free £10 Currys PC World Incentive and Motivation ("Gift Card"). 6. You will not be entitled to a Gift Card if you click on any other links or visit any other websites before making your purchase at the Wayfair or if you make use of any other offer or promotion in connection with your purchase which is provided by the Promoter or Wayfair (including any discounts, codes, savings, credit and/or points). 7. Only one entry per entrant during the Promotion Period shall be accepted. 8. Confirmation of purchase may be provided by Wayfair up to 90 working days following the date of the qualifying purchase. 9. Gift Cards may be downloaded via the "member section" of the Promoter's Website. Entrants should note that Gift Cards may expire after a certain date and their use may be subject to the retailer's own terms and conditions. 10. No entries from agents, third parties, organised groups or applications automatically generated by computers will be accepted. No incomplete or corrupted entries will be accepted. Any entries not made during the Promotion Period or otherwise in accordance with the entry instructions and these terms and conditions will be rejected. 11. The Promoter reserves the right to substitute, in its sole discretion, the Gift Card with an alternative award of equal or greater value. 12. The Promoter reserves the right to ask for satisfactory proof of identity, age and/or address as a condition of award of the Gift Card. 13. The Promoter reserves the right to amend or alter the Promotion or these terms and conditions at any time or to terminate the Promotion at any time without prior notice due to circumstances beyond its reasonable control. Any changes to the Promotion or these terms and conditions will be posted on the Promoter's Website at www.myvouchercodes.co.uk. 14. Personal data submitted by entrants in connection with the Promotion will be processed by the Promoter in accordance with the Promoter's privacy policy, which is available at www.myvouchercodes.co.uk/privacy. 15. The Promoter does not accept any responsibility for any damage, loss, injury or disappointment suffered by entrants or as a result of acceptance of the Gift Card, but nothing in these terms and conditions shall operate to exclude the Promoter's liability for death or personal injury suffered as a result of the Promoter's negligence. 16. The Promotion and these terms and conditions are governed by the laws of England and Wales and are subject to the exclusive jurisdiction of the English and Welsh courts.
EXCLUSIVE
View Terms & Conditions

View Terms & Conditions

1. The £25 Currys PC World Incentive and Motivation digital gift card giveaway ("Promotion") is subject to the following terms and conditions. By entering the Promotion entrants will be deemed to have read and accepted these terms and conditions. 2. The Promotion is organised and operated by The Global Voucher Group Limited of Imperial House, Imperial Way, Newport NP10 8UH ("Promoter"). 3. The Promotion is open to all UK residents aged 18 years or over except employees of the Promoter, their families, agents and anyone else connected with administration of the Promotion. 4. The Promotion will run from 18 May 2021 23:00 until 31 Dec 2021 23:59 ("Promotion Period"). 5. All entrants who (i) subscribe to receive the Promoter's electronic marketing during the Promotion Period and (ii) Wayfair confirms have spent £500 or more (excluding all gift card purchases and top-ups and delivery or collection charges) before 31 Dec 2021 23:59 at the Wayfair via the link provided on www.myvouchercodes.co.uk ("Promoter's Website") shall be eligible to receive a free £25 Currys PC World Incentive and Motivation ("Gift Card"). 6. You will not be entitled to a Gift Card if you click on any other links or visit any other websites before making your purchase at the Wayfair or if you make use of any other offer or promotion in connection with your purchase which is provided by the Promoter or Wayfair (including any discounts, codes, savings, credit and/or points). 7. Only one entry per entrant during the Promotion Period shall be accepted. 8. Confirmation of purchase may be provided by Wayfair up to 90 working days following the date of the qualifying purchase. 9. Gift Cards may be downloaded via the "member section" of the Promoter's Website. Entrants should note that Gift Cards may expire after a certain date and their use may be subject to the retailer's own terms and conditions. 10. No entries from agents, third parties, organised groups or applications automatically generated by computers will be accepted. No incomplete or corrupted entries will be accepted. Any entries not made during the Promotion Period or otherwise in accordance with the entry instructions and these terms and conditions will be rejected. 11. The Promoter reserves the right to substitute, in its sole discretion, the Gift Card with an alternative award of equal or greater value. 12. The Promoter reserves the right to ask for satisfactory proof of identity, age and/or address as a condition of award of the Gift Card. 13. The Promoter reserves the right to amend or alter the Promotion or these terms and conditions at any time or to terminate the Promotion at any time without prior notice due to circumstances beyond its reasonable control. Any changes to the Promotion or these terms and conditions will be posted on the Promoter's Website at www.myvouchercodes.co.uk. 14. Personal data submitted by entrants in connection with the Promotion will be processed by the Promoter in accordance with the Promoter's privacy policy, which is available at www.myvouchercodes.co.uk/privacy. 15. The Promoter does not accept any responsibility for any damage, loss, injury or disappointment suffered by entrants or as a result of acceptance of the Gift Card, but nothing in these terms and conditions shall operate to exclude the Promoter's liability for death or personal injury suffered as a result of the Promoter's negligence. 16. The Promotion and these terms and conditions are governed by the laws of England and Wales and are subject to the exclusive jurisdiction of the English and Welsh courts.
Offers for Wayfair were last updated Tuesday 27 July 2021 17:24
Wayfair Codes That You've Missed
Most Popular Wayfair Code & Discount
| Offer Description | Expires | Discount Type |
| --- | --- | --- |
| Save up to 50% Off Plus Free Delivery Over £40 to Most of the UK | | Deal |
| Exclusive Free £10 Currys PC World Voucher with Orders Over £250 | | Reward |
| Exclusive Free £25 Currys PC World Voucher with Orders Over £500 | | Reward |
| Sign up to the Newsletter for Special Offers | | Deal |
| Save up to 25% off RRP on Home Decor | | Deal |
FAQ's
Can I get a Wayfair promo code?
You can find all the latest deals, discounts and sales information right here at MyVoucherCodes. With new, tested offers and deals added daily, there's always a saving to be had.
Do Wayfair offer a student discount?
Unfortunately, there isn't currently a student discount available.
Is there a Wayfair NHS discount?
There isn't currently an NHS discount available.
What are open box deals?
These are items that have been recently returned are in like-new condition. But these items are discounted heavily and sold for significantly lower prices.
What payment methods are accepted at Wayfair?
They accept major credit and debit cards including Visa, MasterCard and American Express. You can also pay using PayPal, Financing by Barclays and Apple Pay. Wayfair also accepts payment using Klarna.
What delivery options are available at Wayfair?
There's small parcel delivery and large parcel delivery. You'll receive an estimated day of delivery and a tracking number with these delivery types. You can also have items delivered to a room of choice, however, this method has been impacted by COVID-19.
What is the Wayfair returns policy?
You will get 30 days to return your item, however, you'll have to cover the cost of the returns policy. You can find instructions on the process in the "My Account" section of the website. Refunds are typically processed within 5-10 days of the item being returned.
How can I contact customer service?
You can give them a call, or head to the
customer service page
on their website. You can call Wayfair customer service on 0800 169 0423 between 8AM and 7PM on weekdays, and 8:30AM and 5PM on weekends.
Hints and Tips
Updating our home can be a costly thing. Luckily, with these money-saving hints and tips, you can make the most of your money on your home and garden needs.
With Wayfair's daily sales, it's worth checking what's on offer. They have a whole section dedicated to these savings, but we'll keep you posted right here at MyVoucherCodes. Another way to get more bang for your buck on furnishings and décor is to check out the Wayfair Clearance sale.


Whether you're a new customer, or a returning customer, the Wayfair newsletter is a cracking way to get the latest offers and deals directly to your inbox.


It's worth checking out Wayfair on Twitter, Facebook, Pinterest and Instagram. You'll be able to get the latest on deals, competitions and some new releases.


If you want to do yourself and a mate a favour, try out the refer a friend scheme. Just send them a referral, and both you and your friend will get a tenner off your next purchase.


Get more for your money with Wayfair rewards points. For every purchase you make, you'll get points in return that can be used for saving big on future purchases.


If you're someone working in the industry, you can bag yourself a tidy bargain with the Wayfair Professional service. You'll get discounts, free delivery, and top-notch customer care around the clock.


Save on those extra costs with free delivery at Wayfair when you spend £40 or more.
How do I use my Wayfair discount code?
Follow our simple instructions for using your Wayfair coupon code on your next order.


Find a Wayfair voucher code that works for you, and click it to reveal the coupon code.


MyVoucherCodes will then take you to the Wayfair website, where you can browse the fabulous homeware for a product that's covered by the offer you selected.


Add your products, and then click on the basket icon in the top right corner of their website.


When you head to checkout, there'll be a box asking for your Wayfair voucher code, you can then pop the code into this box.


Click apply, and you should see your Wayfair saving be applied, and then you can enjoy your order for less!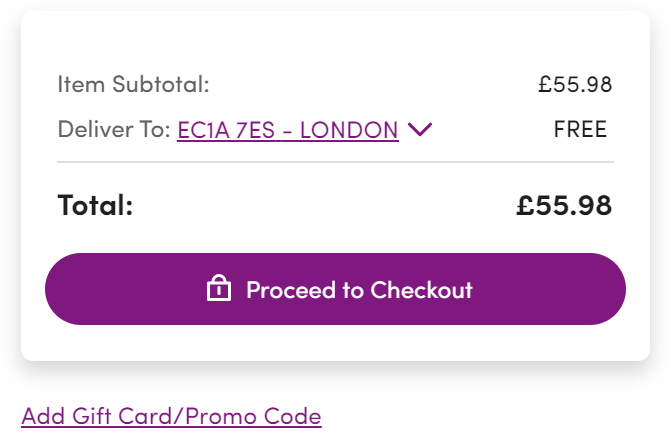 Tie the Room Together with Wayfair Rugs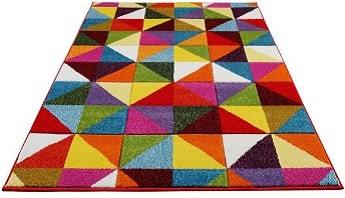 For those after the cosiest of vibes, there's no understating how big a difference a lovely rug can make. Whether you want to compliment that modern aesthetic with a smart, angular rug, or you want to add some shag to your cosy abode, Wayfair has got you covered.
The Barksdale Blooming Red rug by Latitude Vive is a fabulous choice for seekers of the traditional. It adds colour and style in equal measure. For something a little more subtle and understated, the Epperson Flatweave rug by Rosdorf park is a shaggy and stylish affair that adds a touch of simple class to any room.
For something that adds a little natural feel to the room, Wayfair has a few options. From hand-woven wool brown rugs from Latitude Run, to fun pebble-inspired rugs like the Crespin Hand Tufted Grey Rug by Ebern designs.
A round rug is a cute and cosy way to add a little life to the room. With cracking and colourful options, to rugs inspired by art like the Round Denison Seafoam grey rug by Williston Forge. And on the flip side you've got fabulous runners, like the Dente Orange Rug by 17 Stories that offers a chequered modern aesthetic that's perfect for the hall.
Whatever your style, whether you like retro and kitsch, or you prefer subtle and classy, there's a rug for you, so check out what's on offer and cosy up your quarters this season.
Get Your Garden Looking Gorgeous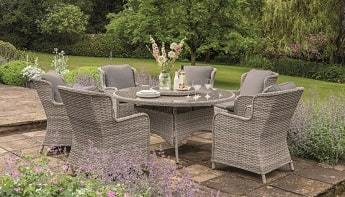 Summer is here! And while we've gone from heatwaves, to downpours thanks to the famously unreliable British weather, there's no better time to get the garden in order. With the garden furniture on offer, you're getting quality pieces for your outdoor space that offer a ton of functionality and style.
With the Wayfair garden furniture section, you can find everything you need to turn your outdoor space into a place you'd love to dine. With stunning tables and chairs that'll hold up in the unpredictable weather, you can't go wrong.
We all need a little storage to clear some room, and Wayfair have you covered when it comes to sheds and storage boxes. With stunning options that'll keep the place tidy without ruining the landscape, you're sorted.
With garden ornaments, bird baths, garden arches, pots and planters, you can get your fill with Wayfair garden décor.
When the sun starts shining, there's nothing better than a barbecue. It's not just something to meet your grilling needs on offer at Wayfair, but patio heaters and gazebos too! Perfect, now that Coronavirus guidelines are easing and we can see our loved ones again.
When it comes to your gorgeous garden refresh, you can't go wrong with one of our Wayfair promo codes. So, find one that fits the bill, and get saving just in time for Summer.
Add a Little Colour this Summer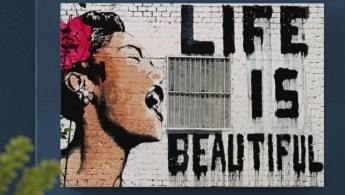 We've got the chance to refresh our style this Summer and bring a touch of much needed colour to our walls. With the warm weather here, we want our homes to shine and reflect the vibes that come with the season.
The wall art section covers everything from traditional prints and canvasses to mirrors and quirky décor that will help you stamp your style on all four walls. The collection of art prints has a ton of fabulous options. And with every tone and every hue, there's a colour scheme to match your tastes, whatever they may be.
There's styles for everyone in this vast collection, but our favourite has to be the 'Graphic Art & Retro Adverts' range. These super chic canvas prints will add a splash of colour to any room this season, and make a statement.
The selection of mirrors lets you combine classic elegance with contemporary style to really bring a room together. Mirrors are a really simple way to touch up your style and let the room breathe by giving the illusion of more space in your home. They go a long way to bringing home your style because you can go as retro or modern as you want and still get something truly striking.
If photography is more your thing, there are loads of spectacular shots framed and waiting. There are loads of easy ways to brighten up those dull walls this Summer so check out the décor collection and find something to love.