EXCLUSIVE
View Terms & Conditions

View Terms & Conditions

Terms and conditions apply.
View Terms & Conditions

View Terms & Conditions

See website for details.
EXCLUSIVE
View Terms & Conditions

View Terms & Conditions

1. The £50 Amazon.co.uk digital gift card giveaway ("Promotion") is subject to the following terms and conditions. By entering the Promotion entrants will be deemed to have read and accepted these terms and conditions. 2. The Promotion is organised and operated by The Global Voucher Group Limited of Imperial House, Imperial Way, Newport NP10 8UH ("Promoter"). 3. The Promotion is open to all UK residents aged 18 years or over except employees of the Promoter, their families, agents and anyone else connected with administration of the Promotion. 4. The Promotion will run from 20 Jul 2021 23:00 until 27 Jul 2021 22:59 ("Promotion Period"). 5. All entrants who (i) subscribe to receive the Promoter's electronic marketing during the Promotion Period and (ii) Bensons for Beds confirms have spent £550 or more (excluding all gift card purchases and top-ups and delivery or collection charges) before 27 Jul 2021 22:59 at the Bensons for Beds via the link provided on www.myvouchercodes.co.uk ("Promoter's Website") shall be eligible to receive a free £50 Amazon.co.uk ("Gift Card"). 6. You will not be entitled to a Gift Card if you click on any other links or visit any other websites before making your purchase at the Bensons for Beds or if you make use of any other offer or promotion in connection with your purchase which is provided by the Promoter or Bensons for Beds (including any discounts, codes, savings, credit and/or points). 7. Only one entry per entrant during the Promotion Period shall be accepted. 8. Confirmation of purchase may be provided by Bensons for Beds up to 90 working days following the date of the qualifying purchase. 9. Gift Cards may be downloaded via the "member section" of the Promoter's Website. Entrants should note that Gift Cards may expire after a certain date and their use may be subject to the retailer's own terms and conditions. 10. No entries from agents, third parties, organised groups or applications automatically generated by computers will be accepted. No incomplete or corrupted entries will be accepted. Any entries not made during the Promotion Period or otherwise in accordance with the entry instructions and these terms and conditions will be rejected. 11. The Promoter reserves the right to substitute, in its sole discretion, the Gift Card with an alternative award of equal or greater value. 12. The Promoter reserves the right to ask for satisfactory proof of identity, age and/or address as a condition of award of the Gift Card. 13. The Promoter reserves the right to amend or alter the Promotion or these terms and conditions at any time or to terminate the Promotion at any time without prior notice due to circumstances beyond its reasonable control. Any changes to the Promotion or these terms and conditions will be posted on the Promoter's Website at www.myvouchercodes.co.uk. 14. Personal data submitted by entrants in connection with the Promotion will be processed by the Promoter in accordance with the Promoter's privacy policy, which is available at www.myvouchercodes.co.uk/privacy. 15. The Promoter does not accept any responsibility for any damage, loss, injury or disappointment suffered by entrants or as a result of acceptance of the Gift Card, but nothing in these terms and conditions shall operate to exclude the Promoter's liability for death or personal injury suffered as a result of the Promoter's negligence. 16. The Promotion and these terms and conditions are governed by the laws of England and Wales and are subject to the exclusive jurisdiction of the English and Welsh courts.
EXCLUSIVE
View Terms & Conditions

View Terms & Conditions

1. The £80 Amazon.co.uk digital gift card giveaway ("Promotion") is subject to the following terms and conditions. By entering the Promotion entrants will be deemed to have read and accepted these terms and conditions. 2. The Promotion is organised and operated by The Global Voucher Group Limited of Imperial House, Imperial Way, Newport NP10 8UH ("Promoter"). 3. The Promotion is open to all UK residents aged 18 years or over except employees of the Promoter, their families, agents and anyone else connected with administration of the Promotion. 4. The Promotion will run from 20 Jul 2021 23:00 until 27 Jul 2021 22:59 ("Promotion Period"). 5. All entrants who (i) subscribe to receive the Promoter's electronic marketing during the Promotion Period and (ii) Bensons for Beds confirms have spent £880 or more (excluding all gift card purchases and top-ups and delivery or collection charges) before 27 Jul 2021 22:59 at the Bensons for Beds via the link provided on www.myvouchercodes.co.uk ("Promoter's Website") shall be eligible to receive a free £80 Amazon.co.uk ("Gift Card"). 6. You will not be entitled to a Gift Card if you click on any other links or visit any other websites before making your purchase at the Bensons for Beds or if you make use of any other offer or promotion in connection with your purchase which is provided by the Promoter or Bensons for Beds (including any discounts, codes, savings, credit and/or points). 7. Only one entry per entrant during the Promotion Period shall be accepted. 8. Confirmation of purchase may be provided by Bensons for Beds up to 90 working days following the date of the qualifying purchase. 9. Gift Cards may be downloaded via the "member section" of the Promoter's Website. Entrants should note that Gift Cards may expire after a certain date and their use may be subject to the retailer's own terms and conditions. 10. No entries from agents, third parties, organised groups or applications automatically generated by computers will be accepted. No incomplete or corrupted entries will be accepted. Any entries not made during the Promotion Period or otherwise in accordance with the entry instructions and these terms and conditions will be rejected. 11. The Promoter reserves the right to substitute, in its sole discretion, the Gift Card with an alternative award of equal or greater value. 12. The Promoter reserves the right to ask for satisfactory proof of identity, age and/or address as a condition of award of the Gift Card. 13. The Promoter reserves the right to amend or alter the Promotion or these terms and conditions at any time or to terminate the Promotion at any time without prior notice due to circumstances beyond its reasonable control. Any changes to the Promotion or these terms and conditions will be posted on the Promoter's Website at www.myvouchercodes.co.uk. 14. Personal data submitted by entrants in connection with the Promotion will be processed by the Promoter in accordance with the Promoter's privacy policy, which is available at www.myvouchercodes.co.uk/privacy. 15. The Promoter does not accept any responsibility for any damage, loss, injury or disappointment suffered by entrants or as a result of acceptance of the Gift Card, but nothing in these terms and conditions shall operate to exclude the Promoter's liability for death or personal injury suffered as a result of the Promoter's negligence. 16. The Promotion and these terms and conditions are governed by the laws of England and Wales and are subject to the exclusive jurisdiction of the English and Welsh courts.
View Terms & Conditions

View Terms & Conditions

See website for details.
View Terms & Conditions

View Terms & Conditions

See website for details.
Offers for Bensons for Beds were last updated Thursday 22 July 2021 07:52
Bensons for Beds Codes That You've Missed
Most Popular Bensons for Beds Code & Discount
| Offer Description | Expires | Discount Type |
| --- | --- | --- |
| Get £25 off When you spend £500 with this Bensons Discount Code | | Voucher Code |
| Free Delivery on Orders Over £100 | | Deal |
| Exclusive Extra 6% OFF Orders Including in the up to 50% Off Bensons for Beds Sale - Hurry, ends soon! | | Voucher Code |
| Exclusive Online Discount for NHS Workers - Claim Your Code Now | | Voucher Code |
| Up to 20% off Bed Frames in the Sale | | Sale |
Bensons for Beds Hints & Tips
Save more than ever before when shopping online at Bensons for Beds with our insider's tips:


Save yourself a few quid on your order by taking advantage of the Bensons for Beds free delivery offer when you spend £100 or more.


Spend more than £300 on the Bensons for Beds website and you will be eligible to take advantage of their interest free credit.


Scroll through the home page to catch all the latest Bensons for Beds deals and promos.


Browse the 'Sale' page for some bargains on beds. You can take advantage of lots of '50% off' and '3 for 2' offers.


Make the most of Bensons for Beds package deals, which are currently available in the Kids' Zone.


Be sure to use MyVoucherCodes' Bensons for Beds discount codes for some of the best savings on your next shop.


FAQs
When will my order be delivered?
Your delivery date will be provided in the order confirmation email. This will give you the day your items will arrive and a you'll then receive a call or text a couple of days before to confirm morning or afternoon delivery.
What finance options are available at Bensons For Beds?
When you shop online or over the phone you can spread the cost of your order with interest free credit. To apply select 'Interest Free Finance' as your payment method. For more information visit '
Finance
' page.
Can I get a Bensons for Beds discount code?
Yes, keep an eye out for the biggest and best codes here at MyVoucherCodes. We even offer cracking exclusive Bensons for Beds voucher codes!
What to do if you haven't received your order confirmation order?
Order confirmation can take up to 48 hours to arrive. If it still hasn't arrived, or you have concerns, call the sales team on 0808 144 6160.
How to use your Bensons for Beds promo code?


Visit our website and browse our promo codes to find one most suitable for you.


Using a different tab, head over to the Bensons for Beds website and search for any relevant items you wish to purchase.


Make sure that each of these items is compatible with the discount code you have chosen.


Proceed to checkout and review your order. Copy and paste your Bensons for Beds discount code into the "Promotional Code" box and click "Apply".


Complete your order with a new, discounted price!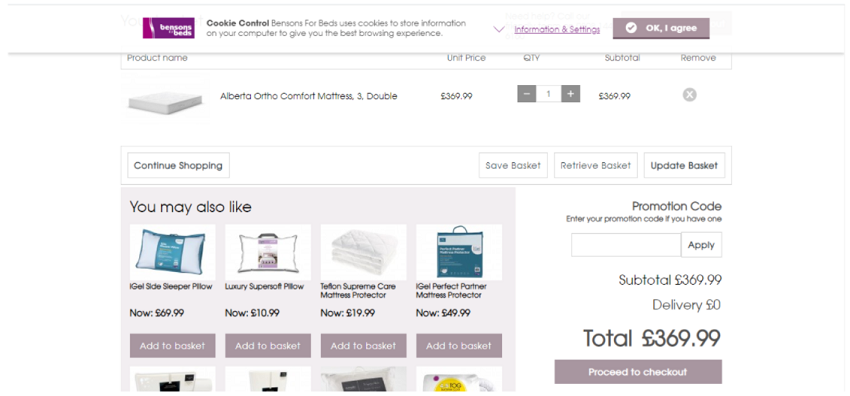 Bensons for Beds Frame Guide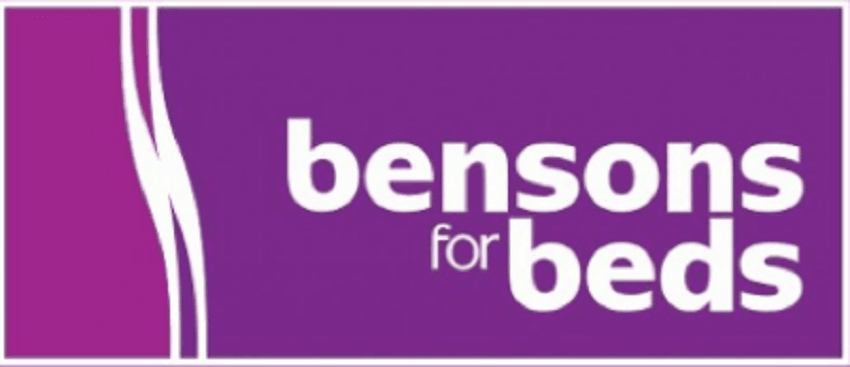 Bensons for Beds Open Frame
Open frames extremely common because they are usually a great value option. They stand on for legs allowing for storage underneath and the mattress rests on screwed in slats. Their simple style makes them a good fit for any room.
Bensons for Beds Ottoman
Ottoman beds do away with the legs and it looks like the mattress sits on a box. The beauty of these beds comes in the hidden storage. You can easily lift the top half of your bed and store all your bedding underneath.
Bensons for Beds Divan
Divan beds are incredible popular because of their upholstered design and versatility. Like the ottoman, Divans have storage underneath in the form of in-built drawers. You'll need to pick a headboard to complete your bed.
Bensons for Beds Sofa Beds
Sofa beds are made for guest rooms. You can use them when no ones visiting for an extra room in the house, and when people arrive there's a ready made bed waiting. If you're looking to save space in a guest room, these are your best option.
Bensons for Beds TV Beds
For the ultimate lazy Sunday, a TV bed is a must. You can lie in bed and watch your TV rise from the foot of your bed for a relaxing lie in. They are super modern and often come with a new TV included in the price
Your Guide to Bensons for Beds Mattresses
Shopping for a new mattress can be a bit daunting. There are lots of styles to pick through and they are big investments for your bank balance, and your sleep. We've put together a guide to the mattresses on offer at Bensons for Beds to guide you through the web of springs and pockets.

Open Coil Mattress

These traditional mattresses use interconnected springs to provide support wherever it's needed. Open Coils are the most common type of mattress because they are in expensive and there are a variety of firmness options.
Pocket Sprung Mattress

Pocket Sprung mattresses are the smarter cousin of the open coil. They use pockets of springs to respond to the body and deliver more support. A pocket sprung mattress is a better choice for couples because individual pockets move, rather than connected springs. They tend to be more3 expensive than open coil, but still represent fantastic value.
Rolled-Up Mattress

Rolled-up mattresses have modernised the mattress industry. They are sealed, vacuum packed, and rolled for easy transport. This means costs can be kept down and they are much easier to move once they are in your home. Rolled-up are a fantastic choice if you live in high-rise apartments or flats.
Memory Foam mattresses are another modern mattress that disrupted the market. They are made out of high-density foam that reacts to your body heat and weight to mould around the body for complete support exactly where they need it. They are expensive, but if you budget allows, they offer an incredible night's sleep.
Coolest kids Beds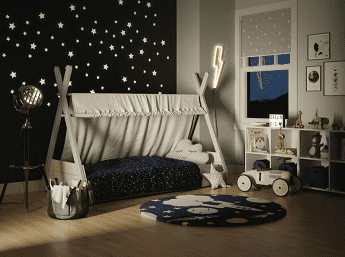 Whether you're expecting a new arrival or your little monsters are well on the road to growing up, furnishing the kids rooms is a big deal. And getting the right bed is one of the most important things. The Bensons for Beds kids collection has you covered with a fantastic range of beds through the ages. We can't promise they'll help bedtimes run smoother, but these are the coolest beds they offer for little ones.
Bensons for Beds Bunk Beds
Who didn't love bunk beds as kids? The novelty of two beds in the space of one was always fun, and then there's the small matter of settling the most prized position, top bunk. If you've got two children, they're a fantastic space saving option. They'll give you two sleeping spots and still leave plenty of space for activities. But down worry, they're built to a secure standard.
Bensons for Beds High Sleepers
Only children shouldn't miss out on the joy of top bunk and high sleepers are basically bunk beds built for one. You've got a top bunk bed and space underneath for a desk or seating. They have all the space economy benefits of bunk beds and offer you more storage space for toys.
Bensons for Beds Wig Wam Bed
Wig Wam beds weren't a thing when we were kids and honestly, we're a little upset about it. They're set up like half a tent with a low bed frame to make it feel like a camping trip. Kids love these things and they offer plenty of opportunities to make bed time magical. They'll ignite imaginations and bring more fun to story time.