EXCLUSIVE
View Terms & Conditions

View Terms & Conditions

1. The £20 Marks and Spencer digital gift card giveaway ("Promotion") is subject to the following terms and conditions. By entering the Promotion entrants will be deemed to have read and accepted these terms and conditions. 2. The Promotion is organised and operated by The Global Voucher Group Limited of Imperial House, Imperial Way, Newport NP10 8UH ("Promoter"). 3. The Promotion is open to all UK residents aged 18 years or over except employees of the Promoter, their families, agents and anyone else connected with administration of the Promotion. 4. The Promotion will run from 1 Jul 2021 23:00 until 30 Sep 2021 22:59 ("Promotion Period"). 5. All entrants who (i) subscribe to receive the Promoter's electronic marketing during the Promotion Period and (ii) Coach confirms have spent £200 or more (excluding all gift card purchases and top-ups and delivery or collection charges) before 30 Sep 2021 22:59 at the Coach via the link provided on www.myvouchercodes.co.uk ("Promoter's Website") shall be eligible to receive a free £20 Marks and Spencer ("Gift Card"). 6. You will not be entitled to a Gift Card if you click on any other links or visit any other websites before making your purchase at the Coach or if you make use of any other offer or promotion in connection with your purchase which is provided by the Promoter or Coach (including any discounts, codes, savings, credit and/or points). 7. Only one entry per entrant during the Promotion Period shall be accepted. 8. Confirmation of purchase may be provided by Coach up to 90 working days following the date of the qualifying purchase. 9. Gift Cards may be downloaded via the "member section" of the Promoter's Website. Entrants should note that Gift Cards may expire after a certain date and their use may be subject to the retailer's own terms and conditions. 10. No entries from agents, third parties, organised groups or applications automatically generated by computers will be accepted. No incomplete or corrupted entries will be accepted. Any entries not made during the Promotion Period or otherwise in accordance with the entry instructions and these terms and conditions will be rejected. 11. The Promoter reserves the right to substitute, in its sole discretion, the Gift Card with an alternative award of equal or greater value. 12. The Promoter reserves the right to ask for satisfactory proof of identity, age and/or address as a condition of award of the Gift Card. 13. The Promoter reserves the right to amend or alter the Promotion or these terms and conditions at any time or to terminate the Promotion at any time without prior notice due to circumstances beyond its reasonable control. Any changes to the Promotion or these terms and conditions will be posted on the Promoter's Website at www.myvouchercodes.co.uk. 14. Personal data submitted by entrants in connection with the Promotion will be processed by the Promoter in accordance with the Promoter's privacy policy, which is available at www.myvouchercodes.co.uk/privacy. 15. The Promoter does not accept any responsibility for any damage, loss, injury or disappointment suffered by entrants or as a result of acceptance of the Gift Card, but nothing in these terms and conditions shall operate to exclude the Promoter's liability for death or personal injury suffered as a result of the Promoter's negligence. 16. The Promotion and these terms and conditions are governed by the laws of England and Wales and are subject to the exclusive jurisdiction of the English and Welsh courts.
EXCLUSIVE
View Terms & Conditions

View Terms & Conditions

1. The £15 Marks and Spencer digital gift card giveaway ("Promotion") is subject to the following terms and conditions. By entering the Promotion entrants will be deemed to have read and accepted these terms and conditions. 2. The Promotion is organised and operated by The Global Voucher Group Limited of Imperial House, Imperial Way, Newport NP10 8UH ("Promoter"). 3. The Promotion is open to all UK residents aged 18 years or over except employees of the Promoter, their families, agents and anyone else connected with administration of the Promotion. 4. The Promotion will run from 1 Jul 2021 23:00 until 30 Sep 2021 22:59 ("Promotion Period"). 5. All entrants who (i) subscribe to receive the Promoter's electronic marketing during the Promotion Period and (ii) Coach confirms have spent £150 or more (excluding all gift card purchases and top-ups and delivery or collection charges) before 30 Sep 2021 22:59 at the Coach via the link provided on www.myvouchercodes.co.uk ("Promoter's Website") shall be eligible to receive a free £15 Marks and Spencer ("Gift Card"). 6. You will not be entitled to a Gift Card if you click on any other links or visit any other websites before making your purchase at the Coach or if you make use of any other offer or promotion in connection with your purchase which is provided by the Promoter or Coach (including any discounts, codes, savings, credit and/or points). 7. Only one entry per entrant during the Promotion Period shall be accepted. 8. Confirmation of purchase may be provided by Coach up to 90 working days following the date of the qualifying purchase. 9. Gift Cards may be downloaded via the "member section" of the Promoter's Website. Entrants should note that Gift Cards may expire after a certain date and their use may be subject to the retailer's own terms and conditions. 10. No entries from agents, third parties, organised groups or applications automatically generated by computers will be accepted. No incomplete or corrupted entries will be accepted. Any entries not made during the Promotion Period or otherwise in accordance with the entry instructions and these terms and conditions will be rejected. 11. The Promoter reserves the right to substitute, in its sole discretion, the Gift Card with an alternative award of equal or greater value. 12. The Promoter reserves the right to ask for satisfactory proof of identity, age and/or address as a condition of award of the Gift Card. 13. The Promoter reserves the right to amend or alter the Promotion or these terms and conditions at any time or to terminate the Promotion at any time without prior notice due to circumstances beyond its reasonable control. Any changes to the Promotion or these terms and conditions will be posted on the Promoter's Website at www.myvouchercodes.co.uk. 14. Personal data submitted by entrants in connection with the Promotion will be processed by the Promoter in accordance with the Promoter's privacy policy, which is available at www.myvouchercodes.co.uk/privacy. 15. The Promoter does not accept any responsibility for any damage, loss, injury or disappointment suffered by entrants or as a result of acceptance of the Gift Card, but nothing in these terms and conditions shall operate to exclude the Promoter's liability for death or personal injury suffered as a result of the Promoter's negligence. 16. The Promotion and these terms and conditions are governed by the laws of England and Wales and are subject to the exclusive jurisdiction of the English and Welsh courts.
Offers for Coach were last updated Friday 30 July 2021 09:16
Coach Codes That You've Missed
Most Popular Coach Code & Discount
| Offer Description | Expires | Discount Type |
| --- | --- | --- |
| Get up to 30% off Purses in the Summer Sale | | Sale |
| Up to 60% off Women's Clothing in the Summer Sale | | Sale |
| Free Gift Wrapping Available | | Deal |
| Exclusive Free £20 Marks & Spencer Voucher on Orders Over £200 | | Reward |
| 10% off Your First Order with Newsletter Sign-up | | Deal |
FAQ's
Can I get a Coach discount code?
The easiest way to grab a Coach code is to check MyVoucherCodes before you place your order. Our team constantly updates the page with the best available deals to help you save on fashion. You might catch an exclusive code for saving you won't find anywhere else.
Can I track my Coach order?
Yes, all you need is your order number, email address and billing postal code to view the status of your Coach order.
What is the Coach Returns policy?
If you're not satisfied with your Coach online order, you have 30 days from the purchase date to return it for a full reading. During the Coach sale period, you will have 14 days to return your order.
What are the Coach delivery options?
1) Standard UK Delivery is free and takes 7 business days for delivery. 2) Express Delivery costs £9.95 and takes 2 business days for delivery. 3) Next Day Delivery costs £14.95.
How can I pay for my order?
Select from any of the following payment methods: Visa, MasterCard, American Express, Maestro, PayPal and Klarna.
Coach Hints & Tips


The first stop for any savvy shopper should be the Coach sale section, where you can find the latest and greatest discounts on fabulous fashion, accessories and gifts.
Cut out the extra costs with Coach free delivery, and better yet, you don't have to spend a certain amount to qualify. Not to mention you'll also get Coach free Coach returns to boot.
Shop from the comfort of your own home with Coach virtual shopping appointments. Simply contact a store near you to book an online shopping appointment with a store associate.
Get yourself signed up to the newsletter for the latest Coach deals and offers sent straight to your inbox, and to top it off you'll get a tidy 10% off your first order.
Shop the Coach Gifts collection online today and discover a top range of special gifts for him and her.
Personalise the perfect gift with complimentary monogramming and make it extra special with free gift wrapping, making sure you're giving the perfect present for less.


Using your Coach discount code


Select your Coach discount code from the MyVoucherCodes website.


You'll then be redirected to the Coach website where you can begin your shop, adding all of your favourite bags, accessories and more into your online shopping basket.


Once you've got everything you want, click on the checkout button.


Copy & paste your Coach discount code into the 'promo code' box to secure your shopping savings.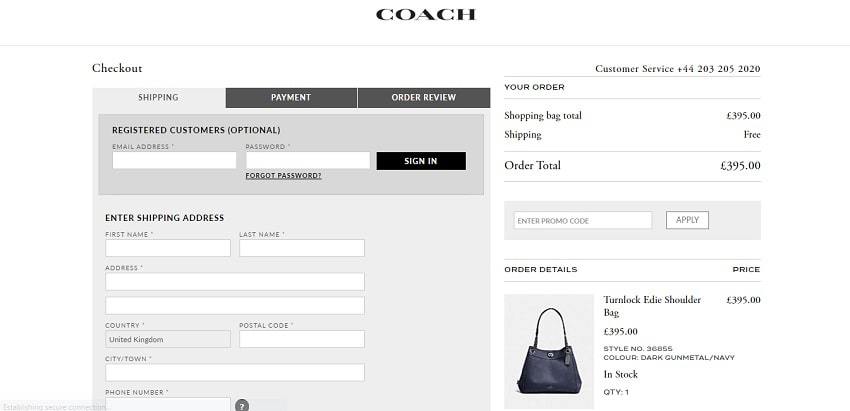 Coach Bags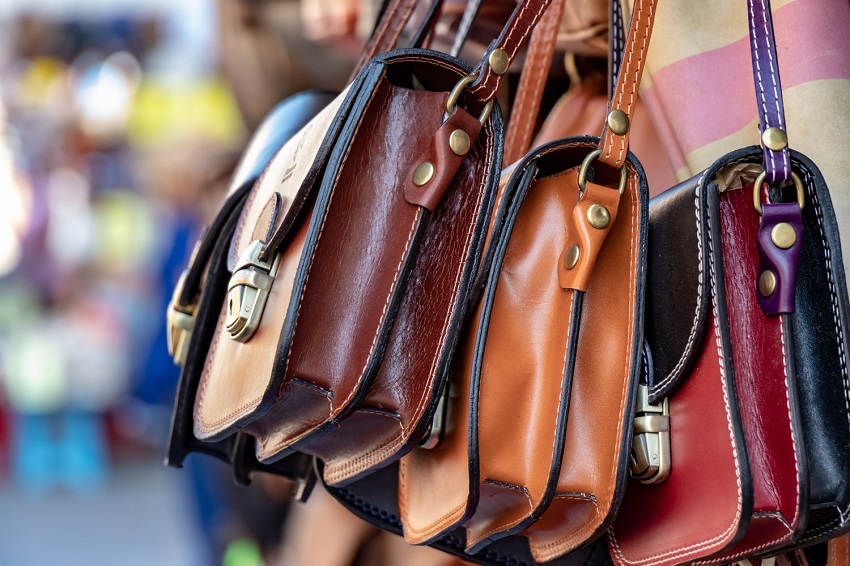 If you're looking for a new favourite handbag or searching for another to add to your collection, make sure you check out the online and in-store range of Coach Bags today. With fashionable styles aplenty, their many handbags and bags for men and women that look great when worn with any style of outfit.Find this season's most-loved women's bags that feature bag styles and designs from summery crossbody bags to shoulder bags, satchels and even belt bags. What's more, you can pick up beautiful clutch style bags that are great to wear for special occasions, plus their iconic backpacks are perfect to wear with all sorts of clothing and looks.Alternatively, shop the trendy collection of men's Coach Bags for a versatile range of bag styles that can be carried around in style during the day or night. Summer favourites to shop include their belt bags and messenger bags plus their pouches feature sophisticated styles and playful designs.