View Terms & Conditions

View Terms & Conditions

See website for details.
View Terms & Conditions

View Terms & Conditions

See website for details.
Offers for Emma Bridgewater were last updated Friday 17 September 2021 12:17
Emma Bridgewater Codes That You've Missed
Most Popular Emma Bridgewater Code & Discount
| Offer Description | Expires | Discount Type |
| --- | --- | --- |
| 15% off Your Next Order with Newsletter Sign-up | | Deal |
| Up to 60% off Mugs in the Outlet | | Sale |
| Save up to 40% off Selected Plates and Platters | | Sale |
| 15% off for You plus Free Half Pint Mug for Friends with Referrals | | Deal |
| Personalised Gifts from £16 | | Deal |
FAQ's
Is there an Emma Bridgewater sale?
Yes, they have regular sales that are worth checking out. There's also the Emma Bridgewater outlet, where you can find incredible discounts on a huge range of items. It's also worth checking out the Emma Bridgewater discontinued lines.
Can I get an Emma Bridgewater discount code?
While they don't typically offer discount codes, you can get an exclusive Emma Bridgewater voucher code regularly at MyVoucherCodes.
What is the Emma Bridgewater returns policy?
You can get a refund or a replacement for faulty and damaged items, however, unwanted items will be subject to a £6 returns charge. You have 30 days to return your items from the day of delivery.
What delivery options are available at Emma Bridgewater?
You can get standard delivery for free on order over £40, this usually arrives in 5 working days, or 2 weeks if it's a personalised product. They also offer next-day delivery for £7.95.
How can I find my nearest branch?
You can use the '
Find a Store
' feature on the Emma Bridgewater website to find your nearest branch.
Hints & Tips
When it comes to beautiful crockery and cracking pottery, Emma Bridgewater know a thing or two about it. But we know a thing or two about bargains, so check out these handy hints and tips.
Get yourself signed up to the newsletter. Not only will you get a fabulous 15% off as an introductory offer, but you'll be the first to know about future exclusive offers.


Head to the Emma Bridgewater outlet to find some of your favourite items with money off – here you will be able to snap up charming seconds and items that have been discontinued.


Make that gift even more personal with free customisation on selected items. So, you can make it a unique purchase without splashing any extra cash.


You'll get free delivery on orders over £40, so it's well worth adding that extra item to skip out on the extra costs.


Give your friends a free half pint mug when they spend £40 – and to say thanks Emma Bridgewater will give you 15% off your next order for every friend who treats themselves for the first time – win-win
How to use your Emma Bridgewater promo code?


Browse through our website and find a promotional code that best fits the items you want to buy.


Once you have found the right code, open up the Emma Bridgewater website and browse the items on offer.




Add each item to your "Cart" ensuring they are eligible for the discount.


Proceed to checkout and review your order. Copy and paste your Emma Bridgewater discount code into the "ADD GIFT CARD OR DISCOUNT CODE" box.


Click "APPLY". Your page will refresh with your new discounted price.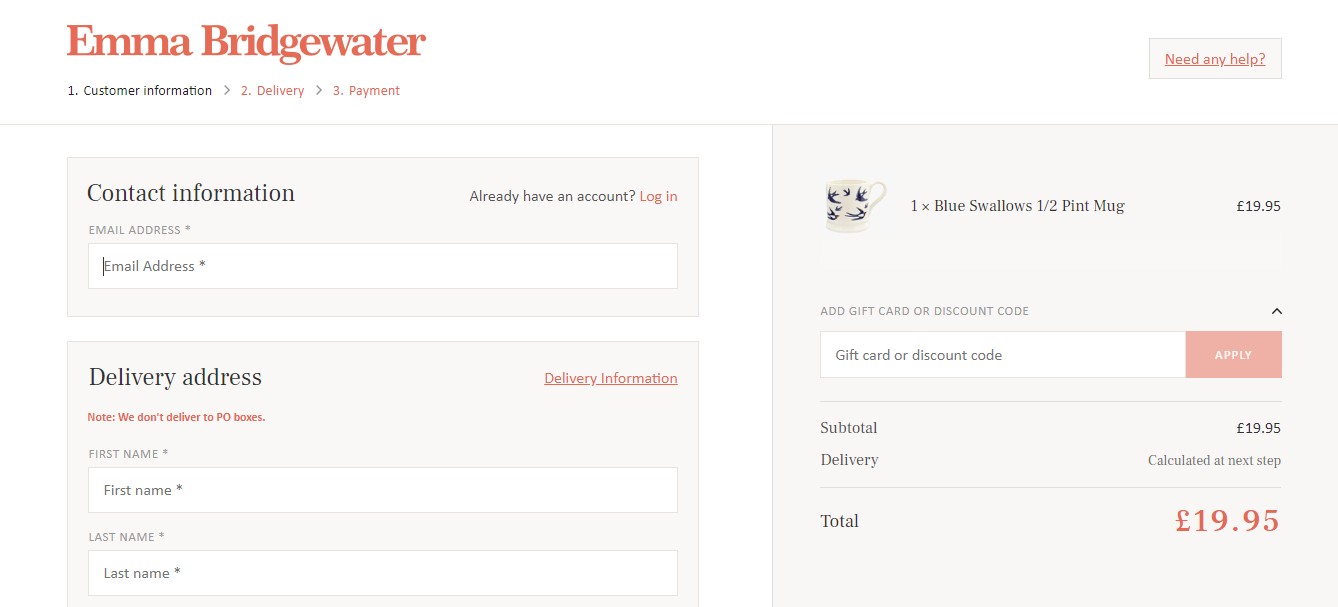 Marvellous Mugs
It's well known that us Brits take our tea very seriously. But it may surprise you to know that as a nation we consume a lot more coffee than tea! But whichever way you shake it, every British household needs to be well stocked with mugs.
With the range of small creature mugs, you can find some absolutely adorable critters adorning your brand-new drinking vessel. From red-breasted robins and fabulous frogs, to beautiful butterflies and brilliant bees, there's an animal-inspired design for every taste.
Slogan mugs are another way to go if the idea of creepy crawlies emblazoned on your mug isn't to your tastes. Whether you've got a phrase or a quote that you just love, or you just want to print your name on the mug by using the personalisation options, you can't go wrong.
And if animals and lettering aren't your thing, check out the pretty patterns on offer. With a ton of nature-inspired painted patterns on offer, there really is something for everyone.
So, whether you want a vessel for your tea, or you want to sip some coffee in style, grab yourself an Emma Bridgewater discount code and get saving.
Personalise the Perfect Present
When it comes to gifting, nothing says it better than a personal gift. Luckily, Emma Bridgewater pottery have you covered in that market. From beautiful dinnerware emblazoned with your loved ones names, to unique pottery gifts that you won't find anywhere else.
Whatever the occasion, they have you covered, with personalisation and customisation options for any event. They've got a section for every special day, whether it's a birthday, a new baby, a wedding, an anniversary, or you just want to say thanks, you're covered.
It's a simple, but super effective gift. A beautiful half pint mug, that's got your loved one's name on it with a pretty patterned background. You can pick out your favourite design and let them know what name you'd like printed on there, making it a unique gift that's bound to bring a smile to that special person's face.
Show your furry friends that they're a part of the family with a beautiful personalised bowl. Whether it's for a pup or a kitten, you can get a beautifully crafted bowl with your pet's name painted on it.
Whether you want to treat your loved ones, or you just want a plate for every occasion, Emma Bridgewater have you covered. With a ton of fun prints and personalised messages on the same high quality pottery, you can't go wrong. So, grab yourself an Emma Bridgewater promo code and get saving on the perfect, personalised present this season.
Whatever you fancy filling your kitchen cupboards with this Summer, make sure you grab an Emma Bridgewater discount code right here at MyVoucherCodes. Wonderful dinnerware doesn't have to cost a bomb.
Get Quality and Style in Your Kitchenware
When it comes to eating with the family, it's nice to add a sense of occasion with a nicely laid table, and some cracking dinnerware. With Emma Bridgewater pottery, you'll be dining in style with their selection of plates, mugs, and kitchen kit to boot.
Start with some plates, and you'll be serving up a storm in style. From large dinner plates, to smaller side servings, it's all the same great, British-made kit. You can even personalise them for an extra unique twist.
Then you can turn your attention to the drinks. With the famously high-quality mugs on offer, you can get a set, or give everyone their own unique design. You'll sipping up your drink in style. Paired with an Emma Bridgewater kettle, you've got yourself a stunning set to boot. There's reusable coffee cups, jugs, teapots and more, so you'll be spoilt for choice.
You can even cook in style, with everything from Emma Bridgewater chopping boards, to toasters, enamel cookware, oven gloves and more. It's the perfect way to revamp your kitchen as we go into the holiday season.
For a truly stunning saving on your pottery, it's well worth checking out the Emma Bridgewater factory outlet, where you can pick up a bargain on stunning ceramic dinnerware. With seconds offering the same quality kit with unique blemishes, or discontinued lines if you don't mind not being at the forefront of ceramic dinnerware style.
Don't forget to grab yourself an Emma Bridgewater discount code before you head off, you could save yourself a small fortune.