Foot Locker Hints & Tips
Kit out your feet in the biggest and best brands at Foot Locker, and with these great hints & tips, you can do it for a great lower price today:
The Foot Locker sale is the first stop for some serious savings on shoes, so keep an eye out for new additions from your favourite brands.
Save yourself a tidy sum with Foot Locker free delivery, there's not even a minimum order value, so you can save no matter what you're buying.
For the latest Foot Locker deals and offers, it's worth signing up for the newsletter, where you can get the biggest savings, sent straight to your inbox.
FAQs
How Can I Get A Foot Locker Discount Code?
The easiest way to pick up Foot Locker discount codes is to check with MyVoucherCodes before you place an order. Our team regularly updates their page with the best available offers to help you save on your new trainers.
Can I Get Free Foot Locker Delivery?
Yes, there is one delivery method at Foot Locker and that is usually free. The only exception is for Yeezys, which will incur a £10 charge. Your delivery will be with you in 2-3 working days with the standard delivery.
When Is The Foot Locker Sale?
There are sales throughout the year at Foot Locker that will deliver spectacular discounts on the biggest names in trainers. You'll find full details of any sale saving on MyVoucherCodes alongside any special offers.
Can I Get A Foot Locker Student Discount?
Yes, anyone registered with UNiDAYS can get an extra 10% off all their orders. The registration process is quick and simple, but you will need to verify your student status. You will need to generate your student code each time you place an order.
Using Foot Locker Discount Code
Begin by finding the Foot Locker discount code most suitable for your product. Once found, click 'reveal code' and copy the code.
Make sure that you have the right code for your purchases.
Head over to the Foot Locker website and browse for the items you would like to buy.
Add each of your products to your cart and view the cart to proceed.
Look for the 'Do you have a Promotional Code' box at the bottom of the screen and paste your code.
Click 'Ok' to apply your Foot Locker discount code and start enjoying your discount today.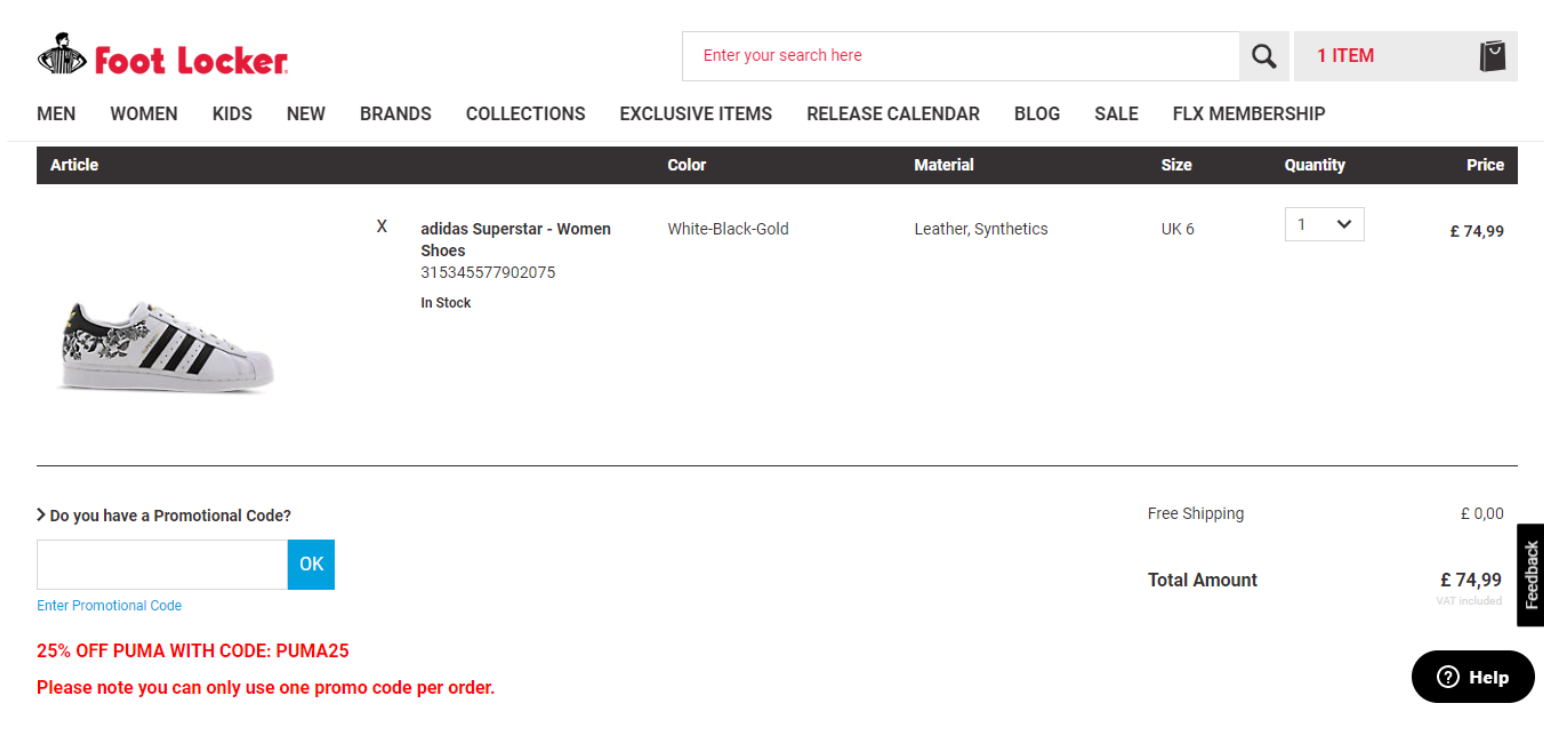 Buyers Guides - Get in on the Exclusives
If you want the kind of kicks that you won't find on any old rack, Foot Locker UK has exactly what you're after. There is a massive range of exclusives that you won't find anywhere else to give you the style that fewer people are wearing. Here are our picks for the hottest shoes you can pick up here, and only here.

Nike Foot locker
There's a massive range of Nike trainers that can turn your shoe collection into something a bit special. Our picks have to be the Nike Tuned range that delivers understated style with the top quality you expect from this sportswear giant. It's not just an adult's shoes either, the Footlocker Kids exclusives will get your little one's style sorted.
Foot Locker Adidas
Adidas are another behemoth of sports shoes that have an exclusive residency at Foot Locker. Whether you're shopping for style, sport or both, you'll find the perfect footwear with a cheeky exclusive. Our favourite? That's got to be the Adidas Deerupt. It's a modern shoe created from synthetic textiles that stand up to wear and tear.
Foot Locker Puma
The collection of exclusive Puma trainers brings the colour to your daily run with a massive selection of eye-catching designs that you can't find anywhere else. Check out the Puma MTV RS-X for a blast of retro style that will stand out in a crowd.
Buyers Guides - Time to FLX

If you're a Foot Locker regular and you love nothing more than unboxing a fresh new pair of trainers, it's time you got involved with FLX. The Foot Locker loyalty scheme is all about adding extra value to your order and introducing you to load extras that go beyond shoes.
As a FLX member, you'll instantly gain access to competitions that give you the chance to win amazing prizes. Whether that's fresh clothing, limited shoes, or exciting collabs. These are most wanted products up for grabs and for members eyes only.
A loyalty programme wouldn't be complete without a points system and Foot Locker keeps things simple on that front. Every pound you spend earns 100 XPoints to spend on anything you fancy. But keep your eye out for promotions that boost your points total and let you get more out of your orders.
One of our favourite perks is the exclusive events invites you can earn with your orders. That could see you get past the velvet rope fora swanky product launch or big show with money can't buy tickets. And even if you don't find one you love, there's always free delivery to make this free scheme worth a sign-up.
Buyer Guides - Grab an Icon
If you're a sneakerhead, you'll know all about iconic trainers and they don't come much more iconic than the most famous basketball players signature shoe. The Foot Locker Jordan's collection puts the latest looks alongside some classic retro style to make sure every collection gets the world-famous shoes it needs.

Foot Locker Jordan 1
The first Air Jordan 1 shoe came out in 1985 with unmistakably 80s style. Since then the superstar shoe has grown into the coveted collectables you see today. There are 9 versions of the 1 available in a high or low style to make sure everyone gets the look they're after.
Foot Locker Jordan Retro
If you prefer your kicks to have a more retro vibe, Jordan retros are the ones for you. They bring the same feel as the Jordan 1 but go bold in a way only the 80s can with the colours and patterns. They're an easy way of putting a twist on your look and keep your footwear iconic.
Foot Locker Jordan Max 200
The Jordan Max 200 range are perfect for hitting the court and performing at your best. Of course they bring the style, but they're designed to get the best out of you and as a combination of two sneaker giants in Jordan and Nike Air Max, you can count on quality in every shoe.