View Terms & Conditions

View Terms & Conditions

Valid with UNiDAYS account.
Offers for Hobbycraft were last updated Thursday 23 September 2021 14:24
Hobbycraft Codes That You've Missed
Most Popular Hobbycraft Code & Discount
| Offer Description | Expires | Discount Type |
| --- | --- | --- |
| 10% off Student Discount | | Deal |
| 15% off First Orders with Free Club Membership | | Deal |
| Free Delivery on Orders Over £25 | | Deal |
| Special Offers with Newsletter Sign-ups | | Deal |
| Order by 10pm for Next Day Delivery | | Deal |
FAQs

How can I get a Hobbycraft discount code?
The easiest way to get Hobbycraft codes is to check with MyVoucherCodes before you order. Our team regularly updates their page with the best available deals to help you get crafty for less. You might catch an exclusive code for savings you won't find anywhere else.
Can I get free delivery?
Yes, all orders over £20 come with free standard delivery. If your item is large, you'll need to use a different delivery method that incurs a charge. You'll find all
the shipping details
on the dedicated delivery page.
Can I get a Hobbycraft student discount?
Unfortunately, the student discount is not currently available. This may change in the future and when it does, you'll find all the details on their MyVoucherCodes page.
What are the Hobbycraft opening hours?
Opening hours vary from store to store and depend on demand. Use the store locator to find your nearest Hobbycraft and their opening hours.
Hobbycraft Hints & Tips
Whatever your craft, you can find some supplies at Hobbycraft, and with these helpful hints you can grab deal on your hobby:


The Hobbycraft offers section is the first stop for all kinds of savings, with discounts, multi-buys and the Hobbycraft clearance, you can save big on cracking crafting supplies.
Take advantage of the Hobbycraft free delivery offer, with a £20 spend, you'll qualify, saving you a few quid.
It's worth keeping an eye out for a Hobbycraft student discount, once they go live, we'll have them listed here at MyVoucherCodes.
Sign up for the newsletter to get information on all the latest Hobbycraft deals, sent straight to your inbox, not to mention we'll have them all here at MyVoucherCodes, so keep your eyes peeled!


What else does Hobbycraft offer?

Need some last-minute help to make your child's school project go off with a bang? Hobbycraft's dedicated School Project page details step-by-step guides on how to make solar systems and Viking hats, 3D maps and castles, so your little one will have gold stars all round.It's not just art supplies and decorations you can find at Hobbycraft, either. If you're planning a big surprise party, you can get everything you need to make it a special occasion. Hobbycraft's party supplies section offers party decorations, tableware, balloons and banners to really get the party started.
How to use your Hobbycraft promo code?


Using our website, search for a promo code that best fits the order you would like to make.


Click "Get Code" to unlock your voucher. Copy the code for later use.


Head over to the Hobbycraft website and browse the store.


Add all items that you would like to your "Cart" and proceed to checkout once finished.


Review your order, double-checking you have everything you want to buy.


Paste your Hobbycraft voucher code into the "Enter promotion code" box and click "APPLY" to get your discount!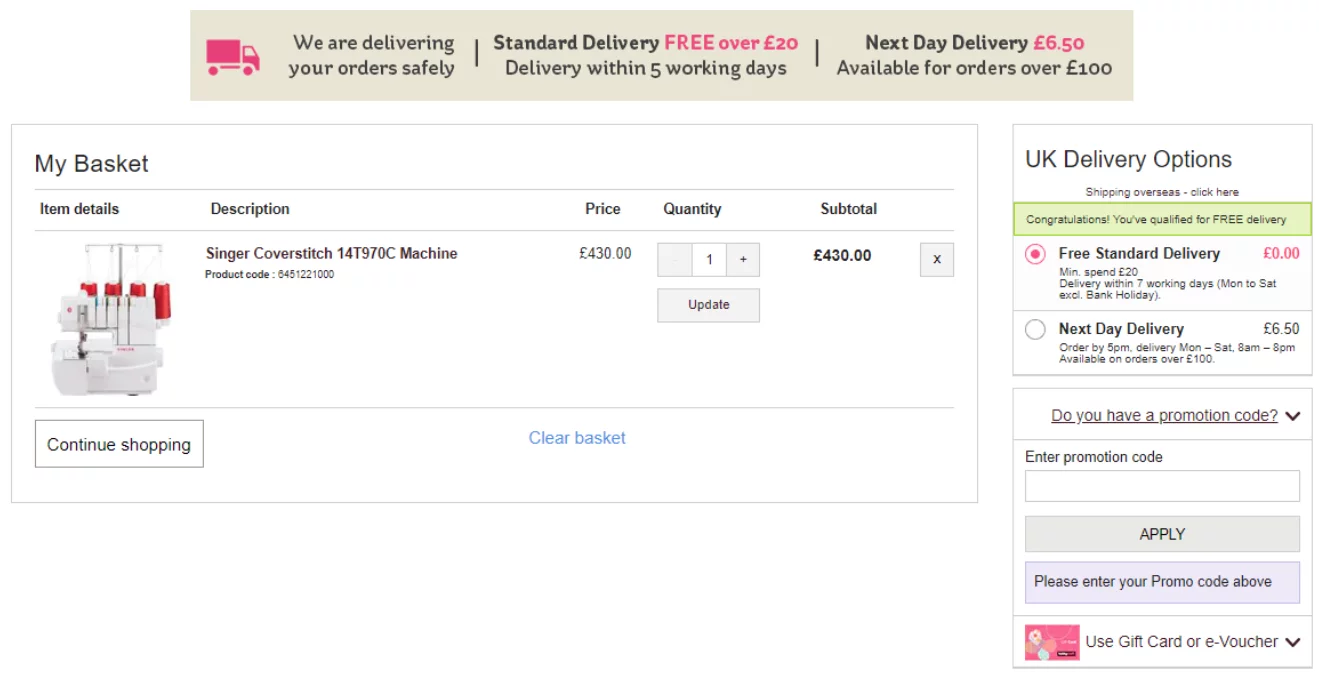 Sewing Supplies and Equipment from Hobbycraft

If you want to pick up a new skill or hobby to keep you occupied, Hobbycraft is the place to visit. Sewing, knitting and crocheting are all great skills and hobbies to acquire for keeping busy. As well as using any spare time you have at home to enjoy something new, you can also make some stunning accessories from scratch. Whether you want to occupy yourself and your wardrobe simultaneously by making garments, scarves, hats and more with top quality Hobbycraft wool, or treat your loved ones to a homemade sentimental gift, sewing, knitting, and crocheting are all incredible skills to have.
Hobbycraft Fabrics & Fat Quarters
Hobbycraft always has fantastic deals on Fabrics & Fat Quarters, ensuring you can get the material you need to create something beautiful. With an array of fabrics for sewing and bundles ideal for patchwork designs, including different prints and patterns, get inspiration for your textile work from Hobbycraft today.
Hobbycraft Sewing Machines
While sewing by hand is a necessary ability, a sewing machine is guaranteed to accelerate your progress by leaps and bounds. Hobbycraft has a range of different styles, sizes, colours available, making it easy to find the perfect sewing machine for you.
Hobbycraft Sewing Patterns
To make your results even better, explore the collection of Hobbycraft sewing patterns, including sewing patterns for beginners to get all your dimensions right the first time. There are so many patterns to choose from, ensuring you can grow your sewing skills.
Hobbycraft Cricut Maker
Why not try a Hobbycraft Cricut Maker for a versatile addition to your creative projects. A Cricut Maker allows you to work with various materials to grow your skills and abilities, so your home projects are even more impressive.
Hobbycraft UK Arts, Crafts, Essentials and More!

Enjoy great deals on art supplies and crafts from Hobbycraft, perfect for the whole family and get creative at home. From papercrafts, art supplies, baking, kids crafts and more, Hobbycraft has everything you need for heaps of fun.
Hobbycraft Arts & Crafts
At Hobbycraft, arts & crafts are not just for the kids. Whether you need professional supplies or you're using your extra time at home to develop your art skills and practice a new hobby, Hobbycraft stock high-quality art essentials for incredible prices. All adults can join the fun with art supplies such as sketching books and premium paint sets, while the little ones make the most of colouring books, assorted craft accessories and watercolour paints.
Hobbycraft Acrylic Paint
Brighten up your home with beautiful home-created paintings using great-value acrylic paint sets, as Hobbycraft has a range of options to keep the family creative. If you're new to art and need some extra guidance to create a masterpiece, then paint by numbers is the perfect way to get incredible results for those of us who aren't yet professionals.
Hobbycraft Stationery
Beyond after-hours activities, Hobbycraft has a range of storage, organisation, stationery supplies and more, for those working or studying from home so you can equip your workspace or desk for a busy day.
Hobbycraft Baking
Beyond stationery and arts & crafts, you can also brush up on your skills in the kitchen by baking an abundance of delicious treats. With the cake baking and decorating supplies at Hobbycraft, bake a showstopper, perfect for your next special occasion. Whatever the occasion, arts & crafts from Hobbycraft create hours of family fun.
Save in the Hobbycraft Sale

There's nothing better than getting great deals on things you love, and in the Hobbycraft sale, you can access an exceptional range of offers across the site on a wide range of craft essentials. Browse the offers section on the homepage to save an impressive amount on everything from sewing, craft essentials, painting, yarn, storage, decor, and so much more! Not only does the Hobbycraft sale provide discounts on a collection of products in the clearance with prices starting from under £1, but Hobbycraft also has fantastic multi-buy offers and price cuts on special offer items you don't want to miss. Whether you want to pick up some entertaining crafts for the little ones or some decorative or practical household essentials, Hobbycraft has a range of offers across the site, ensuring you can save on whatever you need.
Hobbycraft Kids Sale
Hobbycraft kids offers are perfect for ensuring your little ones have fun with creative toys, kits and crafts. Prepare for a long summer at home by preparing for the summer break with great deals on kids entertainment in the Hobbycraft sale. Choose from family games, craft cases and paint and decorate your own sets for ultimate summer fun. Prices start from under £1, so you never need to spend a fortune when schools are closed.
Hobbycraft Sewing Sale
Sewing essentials are a popular purchase at Hobbycraft, and with Hobbycraft sewing offers, you can get everything you need for a low price. Enjoy half-price sewing essentials at Hobbycraft, including fabric, thread and accessories, so you can begin creating beautiful designs. Explore the website today and make the most of the fantastic offers and discounts available today.