EXCLUSIVE
View Terms & Conditions

View Terms & Conditions

1. The £5 Marks and Spencer digital gift card giveaway ("Promotion") is subject to the following terms and conditions. By entering the Promotion entrants will be deemed to have read and accepted these terms and conditions. 2. The Promotion is organised and operated by The Global Voucher Group Limited of Imperial House, Imperial Way, Newport NP10 8UH ("Promoter"). 3. The Promotion is open to all UK residents aged 18 years or over except employees of the Promoter, their families, agents and anyone else connected with administration of the Promotion. 4. The Promotion will run from 30 Jun 2021 23:00 until 31 Aug 2021 22:59 ("Promotion Period"). 5. All entrants who (i) subscribe to receive the Promoter's electronic marketing during the Promotion Period and (ii) Lloydspharmacy confirms have spent £120 or more (excluding all gift card purchases and top-ups and delivery or collection charges) before 31 Aug 2021 22:59 at the Lloydspharmacy via the link provided on www.myvouchercodes.co.uk ("Promoter's Website") shall be eligible to receive a free £5 Marks and Spencer ("Gift Card"). 6. You will not be entitled to a Gift Card if you click on any other links or visit any other websites before making your purchase at the Lloydspharmacy or if you make use of any other offer or promotion in connection with your purchase which is provided by the Promoter or Lloydspharmacy (including any discounts, codes, savings, credit and/or points). 7. Only one entry per entrant during the Promotion Period shall be accepted. 8. Confirmation of purchase may be provided by Lloydspharmacy up to 90 working days following the date of the qualifying purchase. 9. Gift Cards may be downloaded via the "member section" of the Promoter's Website. Entrants should note that Gift Cards may expire after a certain date and their use may be subject to the retailer's own terms and conditions. 10. No entries from agents, third parties, organised groups or applications automatically generated by computers will be accepted. No incomplete or corrupted entries will be accepted. Any entries not made during the Promotion Period or otherwise in accordance with the entry instructions and these terms and conditions will be rejected. 11. The Promoter reserves the right to substitute, in its sole discretion, the Gift Card with an alternative award of equal or greater value. 12. The Promoter reserves the right to ask for satisfactory proof of identity, age and/or address as a condition of award of the Gift Card. 13. The Promoter reserves the right to amend or alter the Promotion or these terms and conditions at any time or to terminate the Promotion at any time without prior notice due to circumstances beyond its reasonable control. Any changes to the Promotion or these terms and conditions will be posted on the Promoter's Website at www.myvouchercodes.co.uk. 14. Personal data submitted by entrants in connection with the Promotion will be processed by the Promoter in accordance with the Promoter's privacy policy, which is available at www.myvouchercodes.co.uk/privacy. 15. The Promoter does not accept any responsibility for any damage, loss, injury or disappointment suffered by entrants or as a result of acceptance of the Gift Card, but nothing in these terms and conditions shall operate to exclude the Promoter's liability for death or personal injury suffered as a result of the Promoter's negligence. 16. The Promotion and these terms and conditions are governed by the laws of England and Wales and are subject to the exclusive jurisdiction of the English and Welsh courts.
View Terms & Conditions

View Terms & Conditions

Excludes Emergency Treatments and Covid Testing
Offers for Lloydspharmacy were last updated Wednesday 4 August 2021 07:23
Lloydspharmacy Codes That You've Missed
Most Popular Lloydspharmacy Code & Discount
| Offer Description | Expires | Discount Type |
| --- | --- | --- |
| Exclusive Free £5 M&S Gift Card with Orders Over £120 | | Reward |
| Free Click and Collect on All Orders | | Deal |
| 10% off Your Next Order with Newsletter Sign-up | | Deal |
| Up to 50% off Electric Toothbrushes in the Sale | | Sale |
| Get Gluten Intolerance Tests from £15 | | Deal |
FAQs
How can I get a Lloyds Pharmacy discount code?
The easiest way to pick up Lloyds Pharmacy codes is to check MyVoucherCodes before you order. Our team collects the best available offers to save you money on life's essentials. And all our deals are tested before going live to ensure you save time, as well as money.
Can I get free delivery?
Yes, all orders over £20 come with free standard delivery that will get your order to you in 3-5 days. If you'd like to speed things up a bit there is a next day delivery service that will cost £5.99. Also, all NHS prescriptions will be delivered free of charge.
Is there a Lloyds Pharmacy near me?
You can find out if there is a pharmacy near you by using the handy store locator. Simply add you postcode and you will be shown your local stores, opening hours, and what services they offer.
How to use your Lloydspharmacy Discount Code?


Start your process by looking at the discount codes we have on our site. When you find the one for your order click "Get Code" to unlock.


Using a second tab, open the Lloydspharmacy website and begin browsing for the items you want to buy.


Add all relevant items to your cart, ensuring they are covered by your code.


Proceed to checkout when finished and review your order. Make sure you have everything you need.


Copy and paste your Lloydspharmacy discount voucher into the "Promotional Code" box and click "Apply" to complete the process.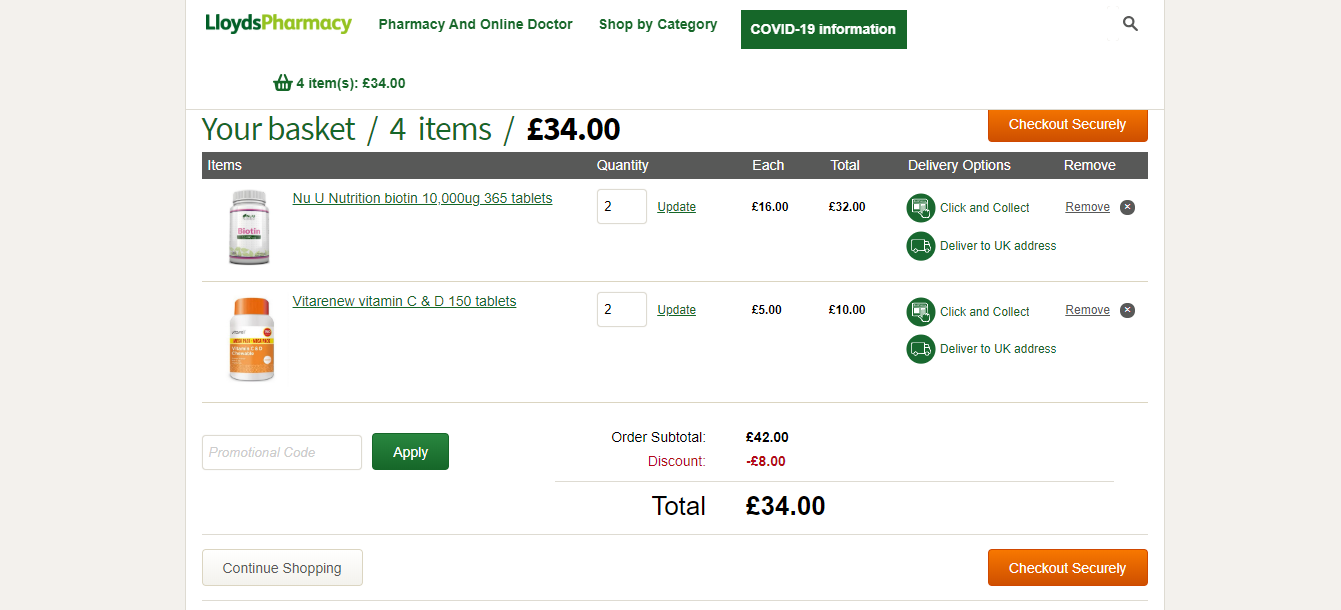 Taking Care of Baby
Pregnancy and those first months with your baby are a magical time, but there's also a whole lot of worry that comes with your bundle of joy. Lloyds Pharmacy are there for you when any of the million and 1 baby questions come up. Whether you need expert advice or trusted products for your little one, they are the experts.

Baby Feeding
Feeding can seem like a minefield with all the different formulas, bottles, and accessories, but help is out there for you. Lloyds Pharmacy has everything you need to keep little tummies full and keep your little one developing. Whether you're bottle or breast feeding, there's plenty of helpful tips and products that make sure your baby is getting everything they need.
Baby Bath
Once your baby arrives, bath time will soon become a ritual. Finding the right bubble bath, towels, moistures can take some experimentation. You can find everything from everyday soaps to specialised creams and ointments that'll keep babies skin as soft as it should be.
Baby Medicines
One thing no one bothers to tell you when you give birth is that your baby is going to get ill, and we mean a lot. Once they start in childcare, they'll pick up everything and believe it or not, it's a good thing. This is what builds up their immune system, but you'll be thankful for the comprehensive selection of Calpol, Nurofen, and vapor plugs.
Supporting You Through Covid-19
The Covid 19 pandemic has changed how we live our lives drastically. Whether that's dictating where we can go or simply what we put in our pockets, it feels like nothings the same anymore. But one thing you can count on is Lloyds Pharmacy being there every step of the way to support you through this difficult time. They are stocked with all the essentials that have been keeping us safe over the last year, and will be until this is over.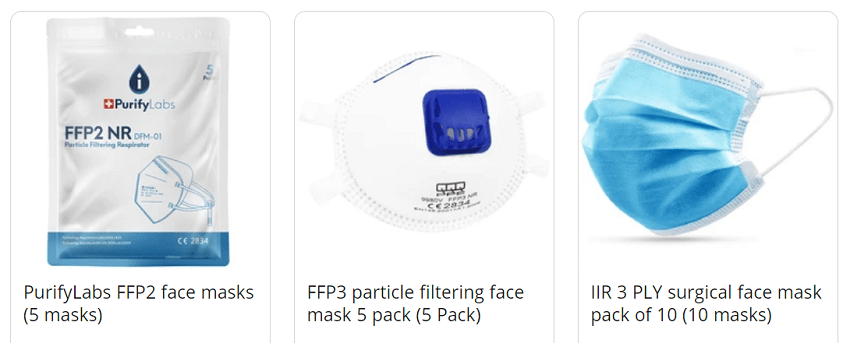 Face Masks
Masks have become the standard and it's hard to believe that just 18 months ago, none of us would have considered them. Now, they're required by law to enter a shop and they are something we check for every time we leave the house. Lloyds Pharmacy masks include surgical, reusable, and the FFP3 to make sure you can stay protected whenever you nip to the shop.
Hand Sanitizer
Not so long ago the advice coming out of government was simply to wash your hands. Bonus points if you sang happy birthday in your head as you scrubbed. The prevention efforts might have stepped up since then, but Lloyds Pharmacy still stock all your sanitizer gels for an easy way to get a little more protection.
Thermometers
Checking for a temperature has become a regular ritual for many of us and thermometers are now a must have bit of kit. Whether your budget calls for a contactless, in ear, or under arm thermometer, you'll find it at Lloyds Pharmacy to ensure you can check yourself wherever you go.