Using our Sandals Resorts voucher codes to get the best deals
With these simple steps, you'll be saving money with our Sandals Resorts voucher codes in no time.


The quick and easy process starts with clicking to show the voucher code on the MyVoucherCodes Sandals Resorts webpage. A separate window will pop up revealing the Sandals Resorts discount code, which you can then copy and save for great discounts later.
MyVoucherCodes will take you to the Sandals Resorts website automatically. You just need to visit the previous window.
Browse their stunning range of holiday packages. You can browse by resort and choose from a wide array of options, so your personal preference is always at the heart of your purchase.
Choose your preferred order - hotel and flight, or simply the hotel. Below the hotel only section, there is a box that says 'Promotional Code'. Double check that your Sandals Resorts voucher code is valid for your booking and enter it into this box.
If your Sandals Resorts voucher code is valid, you can search the available holiday packages and enjoy your savings.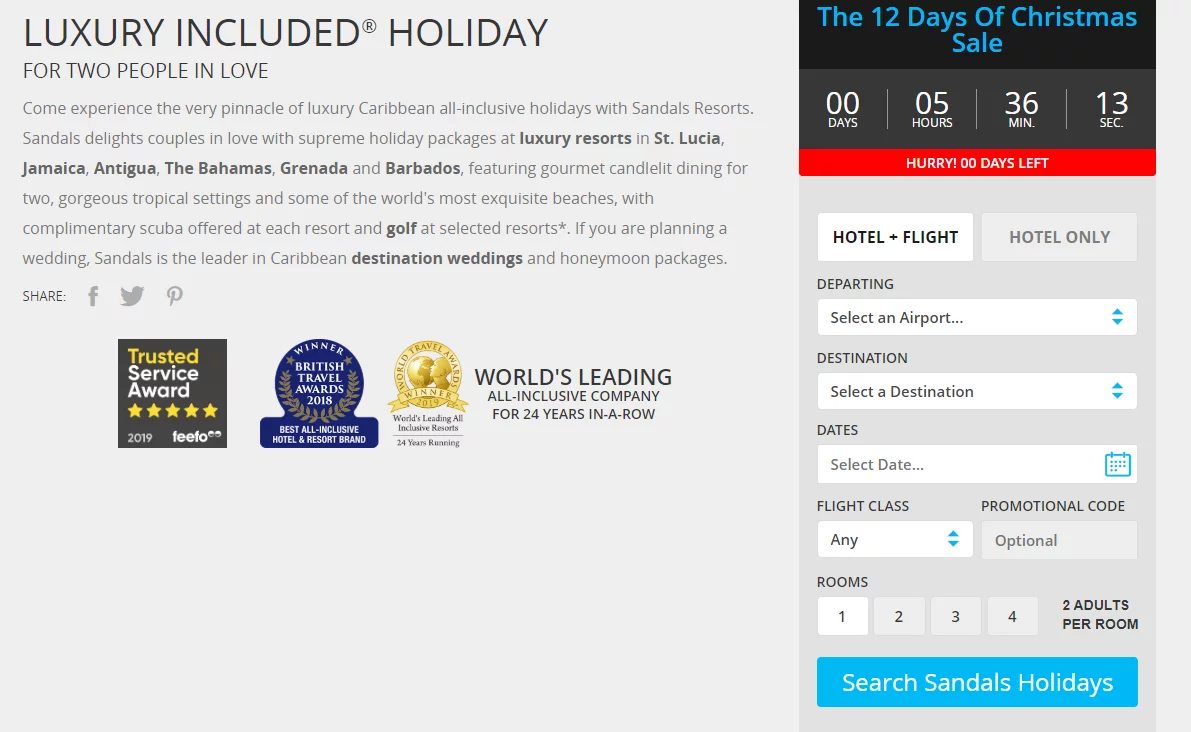 How can I get the best savings at Sandals Resorts?
Try these tips and hints from our experts to save even more cash at Sandals Resorts.


Check the special offers section online to find the best discounts to your favourite destinations. You can check out their latest seasonal offers, or grab a last minute bargain here.
Sign up to the Sandals Resorts newsletter. They'll keep you up to date with exclusive offers, so you can be the first to know about their amazing promotions!
Make sure you follow Sandals Resorts on social media. Check out their deal of the day on their Facebook page. Or, get some holiday inspiration for your next trip on their Instagram.
When you search for your next holiday destination, you can sort the prices from lowest to highest. That way, you can see the cheapest deals first and get your trip of a lifetime for amazing value.
FAQs
What's included in Sandals holidays?
Meals, accommodation, activities, Wi-Fi, airport transfers, all tips and more are included. For more information it's worth checking out
the FAQs page
in the 'What's Included?' section.
Do Sandals offer Day Passes?
Yes. There are different rates for different resorts, and the evening passes tend to be more expensive than the day passes. A full list of prices can be found on the FAQs page.
Can the resorts accommodate food allergies?
Yes, the resorts work closely with customers and the chefs so that diners can rest assured their allergies will be accommodated.
Can we request adjoining rooms when travelling with friends?
While it's not guaranteed you can request to be placed in adjoining rooms, and the resort will do their best to make this happen. The requests can be made on the comments section at the end of the online booking process.
Are resorts adult only?
Yes. Children and pets are not allowed as the resorts aim to be as romantic as possible.
What seasonal offers does Sandals Resorts have?
Whatever season you're looking to travel in, make sure you check out the amazing seasonal offers that Sandals Resorts has.
Last year there were some fantastic Sandals Resorts Black Friday deals on offer. If you booked at least six nights with Sandals you could have got a one hour couples massage, a Catamaran cruise for five, or up to $625 in credit at participating spas absolutely free!
Make sure you're subscribed to their newsletter, as the Sandals Resorts Black Friday deals don't last forever! They'll also keep you up to date with all the other seasonal sales going on.
The Luxury Caribbean Holidays on Offer at Sandals Resorts
There's no better experience than a stunning Caribbean getaway. With beautiful, white sandy beaches, pristine waters, and sunshine, it's the perfect tropical holiday.
With so many resorts across the beautiful islands of the Caribbean, you're spoilt for choice. So, we've compiled a list of the finest resorts that Sandals have to offer, so you can make your mind up on which cracking Caribbean excursion is right for you.
St. Lucia
For a spot of stunning sunshine, incredible food and wonderful scenery, you can't go wrong with
St. Lucia
. A romantic place that boasts rain forests, an ancient volcano and the beautiful Marigot Bay.
With three resorts, two golf courses and 27 restaurants, you are well and truly catered for. Better yet no matter the resort you're staying at, you can enjoy the entertainment on offer at the others.
For a real treat it's worth taking the beautiful ocean and going for a spot of dolphin and whale watching. It's not to be missed.
Jamaica
With white sandy beaches, gorgeous golf courses, stunning seas and beautiful resorts, you're in for a holiday to remember in Jamaica. And with complimentary transfers between locations, you can see what each resort has to offer.It's worth checking out the local adventure tours, with
Jamaica
being a land of stunning natural beauty, you'll want to explore. With scenic cliffs, majestic waterfalls, lagoons and hot springs there's so much to see.
Antigua
A land full of beaches, in Antigua you're truly spoilt for choice on where to top up your tan. With beautiful waters that are a sailor's dream, it's worth catching the regattas when the annual sailing week is on. Scuba diving and snorkelling are on the cards too, with such beautiful clear waters, it's worth spending some time in them. There's also some stunning architecture, with St. John's Cathedral and the English harbour to see. But most of all it's a vividly coloured gem of the Caribbean. Not to mention it's 'home to the most romantic resort in the world', so it's the perfect honeymoon destination, or just a fabulous Valentine's day treat.
The Bahamas
To live the James Bond lifestyle,
The Bahamas
are the perfect location. With casinos, exotic beaches, and stunning scenery everywhere. You can even dive to Thunderball grotto for a real treat.
Another fixture of the Bahamas is swimming with the pigs. An international phenomenon where you take a dip with some adorable pigs. An adventure that is truly unique to this beautiful part of the world.
Grenada
Grenada Sandals resorts
have some of the most stunning suites. With swim-up suites, infinity pools and other innovative features, you'll be amazed. Throw in the butler elite service and you'll really be living in luxury on your holiday.
With water sports, scuba diving, pool parties, fashion shows, live bands and more, you'll never be stuck without anything to do. For a little luxury, you can't do much better than Grenada.
Barbados
For a little rest and relaxation, head to
Barbados
and soak up some the glistening sun. With an exotic backdrop and some truly superb suites to stay in, you can experience true luxury this holiday season.
Spend your days topping up your tan on the stunning stretches of sand, and playing a little beach volleyball, then head back to the resort at night for talent shows, carnival parties and even a piano bar.
Wherever you're heading in the Caribbean, make sure you check out MyVoucherCodes. With all the latest deals and offers in one place, you could save yourself a fortune on your stunning holiday.