Using our Sandals Resorts voucher codes to get the best deals
With these simple steps, you'll be saving money with our Sandals Resorts voucher codes in no time.


The quick and easy process starts with clicking to show the voucher code on the MyVoucherCodes Sandals Resorts webpage. A separate window will pop up revealing the Sandals Resorts discount code, which you can then copy and save for great discounts later.
MyVoucherCodes will take you to the Sandals Resorts website automatically. You just need to visit the previous window.
Browse their stunning range of holiday packages. You can browse by resort and choose from a wide array of options, so your personal preference is always at the heart of your purchase.
Choose your preferred order - hotel and flight, or simply the hotel. Below the hotel only section, there is a box that says 'Promotional Code'. Double check that your Sandals Resorts voucher code is valid for your booking and enter it into this box.
If your Sandals Resorts voucher code is valid, you can search the available holiday packages and enjoy your savings.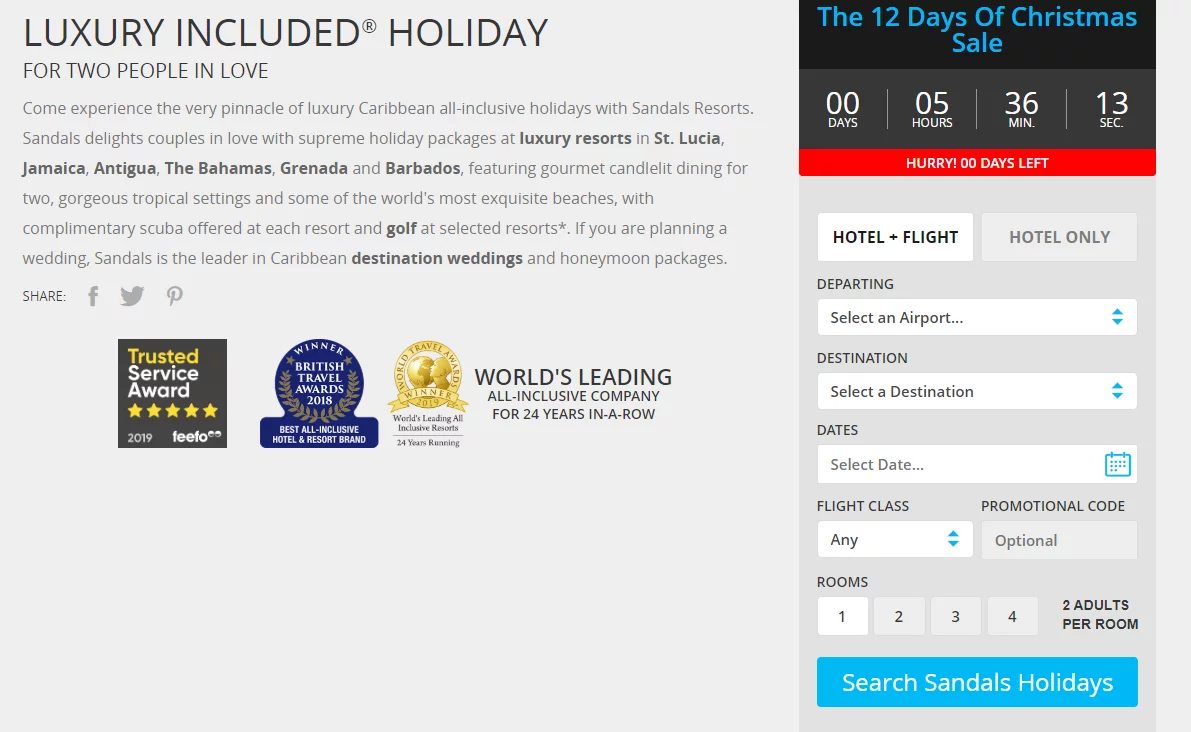 How can I get the best savings at Sandals Resorts?
Try these tips and hints from our experts to save even more cash at Sandals Resorts.


Check the special offers section online to find the best discounts to your favourite destinations. You can check out their latest seasonal offers, or grab a last minute bargain here.
Sign up to the Sandals Resorts newsletter. They'll keep you up to date with exclusive offers, so you can be the first to know about their amazing promotions!
Make sure you follow Sandals Resorts on social media. Check out their deal of the day on their Facebook page. Or, get some holiday inspiration for your next trip on their Instagram.
When you search for your next holiday destination, you can sort the prices from lowest to highest. That way, you can see the cheapest deals first and get your trip of a lifetime for amazing value.
What seasonal offers does Sandals Resorts have?
Whatever season you're looking to travel in, make sure you check out the amazing seasonal offers that Sandals Resorts has.
Last year there were some fantastic Sandals Resorts Black Friday deals on offer. If you booked at least six nights with Sandals you could have got a one hour couples massage, a Catamaran cruise for five, or up to $625 in credit at participating spas absolutely free!
Make sure you're subscribed to their newsletter, as the Sandals Resorts Black Friday deals don't last forever! They'll also keep you up to date with all the other seasonal sales going on.