Schuh Hints & Tips
Treat your feet to some fantastic new footwear at Schuh, and make sure you're getting your money's worth with these tips for a terrific saving:

Check out Schuh Imperfects, where you'll find shoes that have had a little too much interest on the shop floor, for lovely, low prices. Perfect if you don't mind a little scuff or two.
The Schuh sale section is a must for those looking to save on shoes, with regular discounts and new items added regularly, you can bag a fabulous price on footwear.
To save a few quid, check out the Schuh free delivery offer, where you can save on shipping when you spend £25 or more.
Grab a cracking discount on your order thanks to the Schuh student discount, with 10% off your order all year round, you can snatch up a saving when you treat your feet.
FAQs
What are Schuh imperfects?
They are shoes for sale at discount prices, usually due to slight scuffs, discolouration and other small defects. They can be found on
the 'Imperfects' page
and all have a description of the imperfections in the product information.
Can I get a Schuh discount code?
Yes, you can occasionally get a Schuh voucher code. These will be listed alongside deals, offers and the Schuh sale information. You can also occasionally get an exclusive Schuh promo code at MyVoucherCodes.
Is there a Schuh student discount?
Yes, Schuh offers a student discount. By filling in
their student discount form
you could be applicable for a 10% Schuh voucher code with your order.
What is the Schuh returns policy
All online returns are free to 'myschuh' account holders and cost £2.50 if you aren't a member. You'll need the receipt to return the items and have 365 to return them.
Using Your Schuh Discount Code
Browse through our voucher codes to find one that suits you. Copy the code for later.
Take a look through the Schuh website and find the products you would like to purchase.
Add the relevant items to your basket, ensuring the code applies to them.
Once you have selected all the products you would like to buy, proceed to checkout.
Click the 'Promo Tab' to find a dropbox and paste your Schuh discount code.
Apply your discount code to your basket and your tab will refresh, showing you your new discounted price.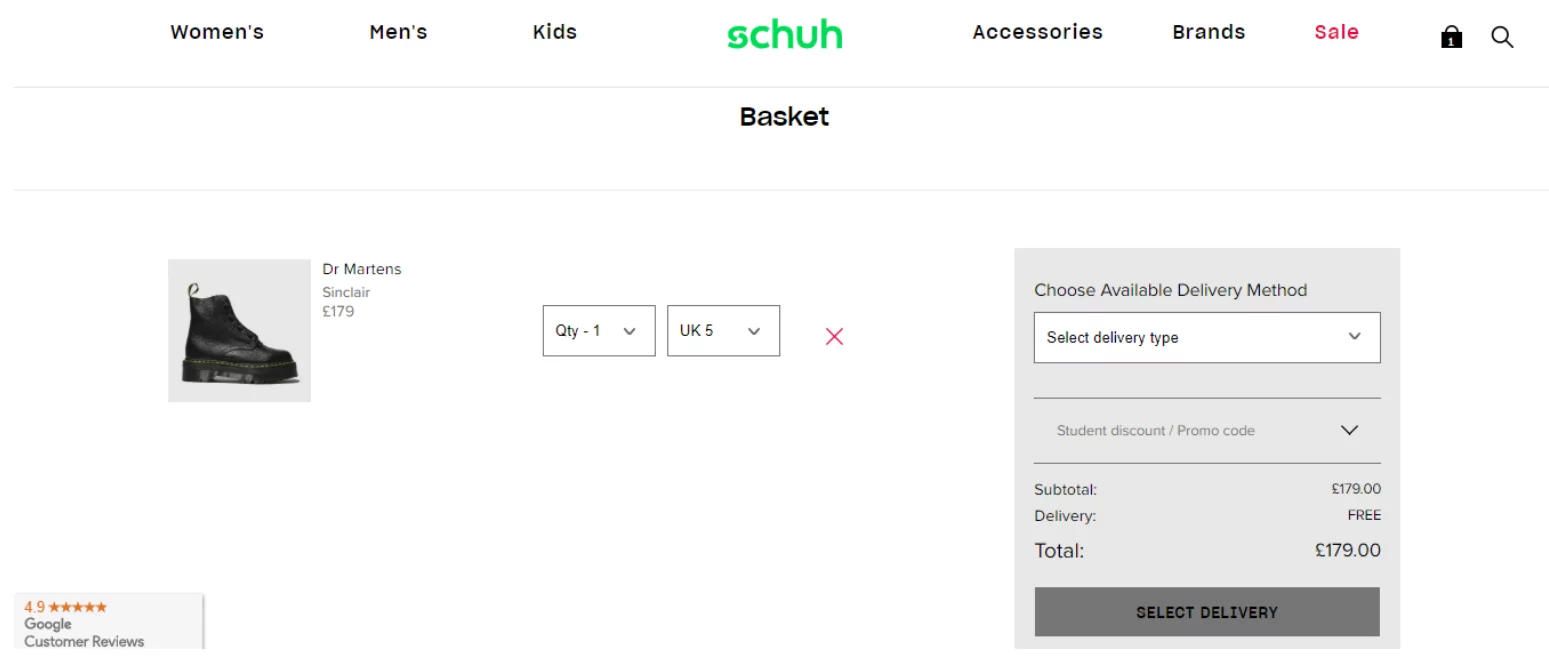 Perfectly Schuh Imperfects
Life isn't perfect, and wouldn't it be dull if it was. Marks on the wall make a house looked lived in, cracked spines make books look loved, and it's the knocks we take that forge the people we become. The Schuh Imperfects collection embraces that philosophy, and rather than binning a perfectly good pair of shoes because they've got a little scratch on them. Instead, they knock some money off to help switched on shoppers save on a new pair.

This perfectly imperfect collection contains some of the biggest brands in the world and slaps incredible discounts on them. You'd never have guessed how much a scuff could save you on a pair of Ted Baker shoes.
The collection is constantly changing as new shoes get dropped, but this autumn you can pick up a pair of Timberland or UGG boots that are fashion favourites when the weather turns. It's one of the best places to find deals on designer footwear.
It's the best place to shop for the kids shoes when they're asking for top of the range but the budget is tight. You can pick up playground ready Adidas, Nike, or Converse trainers that will keep them happy as they learn.
This is a massive collection and we haven't even scratched the surface here. So, head over and pick up a Imperfect pair today.
The Dr is Always In
The distinctive Dr Martens look has been a rebellious fashion essential for well over 100 years and these boots have been a symbol of counter-culture for decades. These days, the historic shoes have hit the mainstream and plenty of pop stars have embraced the fashion icons. If you want to join them, or see what all the fuss is about, the Schuh Dr Martens collection brings together the best boots around.

Schuh Women's BootsIf you're looking for a stylish pair of boots that will stand up to you days, the Schuh Doc Martens selection of women's boots is perfect for you. There are seriously bold options that are guaranteed to make a statement when you hit the pavement. If you don't believe us check out the 1460 Pascal Zebra boots to see exactly what we're talking about.
Schuh Men's Boots
Whether you after a new pair of work boots or everyday wear, the Schuh selection packs in all the style points. The Dr Martens 1460 Pascal Ziggy boots are a perfect match for a pair of blue jeans with their warm brown leather. Best of all, the unmatched quality means they're built to last, even when they're battered on site.
Schuh Junior
Little people need big style too and the Schuh kid's section isn't lacking in that department. The selection of Dr Martens kid's shoes and boots bring the same attention to detail and commitment to quality that their brand is built on. And they throw in splash of fun for good measure.
These are Schuh Kids
Little feet grow fast, and your favourite little people go through footwear fast. And their tiny feet need top quality shoes to help them grow and develop properly which can make things get pricey if you don't shop smart. That means you're looking for quality and value, which means you're looking for Schuh Kids.

Schuh Kid's Trainers
Kid's trainers are all about finding the right support as they run full pelt whenever they get the chance. That's why Schuh only stock the best sportswear brands that have a proven track record with sporty shoes. That means it's the place to go for tiny Nike, Vans, or Converse at an excellent price.
Schuh Kid's Shoes
Whether it's back to school shoes or a family gathering, you can't send them out with battered shoes on their feet. When you need to replace a battered and scuffed pair, you'll find the likes of Dr Martens and Kickers that will keep them looking smart when you need them to.
Schuh Toddler Shoes
Schuh stock a fantastic range of toddler shoes that are specifically made for little feet so they get to grips with walking in style. You'll find the same big brands too and it's easy to get them started with good fashion sense young.