EXCLUSIVE
View Terms & Conditions

View Terms & Conditions

1. The £5 Caffè Nero digital gift card giveaway ("Promotion") is subject to the following terms and conditions. By entering the Promotion entrants will be deemed to have read and accepted these terms and conditions. 2. The Promotion is organised and operated by The Global Voucher Group Limited of Imperial House, Imperial Way, Newport NP10 8UH ("Promoter"). 3. The Promotion is open to all UK residents aged 18 years or over except employees of the Promoter, their families, agents and anyone else connected with administration of the Promotion. 4. The Promotion will run from 11 Apr 2021 23:00 until 30 Sep 2021 22:59 ("Promotion Period"). 5. All entrants who (i) subscribe to receive the Promoter's electronic marketing during the Promotion Period and (ii) Stradivarius confirms have spent £65 or more (excluding all gift card purchases and top-ups and delivery or collection charges) before 30 Sep 2021 22:59 at the Stradivarius via the link provided on www.myvouchercodes.co.uk ("Promoter's Website") shall be eligible to receive a free £5 Caffè Nero ("Gift Card"). 6. You will not be entitled to a Gift Card if you click on any other links or visit any other websites before making your purchase at the Stradivarius or if you make use of any other offer or promotion in connection with your purchase which is provided by the Promoter or Stradivarius (including any discounts, codes, savings, credit and/or points). 7. Only one entry per entrant during the Promotion Period shall be accepted. 8. Confirmation of purchase may be provided by Stradivarius up to 90 working days following the date of the qualifying purchase. 9. Gift Cards may be downloaded via the "member section" of the Promoter's Website. Entrants should note that Gift Cards may expire after a certain date and their use may be subject to the retailer's own terms and conditions. 10. No entries from agents, third parties, organised groups or applications automatically generated by computers will be accepted. No incomplete or corrupted entries will be accepted. Any entries not made during the Promotion Period or otherwise in accordance with the entry instructions and these terms and conditions will be rejected. 11. The Promoter reserves the right to substitute, in its sole discretion, the Gift Card with an alternative award of equal or greater value. 12. The Promoter reserves the right to ask for satisfactory proof of identity, age and/or address as a condition of award of the Gift Card. 13. The Promoter reserves the right to amend or alter the Promotion or these terms and conditions at any time or to terminate the Promotion at any time without prior notice due to circumstances beyond its reasonable control. Any changes to the Promotion or these terms and conditions will be posted on the Promoter's Website at www.myvouchercodes.co.uk. 14. Personal data submitted by entrants in connection with the Promotion will be processed by the Promoter in accordance with the Promoter's privacy policy, which is available at www.myvouchercodes.co.uk/privacy. 15. The Promoter does not accept any responsibility for any damage, loss, injury or disappointment suffered by entrants or as a result of acceptance of the Gift Card, but nothing in these terms and conditions shall operate to exclude the Promoter's liability for death or personal injury suffered as a result of the Promoter's negligence. 16. The Promotion and these terms and conditions are governed by the laws of England and Wales and are subject to the exclusive jurisdiction of the English and Welsh courts.
Offers for Stradivarius were last updated Tuesday 6 July 2021 10:43
Stradivarius Codes That You've Missed
Most Popular Stradivarius Code & Discount
| Offer Description | Expires | Discount Type |
| --- | --- | --- |
| Exclusive Free £5 Caffè Nero Voucher with orders over £65 | | Reward |
| Fragrances from £5.99 | | Deal |
| Free Returns | | Deal |
| Free Delivery on All Orders Over £30 | | Deal |
| Sign up to the Newsletter for Special Offers and Exclusives | | Deal |
FAQs
Can I get a Stradivarius discount code?
They don't offer regular voucher codes, however, if they do, they'll be listed at MyVoucherCodes. You can also find the latest deals, offers and sale information for Stradivarius.
What payment methods do Stradivarius accept?
They accept payment with Visa, American Express, MasterCard and Maestro credit and debit cards. They also accept payment via PayPal, gift card and even cash on delivery.
Is there a Stradivarius near me?
You can find your nearest branch by using
the store locator
on their website. Simply type in your postcode, town or city name, and you'll be shown a list of your nearest stores, along with opening and closing times.
How to use your Stradivarius Discount Code?


Start on our website by scanning for a discount code that fits your order.


Unlock your code and open the Stradivarius website using a second tab.


Browse through the site, adding each item you want to your cart. Or search for your item directly using the search bar.


When finished, proceed to checkout. Make sure each item you have chosen is covered by your code.


Copy and paste your Stradivarius discount code into the "Promotional Code" box and click "Apply".


Click "Process Order" to make the final payment.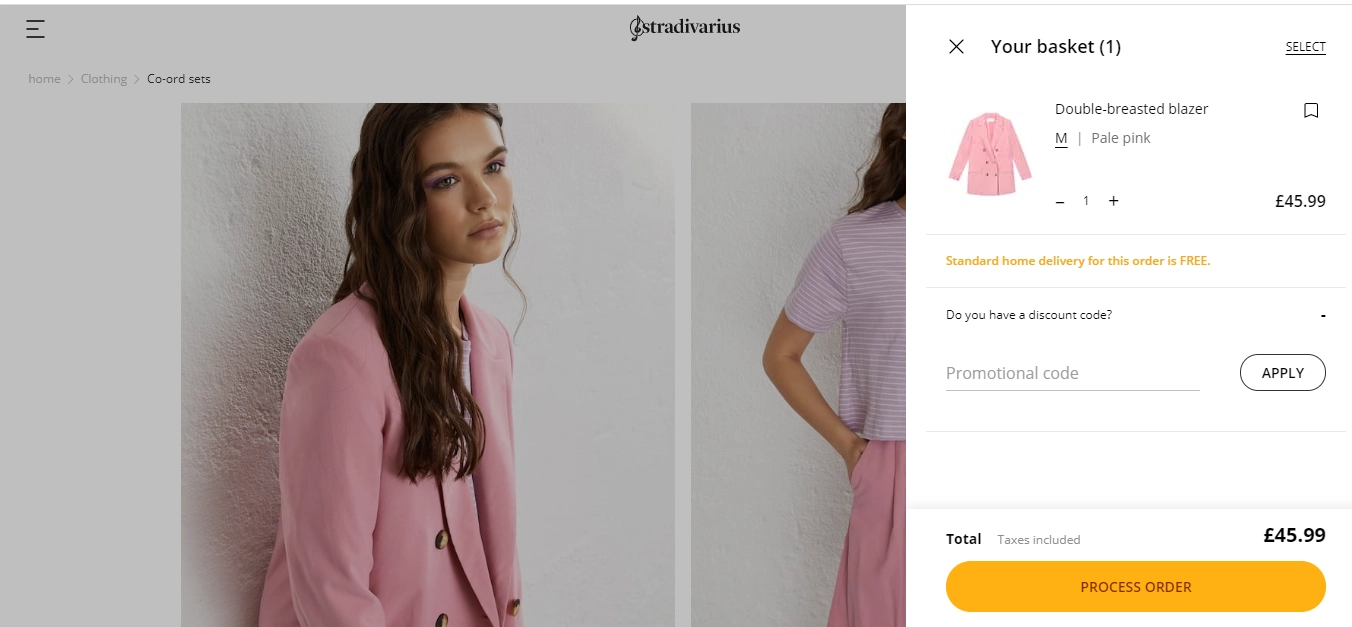 Denim for Days
Jeans are fashion staple, and everyone has their favourite fit. But don't panic if you don't know you straight from your skinnies, our guide to Stradivarius jeans will guide you through this denim wonderland to find your perfect pair.

Stradivarius Straight Jeans
Whether you want plain denim, ripped, or funky patterns straight jeans are a classic choice. They have a real 90s feel to them and they're perfect for a stylish retro look. But these are a versatile choice and will pair well with pretty much anything. A simple tank top and light jacket is an easy and modern look for straight cut jeans.
Stradivarius Skinny Jeans
Skinny jeans are a modern favourite that are always in style. They give your legs more definition and keep a tight profile. They are a fabulous choice for your everyday wear and it couldn't be easier to create a gorgeous outfit with them. For smart casual days match them with a white shirt and blazer for a big look.
Stradivarius Mom-Fit Jeans
Mom jeans are similar to straight cuts and have a similar retro feel to them. The main difference between the two is that mom jeans usually have a high waist to create an old school look. They're perfect for chill out days when it's all about keeping comfy. Match them with your favourite trainers and comfy jumper for a hassle-free look.These are just 3 of the most popular trends available at Stradivarius. Make sure you check out the entire collection to find your perfect fit.
Shoes in Style
Shoes are the easiest way to add a finishing touch to any outfit and they can really pull things together. Every outfit needs something different and there's a never-ending list of shoe styles to put a gorgeous twist on your style. The Stradivarius shoes collection is packed with on trend shoes and trainers that are fit for every collection.

Stradivarius Boots
Boots are essential for every wardrobe and they're perfect for the days when the weather takes a turn. The gorgeous collection at Stradivarius pulls in the most stylish trends that are sweeping the world as we speak.
Stradivarius Trainers
If you're going for a casual look, trainers are the obvious choice. They'll add a subtle style boost to your outfit and keep things comfortable. The new Fabric High Tops bring a classic look with stunning detail that puts a fresh twist on things.
Stradivarius Flat Shoes
Flat shoes are perfect for when you're on the move and at Stradivarius, that means being out in the sun. The latest batch of flats are made to be seen in the sun. The Raffia Mules sum up this aesthetic perfectly and the unique shoes are perfect for sunny walks.
Stradivarius Heels
There are some occasions when only heels will do, and on those nights, you want something a little bit special. The Stradivarius heels collection is packed with event worthy heels and wedges that will transform your look. These are the shoes that are made for dancefloors and galas, and they'll give you the confidence to bust all of the moves.
Just in for Spring
The sun is starting to show its face after a long hard winter and that can only mean one thing. Spring is in and so are the gorgeous new collections. For Stradivarius clothes that means loads of gorgeous light layers, vivid colour, and delicate florals that will make your wardrobe bloom. Here's the top picks you need to add to your collection this season.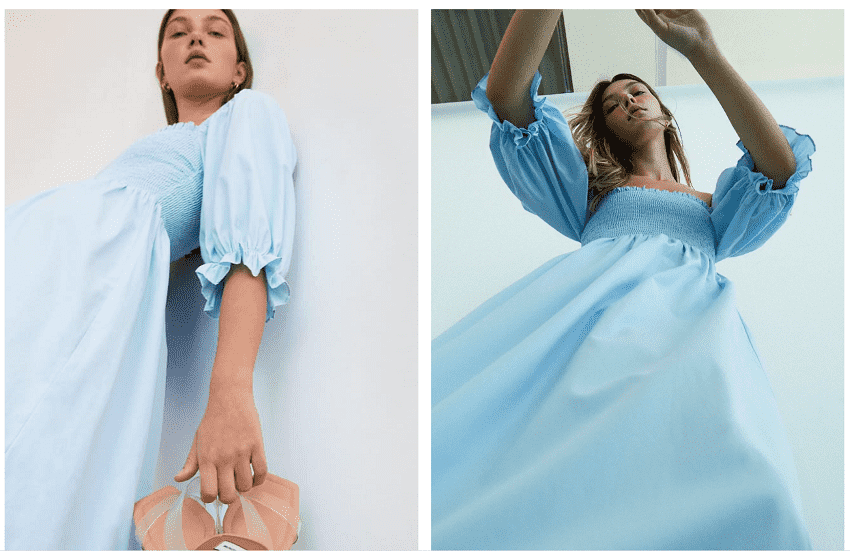 Stradivarius Dresses
Spring dresses are always an essential item. After hibernating in cosy layers for months on end, there's nothing like breathing fresh life into your look with a gorgeous spring dress. The spring Stradivarius collection offers stunning takes on this iconic seasonal favourite with light numbers that feel as good as they look. Our favourites are the crocheted dresses and they'll give your outfit a bold look.
Stradivarius Shirts
One of our favourite trends right now is the oversized shirt. Throw on your favourite pair of jeans, a colourful tank top, and oversized white shirt and you've got yourself a gorgeous casual look. The flowing boyfriend shirts in this collection are perfect for this style and they'll add a breezy twist to your wardrobe.
Stradivarius Suits
When you want to keep things smart and keep a sense of fun in your outfit, the flowy suits are the one. This two piece outfit is all about smart casual style and they flowing look they create is made for spring days.