FAQ's
Can I get a Wilko voucher code?
Typically they don't offer discount codes. But you can get exclusive voucher offers right here at MyVoucherCodes.
Do Wilko offer a student discount?
Currently, they do not offer a student discount. However, you can grab one of our offers to save yourself some money.
What payment options are available at Wilko?
You can pay using Visa , Maestro, Mastercard, PayPal, American Express, Apple Pay, Laybuy, Verified by Visa, MasterCard SecureCode and SafeKey.
Can I pay flexibly?
Yes, you can use Laybuy to spread the cost of your order over 6 weekly payments, without any interest.
What delivery options are available at Wilko?
You can get standard home delivery for £5 that arrives in 4 working days. You can get premium delivery for £8 and arrives the next day. Click and collect is available for £2 and heavy item delivery will cost £12.
Can I track my order?
Yes, you can use their
order tracker
by putting in your order number, your post code.
Hints and Tips  
With so much on offer at Wilko, you'll be spilt for choice. And with these money-saving tips, you won't have to break the bank either.


Save money on delivery costs by picking up your new Wilko.com goods from your nearest store and taking advantage of click & collect for just £2.


Gathering all of its special offers and money-saving deals in one place, the offers page is where you'll find the most exciting discounts on some of the best Wilko products.


Wilko lets you browse categories and shop products which are guaranteed to make you great savings and offer the best value for money. And you can filter by price to make the most of your cash.


Get yourself signed up to the Wilk newsletter to get all the latest news and offers straight to your email inbox.


Keep your eyes peeled on the banner at the top of their homepage. This is where you'll find some incredible deals and competitions.


How to redeem a Wilko Promo Code
If a coupon is displayed in a pop-up when you click on a MyVoucherCodes promotion, then you simply need to follow the below few steps to redeem the offer.


Copy the voucher code from our Wilko page


Select the products you wish to purchase


Go to your shopping basket


Apply the code to the box marked 'promotions'


Check that the discount applies before completing payment


Wonderful Wallpapers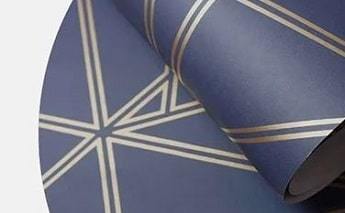 From neutral shades and bold tones to glitter finished and antibacterial offerings, the Wilko wallpaper section really is top notch. Whether you want to add a pop of colour to the room, or you want wipeable wallpaper that's great if you've got kids, you can't go wrong.
The range of colours on offer is super extensive. From blacks, greys, whites and creams for a neutral aesthetic, to golds, reds, greens and purples if you fancy something a little louder. They've even got multi-coloured ranges if you want to adorn your walls with complimentary colours.
As far as patterns are concerned, you've got options. From brick and tile patterns, to trees and leaves for natural vibes. They've got geometric designs for that art-deco inspired look, or even floral favourites for something a little classic and rustic.
On the flip side they've got antibacterial wallpaper to help fight off those germs. Especially handy in these Coronavirus times. But that doesn't mean the functionality sacrifices on style. With something for the kiddies bedrooms that's colour-laden and inspired by their favourite franchises, to grown up options offering subtle style.
So, whatever you want to deck the halls with this Summer, check out what the Wilko wallpaper section has to offer.
Sorting Out the Stationery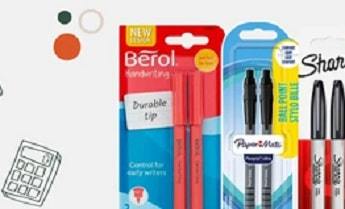 Whether you need something for the new university term, you've got school coming up, or you just want to get a little arty, Wilko have a terrific selection of stationery to sort you out this season.
When it comes to pens, Wilko have the goods. From Sharpie markers and Bic pens, to Paper Mate biros. So, whether you've got some serious notetaking to do, or you want to get your doodle on, there's something for you.
When it comes to paper, you're sorted too. From lined paper and graph paper, to clear paper for artier applications, there's a ton of choice. Cute little notebooks are perfect for notetaking, while their sketch pads come in every size you can imaging, whether it's A2, A3 or the standard A4.
There's calculators, rulers, geometry sets, compasses, binders, pencil cases and everything in between. So, you won't be left wanting when it comes to the new season of school. And Wilko know you're in need of this stuff so they typically run sales on back to school gear.
So, whether you want to get crafty, or you've got some education to get under your belt, a Wilko promo code is exactly what you need to make the most of your money on those stationery essentials.
Get that Garden Geared Up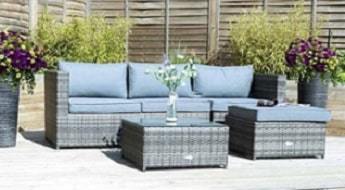 Summer is here, and there's no better time to get that garden looking great. Luckily, Wilko have everything you need to elevate that outdoor space to new heights. Whether you want a garden furniture overhaul, or just want to add a few homely touches, they've got you covered.
Garden furniture is essential to making that garden gorgeous. With a garden dining set, you can get a little alfresco with your meals. From simple but effective bistro sets, to family-friendly 6-seaters that'll turn your garden into the premiere dining area in your home, Wilko has it all on offer.
For those looking to soak up some sun in style, the Wilko range of sun loungers is top tier stuff. Promising comfort and functionality in one fantastic package, you can't go wrong. Whether it's the grey woven recliner, or a Charles Bentley Rattan sun lounger, they've got something for ever price point too.
From parasols and patio heaters, to garden gnomes and solar lighting, there's plenty of extras that'll help you take your outdoor space to new levels this Summer. Parasols provide you with that essential shade when the heat is a little much, and a patio heater can warm then place up when the British weather throws us a curveball.
So, when it comes to improving that garden, think Wilko. And with our fabulous range of offers, you can bag a bargain on your basket.