How to use your Beer Hawk discount code
Look through our website for a valid voucher code. Unlock the code and copy for use later.
Open the Beer Hawk website in a separate tab and browse for the items you want to buy.
Choose the amount of each item you would like and add each to your 'Cart'.
Once finished, proceed to checkout and review your order. Double-check your items to ensure they are eligible for the discount.
Paste your Beer Hawk discount code into the 'Redeem a discount voucher code?' box and click 'Redeem'.
Your page will refresh with a new, discounted price.
Beer FAQs
Do Beer Hawk stock vegan beers?
Yes, there is an impressive selection of vegan beers for anyone who has chosen that lifestyle. This includes brews from BrewDog and Yeastie Boys, among others. You order individually, or be introduced to the wide variety with a vegan mixed case.
Do Beer Hawk stock no or low alcohol beers?
Yes, Beer Hawk boasts a wide array of no or low alcohol beers for all tastes. They're also available as singles or as part of a case.
Do Beer Hawk stock gluten free beers?
Yes they do, Beer Hawk has a selection of beers that cater for people that choose to or need to avoid gluten.
What do I do with the empty PerfectDraft keg?
Once you've finished your keg, you can return the keg and your account will be credited with £5 of beer tokens. For information on how these can be returned check out their FAQs.
How long do PerfectDraft kegs last?
Once opened and on draught, your keg will keep at 3 degrees and be perfect for 30 days. After this time you'll want to switch it out for a new one.
How many pints are in a PerfectDraft keg?
Every keg is filled with 10 delicious pints of the good stuff for pub quality beer at home.
Delivery and Returns FAQs
Do Beer Hawk offer free delivery?
Yes, Beer Hawk offers free delivery on orders over £50. Collection from Beer Hawk HQ and bars is normally available, but is current unavailable.
How much does delivery cost?
Delivery on orders under £50 costs £4.99 and your order will be delivered within 1 working day.
Is there a delivery surcharge for remote areas?
Yes, deliveries to the Scottish Highlands, Jersey, Guernsey and the Isle of Man are all subject to an extra £5 delivery surcharge and deliveries will take an extra 2-5 days. Orders under £100 to Northern Ireland are also subject to these extra timings and costs.
My order has arrived damaged or incomplete?
Beer Hawk take every precaution to keep your order safe but sometimes accidents happen. If your order arrives damaged or missing something, just get in touch using their contact page and they'll help to get it resolved.
Can I return items?
If you're not satisfied with your purchase or you've mistakenly purchased the wrong thing, Beer Hawk accept returns within 14 days of delivery. Just get in touch with the Customer Service Team to arrange your return.
Other Ways to Save at Beer Hawk
Check out the Beer Hawk gift finder to find the perfect present for the perfect price. Whatever the special occasion, they've got presents on tap. . Buying in bulk is a marvellous way to grab a bargain on beers. You can save up to 15% on kegs when you take advantage of the brilliant Beer Hawk multibuy deals.
Log into your account and start earning beer tokens, you'll earn 5% back for every £1 spent. These can be used to get Beer Hawk discounts further down the line, saving you a tidy sum on your order.
Not only do you get money off future orders by collecting beer orders, but you'll also receive exclusive deals and offers.
Got old PerfectDraft kegs? Send them back to Beer Hawk for them to recycle and you'll enjoy a cool £5 off your next order.
Make sure to sign up for the newsletter to be the first to hear about the latest products, offers and deals.
Join The Club
If you're a beer lover that is constantly scouring for new flavours then look no further than the Beer Club at Beer Hawk. When you sign up you'll receive 8 beers in the post every 8 weeks for you to enjoy for just £24, and that's including postage and packaging. 8 beers for £24 works out at just £3 a beer which for a lot of us is less than a pint, less than half of what one costs at my local!
As much as you'd like to you don't just drink these beers all in one go. Every week one of the 8 beers is chosen and every Thursday Beerhawk will email you the story behind that week's beer to help you get to know it. Then every Thursday at 9 pm you can join a live tasting with other members making this a great way to meet new people with similar interests.
Not beer's biggest fan but know somebody who claims to be? Beer Club memberships are also available to purchase as a gift. Gift memberships are available for 2, 4, 6 months or a year, letting them know how much they mean to you throughout the year and letting them enjoy something that means so much to them.
That's 8 beers every 8 weeks for less than a pint down the pub each time, plus the opportunity to make new friends and treat your tastebuds to whole new flavours, so what's not to love?
So be sure to check out the latest Beer Hawk discount codes and deals to save and join the club!
Treat Yourself to the Perfect Draught
PerfectDraft is the best way to replicate a pub-quality pint from the comfort of your own home. It's a brilliant machine that pours a mean drink, looks stylish and doesn't make a ton of noise in the process. It keeps your beer chilled and it can accommodate over 40 beers from around the world. So, it's truly the pub experience from home.
Whether you want cool and crisp lagers, hoppy and fruity IPAs, classic Belgian brews or something entirely different, PerfectDraft gives the gift of choice. You can subscribe to get kegs sent out routinely and you can even keep things green and sustainable by returning your old kegs. By doing that, you'll even get £5 for every keg you return!
From Stella Artois and Lowenbrau, to Leffe and Brewdog, the biggest brands are catered for with PerfectDraft. You can even get bundles to get you going. You can grab a bundle that comes with two glasses, the PerfectDraft machine and a selection of drinks. That way you can get started and start serving up pints at 3 degrees Celsius with ease.
A big perk of PerfectDraft is having that pub-quality pint for a fraction of the price. We love saving here at MyVoucherCodes, and with PerfectDraft, you can pour a pint for less than £2.50. That's incredible value compared to most pubs. Especially when you take advantage of multi-buy offers and the fact you get beer tokens with your purchases, that you can then use for discounts down the line!
So, get yourself a drink for a delightful price by grabbing one of our Beer Hawk discount codes when you treat yourself to the perfect draught beer.
Surprise a Loved One with Beer Gift Sets from Beer Hawk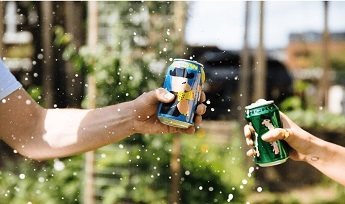 Choosing the perfect gift for a loved one can often leave us feeling lost at where to start. If you have a birthday or special occasion coming up, beer gift sets from Beer Hawk are the perfect place to start. Alcohol remains a popular gift, and with the range of Beer Hawk beer gift sets, your recipient will love their boozy delight.If your loved one is a certified beer lover, they will love the ultimate Beer Hawk Beery Gift Box. The bundle includes five mixed-style beers so they can enjoy a range of the delicious Beers on offer at Beer Hawk, a classic Aviero glass and some milk chocolate coins for an extra special surprise. Including beers from five different breweries across Britain, your loved one can get to know their taste preference with this stunning selection for just £20. If this beer gift set tickles your fancy, why not try the similar Beer Hawk Happy Birthday Gift Box for a gift tailor-made for birthday celebrations! As summer approaches, there is nothing better than cracking open a cold one on a warm day. The Spring Craft Beer Discovery Case is ideal for those who love to bask in the sunshine alongside their favourite beverage. Including six delicious beers from six different breweries and some tasty chocolate coins, this case is perfect for broadening your horizons. At Beer Hawk, it's not all about the beer. The Wine by Beer Hawk Gift Box contains seven canned wines from all over to quench your thirst. Including a selection of white, red, and rosé wine, this gift set is perfect for the ultimate wine lover!