Offers for Master of Malt were last updated Saturday 31 July 2021 08:50
Master of Malt Codes That You've Missed
Most Popular Master of Malt Code & Discount
| Offer Description | Expires | Discount Type |
| --- | --- | --- |
| Single Malt Whisky from £4.99 | | Deal |
| Tasting Sets from £13.95 | | Deal |
| Up to 10% and More off Select Lines in the Flash Sale | | Sale |
| Spirit Tasting Sets from £14 | | Deal |
| Samples from £1.50 | | Deal |
FAQs
How can I get a Masters of Malt discount code?
The easiest way to pick up Masters of Malt codes is to check MyVoucherCodes before you order. Our team collects the best available deals that will make it simple to save on your favourite tipple. You might catch an exclusive code for savings you won't find anywhere else.
Can I get free delivery?
Yes, all orders over £99 come with free delivery as standard. All orders below this threshold are subject to charges starting from £2.95. Visit the dedicated delivery page for more information and a full breakdown of all fees.
What is Dram Club?
The first rule of Dram Club is… enjoy neat. This fantastic subscription service
delivers world whisky, gin, and rum to your door
. Each moth you'll taste something new and discover the best bottles around. Subscriptions start from £24.95 per month and can be cancelled at any time.
How to use your Master Of Malt Discount Code?


Using our website, search for a discount voucher that fits your order. When found, unlock your code and copy.


Using a second tab, open up the Master Of Malt website and browse for the items you want to buy.


Add all items you wish to purchase to your cart. Proceed to checkout when finished.


Review your order, ensuring your products are covered by your chosen code.


Paste your Master Of Malt discount code into the "VOUCHER CODE" box and click "Add Voucher" to enjoy your discount.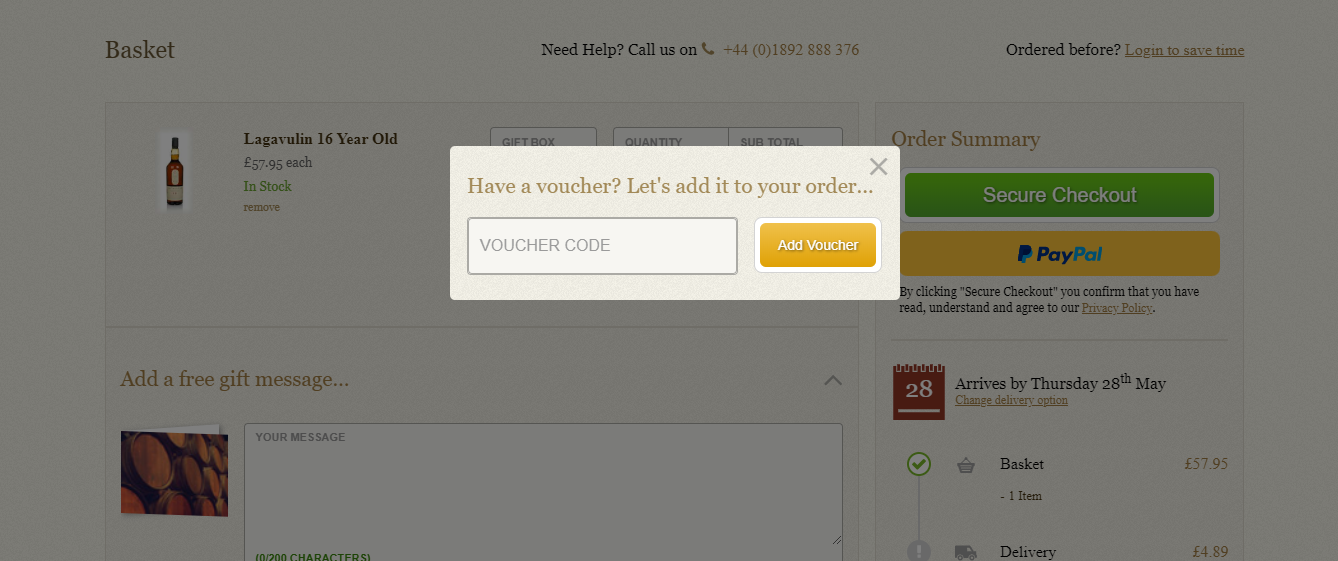 Rum: A Guide to the Good Stuff
Rum is a drink that evokes memories of golden sands and glittering seas. I'd is a main ingredient for loads of delicious cocktails, or it can enjoyed straight from bottle to glass. The Master of Malt collection sources everything from your bog-standard Bacardi to bottles that run in the 1000s. To make sure you find your flavour, we've put together this rum guide that will take you through the basics of these bottles.
Master of Malt Dark Rum

Dark rum gets it rich colour from the aging process. It is stored in oak barrels and over time it add the flavours present in the wood to the rum. Dark rum is the best option if you like your drinks neat, or with a cube or two of ice. The deep flavour profile makes it ideal for sipping like you would a cognac.
Master of Malt White Rum

White rum keeps its clarity because it has not been aged. This means it lacks the full-bodied flavour that the aging process develops in dark rums. White rum is most commonly used in some of the most loved cocktails in the world. Daiquris, Pina Colada, and mojitos all use white rum and they're guaranteed to make think of fabulous holiday evenings.
Master of Malt Spiced Rum

Traditionally, rum was spiced with nutmeg, cinnamon, and vanilla to hide an inferior spirit. Nowadays, spiced rum is one of the most popular spirits on the market. Spiced rum holds a nice middle ground that mean's it is delicious with a mixer and can be sipped straight by rum newbies that might struggle with the powerful dark rum flavour.
Whiskeys from Around the World
Whiskey is distilled in various forms all over the world and each country brings a unique flavour profile to the loved drink. Master of Malt prides themselves on being the whiskey experts and their collection makes them the number one place to shop the finest bottles. If you're unsure where to start, our guide to whiskey around the world will help you find your favourite bottle.
Master of Malt Scotch Whisky

Scotch is the most famous whisky of all, and connoisseurs will tell that the Scots make the best whisky in the world. With whisky being entwined in Scotland's heritage, you can find many different types all over the small nation They range from the sweet to the peaty and will all bring something different to your palate. If you're ordering Scotch. It's worth experimenting with different producers to find your favourite.
Master of Malt American Whiskey

American whiskey tends to have more spice in its profile and sweetness from vanilla. But America is a big place and there are plenty of twists to taste. This is the home of bourbon, Tennessee, and rye after all, and the all bring big flavour to the glass.
Master of Malt Japanese Whisky

Japanese distillers have earned many comparisons to Scotch whisky thanks to their production methods, and their results. Quality single malts come out of Japan with surprising regularity, and closed distillery of Karuizawa is carved into whisky lore because of the exceptional vintages.
Master of Malt Irish Whiskey

Irish whiskeys tend to use a triple distillation process that often produces a smooth an fruity finish. Like the Scots, this is a tradition in Ireland and that can be seen in the unique one-pot whiskey. There is a reason why some of the most famous distillers hail from the emerald isle.
Gin o'clock
Gin is in the middle of a popularity boom and there is more choice in the market than ever before. Master of Malt want to show everyone that there is more to gin than a tonic. And their stacked cellar has got the bottles to introduce everyone to this versatile drink.
London Dry Gin

London dry gin the most commonly served gin in Britain. It's the one everyone uses for their G&T which has become a quintessentially British drink. It's main flavour is juniper berries which give this spirit a clean and refreshing tang.
Sloe Gin

Sloes are steeped in gin spirit and sugar is added to create a new flavour. Sloe gin is traditionally drunk around Christmas time, but right through winter is not unusual. It's perfect for a fruity twist on your regular G&T or gin cocktail.
Old Tom Gin

Old Tom is a speciality gin that is slightly sweeter than other bottles. It is a critical ingredient for a variety of cocktails, and it's perfect in a Tom Collins. This is a drink for people that like variety and to experiment with cocktail flavours.
Cask Aged Gin

Like all matured spirits, cask age gin has true depth of flavour and a richer colour. Cask aged gin is the sippers choice, and while you can switch it into your regular gin cocktails, but the full flavour makes it delicious all on its own.