View Terms & Conditions

View Terms & Conditions

Discount codes cannot be used in conjunction with any other offer.
Offers for Muscle Food were last updated Friday 16 April 2021 16:29
Muscle Food Codes That You've Missed
Most Popular Muscle Food Code & Discount
| Offer Description | Expires | Discount Type |
| --- | --- | --- |
| 5% off Orders | | Voucher Code |
| Special Offers with Facebook Likes | | Deal |
| 3 for £10 on Protein Pizzas | | Deal |
| Up to 25% off Build Your Own Box Orders | | Deal |
| Best Sellers Meat Box - Together Worth £41.50, Today Just £30 | | Deal |
Muscle Food
Can I Get A MuscleFood Discount Code?
You can get all the latest MuscleFood offers at MyVoucherCodes. The biggest savings usually come in the form of their hamper deals, but they do offer voucher codes that will all be listed at MyVoucherCodes along with any deals or sale information.
What Payment Methods Do MuscleFood Accept?
They accept Visa, MasterCard, and American Express credit and debit cards. You can also pay using PayPal.
Can I Get MuscleFood Free Delivery?
From time to time they may offer a free delivery code, but typically delivery will cost £1 for premium tracked delivery with SMS alerts on orders over £75, If you don't meet the threshold it's £5.99.
What is mfNow?
mfNow is a benefit scheme for frequent customers. You'll receive free delivery days, a free personal trainer/nutritionist consultation, free VIP access to events, a free Christmas turkey, exclusive offers and free VIP support.
Muscle Food
From essential freezer fillers to healthy, protein-packed treats, MuscleFood has something to satisfy every stomach, and with these top tips, you won't have to break the bank.


Check out the MuscleFood clearance for up to 75% off non-perishable products, so you can fill your cupboards for a fantastic price.
Be sure to sign up for the newsletter, where you can get the biggest and best MuscleFood deals and offers sent straight to your inbox.
Treat yourself and a friend with the MuscleFoodrefer a friend scheme, where they'll get a fabulous freebie with their first order, and once they've placed it, you'll get a fiver for yourself!
The MuscleFood top offers section is well worth a look for fantastic prices on delicious meat hampers, ready meals and more. They also have fantastic multi-buy offers in the MuscleFood latest deals section.


Muscle Food


Start by using our website to search for a discount code that best suits your order. Once found, unlock your code.


Copy the code and make your way to the MuscleFood website using an alternative tab.


Browse the website for the food you want to buy, adding each item to your 'Cart'.


When finished, proceed to checkout and review your order. Make sure you have everything you want.


Paste your MuscleFood discount code into the 'Discount Code/ Voucher Code' box and click 'APPLY' to get your new discounted price!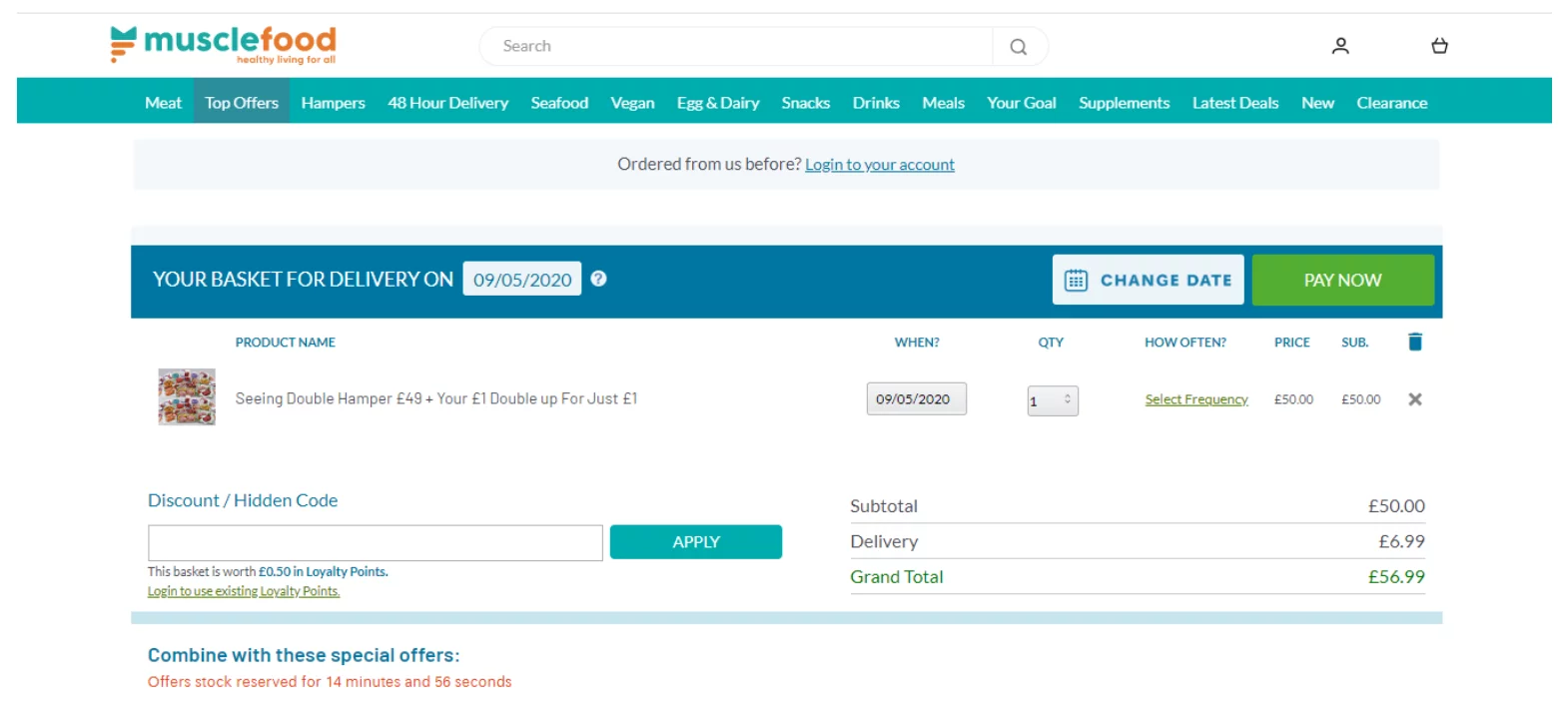 Muscle Food

What you put in your body matters when it comes to serious fitness and the right foods can push your workouts further than ever before. But finding the right foods can be hard among the barrage of protein powders and supplements. Here are our picks for natural foods that are perfect you're your fitness regime.
Chocolate Milk
It sounds wrong, but chocolate milk is perfect for your workout. If you want proof, just look at all the sports personalities that drink the stuff in the warm-ups and when they come off the field. Milk contains both carbs for energy and protein for muscle repair and that makes them a superb workout drink.
Green Veg
There's a reason your mum always told you to eat your greens. That's because they're packed with vitamins, nutrients, and all that good stuff that keeps your body working at its peak. Broccoli, kale, and spinach some of the best things you can put on your plate.
Bananas
The humble banana is one of the most perfect fitness foods around. Their carbohydrates will give you an energy boost and all that potassium will help with muscle cramps. The cheap, no fuss, and taste great, what's not to love.
Nuts and Seeds
Nuts and seeds are a fantastic food for switching up your snacking. You'll get all your nutrients and they'll fill you up with and stop any post-workout hunger pains. You'll find all these foods and more on the site because they specialise in work out boosting meals and the ingredients that make them.
Muscle Food

Fitness goals vary from person to person and there's more to Muscle Foods than lifting more at the gym. Let's take a look at the most common goals people work towards and the food available that'll help you reach them.
Weight Loss
There are so many diets around it's impossible to tell if they're legit or another fad. But if you stick to lean meats and chicken breast, cruciferous vegetables (broccoli, cauliflower, cabbage etc.) for simple meals you'll be doing good work and can still get your meat and two veg.
Lean Muscle Gain
Building lean muscle isn't the same as getting stacked in the gym. Runners and bodybuilders have a different build, but the diets aren't too far apart. Look for foods high in protein and the carbohydrates that will keep you fuelled for longer as you exercise. Eggs, salmon or tuna, and various beans are solid staples.
Lean & Toned
If you're looking to get toned, you can't go wrong with seafood. High in protein and often packed with the healthy oils your body loves. If you take your menu to the Mediterranean, you'll create tasty meals that will help sculpt your body, when they're matched with plenty of cardio.
Ripped
If you want to get ripped and show those muscles off, you'll know all about protein. Everyone is stocking up all the supplements they need to turn into the Hulk. But did you know that water is just as important. Staying well-hydrated increases the rate protein synthesis which builds all that bulk. Quinoa sounds like something for middle-class vegans, but it should be in every gym fanatics shopping trolley because it's packed with all the good stuff a workout needs.Whatever your fitness goals, you'll find the perfect foods waiting for you here and a Muscle Foods discount code will bulk up your bank account too.
Muscle Food
A Muscle Food hamper is a fantastic way getting a tasty bundle of muscle building food that packs in the proteins for your fridge. If there's a downside, it's that you have no control over what's in your box. The Build Your Own Box options solves this and gives you access to all the best foods to gain muscle.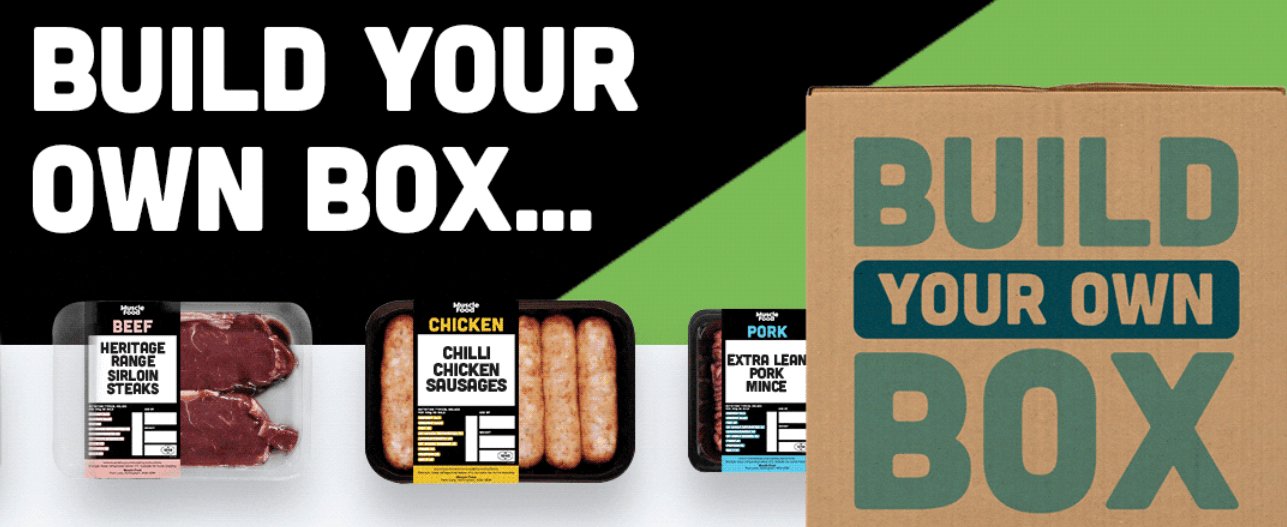 There are for box sizes to choose from that range between £30 and £100, and they'll cover everything from a weekly shop to a full-blown freezer restock. All the boxes offer full flexibility and you'll get up to 25% discount to make it a superb value way to stick to your Muscle Food diet.There are over 50 products you can throw in your box and they've all been selected because they are perfect for fitness regimes. All the key proteins are on offer and your fridge will be packed with premium chicken, beef, pork, and fish that make mealtime special.Our advice is t give it a try with a one-off delivery and when the quality produce impresses, you can set up a regular delivery and a delicious package every week or month. And don't forget you can cut down the fees with one of the regular Muscle Food free delivery offers that appear.