View Terms & Conditions

View Terms & Conditions

T&Cs apply.
Offers for Muscle Food were last updated Tuesday 12 October 2021 13:58
Muscle Food Codes That You've Missed
Most Popular Muscle Food Code & Discount
| Offer Description | Expires | Discount Type |
| --- | --- | --- |
| Save £10 on Your First Week With Free Delivery | | Voucher Code |
| £5 off plus Access to the Exclusive Key Worker Hamper for NHS Workers | | Deal |
| 5% off First Orders Over £50 | | Voucher Code |
| £20 off the Chicken and Beef Hamper | | Voucher Code |
| 10% off Student Discount | | Deal |
FAQs
Can I Get A MuscleFood Discount Code?
You'll find regular codes on their MyVoucherCodes page to get extra savings on your orders. They're hand tested before going live to ensure you save time, as well as money, when you order. Check back often to catch the latest deals they have to offer.
What Payment Methods Do MuscleFood Accept?
They accept Visa, MasterCard, and American Express credit and debit cards. You can also pay using PayPal.
Can I Get MuscleFood Free Delivery?
Free delivery offers do come around occasionally, but outside these time limited events there is a charge for delivery. That's £1 for baskets over £75 and £2 on anything under that threshold. There is also a minimum spend of £10 (£25 for chilled orders) to access the delivery service.
How do I cancel a Muscle Foods subscription?
The first thing you need to do is log into the account connected to your subscription. From there you select 'Orders', followed by 'Manage'. You can then scroll down to the Cancel button to end your subscription. If the 'Manage' option is not visible it means your order has been dispatched and you are unable to cancel until this has been delivered.
Is there an NHS discount at Muscle Foods
As a small thank you for the hard work you put in, there is a £5 Key Worker discount + a free Key Worker Hamper. To access your freebie visit the dedicated
Key Worker page
and get your discount today.
Hints & Tips
From essential freezer fillers to healthy, protein-packed treats, Muscle Food has something to satisfy every stomach, and with these top tips, you won't have to break the bank:
The clearance section is the perfect place to stock up your freezer and save on quality meals that give you a boost. The line up of products is constantly changing and you'll regularly find up to 60% off delicious meals and snacks. This is high performance food at a fraction of the cost; it's always worth a look.
Make sure you're signed up for the newsletter to stay up to date with the latest news. You'll get expert advice, new product info, and exclusive deals straight to your inbox to help you on your fitness journey. All it takes is an email address and you'll even get a £5 voucher to use on your next shop.
Introduce your gym buddies to the massive range of fitness foods and score yourself a saving for everyone that orders. You'll both score a free £5 voucher to use on your next shop and they'll get the same quality foods that push your workout further.
Forget about living off bland pasta while you're in uni, the student offers keep the fresh food coming for less while you're on campus. Sign up and unlock all the money saving discounts available and save on every shop. These deals are available to anyone in full time education for the entire time you're studying to keep you smashing the gym as a student.
How to Use a Muscle Food Discount Code


Start by using our website to search for a discount code that best suits your order. Once found, unlock your code.


Copy the code and make your way to the Muscle Food website using an alternative tab.


Browse the website for the food you want to buy, adding each item to your 'Cart'.


When finished, proceed to checkout and review your order. Make sure you have everything you want.


Paste your Muscle Food discount code into the 'Discount Code/ Voucher Code' box and click 'APPLY' to get your new discounted price!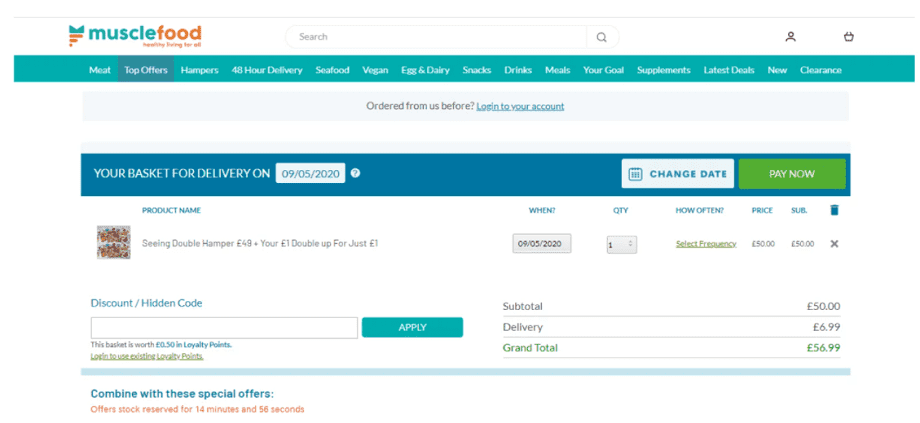 Fire Up the Grill
If you're looking for the taste of summer, few things can compare with the smoky, chargrilled flavours of a good ol' barbeque. You might think that delicious BBQ couldn't possibly fit with your fitness goals, but the Muscle Food selection of grill-ready meats brings the BBQ to you.
A barbeque without beef is like a grill without coals: sure we'll eat there but we'll complain about it when we get home. Muscle Food has all the meat you need to keep smiles on faces, bellies full, and fitness goals on target. Extra Lean Free Range Steak burgers bring the flavour with a variety of taste options. But if you want to treat yourself to something extra special, it's all about Big Daddy Tomahawk steak. This beautifully marbled meat is for aficionados and it's perfect for grilling.
The chicken won't be relegated to the side of the plate when you shop this tasty selection. Whether it's plain cuts of top quality poultry or expertly marinated chicken with a big punch of Piri Piri or BBQ. These are the kind of flavours you smell from across the garden and start drooling.
A proper hot dog is another quintessential BBQ classic. A good sausage in a slightly sweetened bun with ketchup and mustard. That's summer right there. The selection of sausages available brings everything from standard pork to boosted flavours like apple, caramelised onion, or chilli that will kick things up a notch.
Quality Meals are Always Ready
When you think of ready meals it's easy to picture soggy pasta and in weak sauce that has the nutritional value of wet cardboard. That's not going to give you the boost you need to hit the gym and take down those goals. The selection of Muscle Food Ready Meals are far from the microwave meals you had when you were a kid. These are real, quality ingredients and quality cooking to create top meals for your plate any night of the week.
This is dieting made easy with a massive selection of dishes that are ready to go in minutes. They're perfect for a busy lifestyle and they'll never let you down the all important taste test either.
There are vibrant recipes from all over the world that will liven up meal times. Indian, Chinese, and Caribbean flavours are just a taste of all the good stuff waiting for you. Best of all, you can use their simple subscription service to keep these delicious delicacies coming and save 25% on a menu that will take care of your week.
Take a look today and discover your new favourite meals for a quick and easy dinner. And remember, everything tastes better with a Muscle Food voucher code saving you money.
Fitness Fuel
What you put in your body matters when it comes to serious fitness and the right foods can push your workouts further than ever before. But finding the right foods can be hard among the barrage of protein powders and supplements. Here are our picks for natural foods that are perfect you're your fitness regime.
It sounds wrong, but chocolate milk is perfect for your workout. If you want proof, just look at all the sports personalities that drink the stuff in the warm-ups and when they come off the field. Milk contains both carbs for energy and protein for muscle repair and that makes them a superb workout drink.
There's a reason your mum always told you to eat your greens. That's because they're packed with vitamins, nutrients, and all that good stuff that keeps your body working at its peak. Broccoli, kale, and spinach some of the best things you can put on your plate.
The humble banana is one of the most perfect fitness foods around. Their carbohydrates will give you an energy boost and all that potassium will help with muscle cramps. The cheap, no fuss, and taste great, what's not to love.
Nuts and seeds are a fantastic food for switching up your snacking. You'll get all your nutrients and they'll fill you up with and stop any post-workout hunger pains.
You'll find all these foods and more on the site because they specialise in work out boosting meals and the ingredients that make them.