View Terms & Conditions

View Terms & Conditions

Buy 1 Prosecco & 1 Aperol for £15. Order by 10/08/2021, offer subject to availability. Maximum 18 promotional items per customer.
View Terms & Conditions

View Terms & Conditions

Buy any 3 for £7. Order by 10/08/2021, offer subject to availability. Maximum 18 promotional items per customer.
View Terms & Conditions

View Terms & Conditions

Buy any 3 for £10. Order by 10/08/2021, offer subject to availability. Maximum 18 promotional items per customer.
View Terms & Conditions

View Terms & Conditions

Buy 1 Protein, 1 Stir Fry Veg, 1 Noodles or Rice and 1 Stir Fry Sauce for £6. Order by 10/08/2021, offer subject to availability. Maximum 18 promotional items per customer.
View Terms & Conditions

View Terms & Conditions

Buy any 6 for £10. Order by 10/08/2021, offer subject to availability. Maximum 18 promotional items per customer.
Offers for Ocado were last updated Friday 23 July 2021 12:53
Ocado Codes That You've Missed
What are Ocado's popular discount codes and deals?
| Offer Description | Expires | Discount Type |
| --- | --- | --- |
| Save up to 50% off Selected Groceries | | Deal |
| Up to 50% off in the Summer Sale | | Sale |
| At least 10% off Selected Groceries plus Free Delivery with Smart Pass | | Deal |
| Get 2 for 1 on Selected Groceries | | Deal |
| Free Delivery on Orders Over £75 | | Deal |
FAQs
Can I get an Ocado Discount Code?

Ocado does provide money-saving voucher codes to help its customers save on their weekly shops. Your best chance of finding a code is here at MyVoucherCodes, where all the latest Ocado offers and deals get posted, so keep an eye out.
How do I book my Ocado delivery?

Once your shop is complete, select the 'book a delivery' button to begin the process. Confirm your delivery address and look through the available slots to find a date and time that suits you. If any slots are free, you can book your delivery as early as the next day! If you're organised and plan your food shops, you can select a future date for your order to arrive, so your fridge stays stocked at all times. Make sure your order total is over £40 to qualify for home delivery.
What happens if an item in my Ocado order is substituted?

Ocado does its best to deliver your order just how you wanted it. However, if something you ordered is out of stock, Ocado will replace your item with something similar, so you don't miss out. Your driver will check that you're happy with any substitutes upon delivery, but if you're not, they'll take them back, and you won't get charged.
Hints and Tips
While you find the perfect Ocado discount code, check out these handy hints and tips to get the most from your Ocado shop today:


For a guaranteed deal, the first place to check is the Ocado offers section. With mix & match offers, discounts and more great savings on offer, you can fill the fridge for less. Get the most for your money with meal deals and bundle deals, perfect for dates nights and delicious desserts following a fantastic meal.


Sign up and save with the Ocado Smart Pass. With exclusive offers, priority access to Christmas deliveries, gifts, samples and free delivery, you can get all the essentials and additional tasty treats without breaking the bank. Better yet, Ocado also has a selection of items Smart Pass customers can always save 10% on every time you buy.


It's worth checking out the Ocado refer a friend scheme, where you will box receive a free gift each worth £25! All you need to do is generate your unique link to send to your friend, and they will receive an email when they sign up with all the info on how to claim their gift. Once your friend's first shop gets delivered, you'll then get an email with your voucher to claim your delicious free package. There are a few free gifts to choose from, depending on what tickles your taste buds. Select the tea and cake, cheese and nibbles or movie night gift when you get referring today!



How to use your Ocado Discount Code


Select your favourite Ocado discount code from the MyVoucherCodes website, best suited to your order.


Click 'Get Code' to copy the offer to use later on. Once opened, you'll be transferred directly to the Ocado website in a separate tab.


Once your shop is complete and all items are in your trolley, it's time to book your delivery and begin the checkout process.


Once you complete the checkout steps, paste your discount code in the box and watch your order total adjust.


Complete to payment and enjoy your Ocado savings.



Stay Safe with Ocado Online Shopping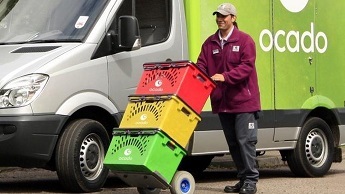 While lockdown restrictions have eased a lot, we still need to do our bit to stay safe. With Ocado home delivery, you can get everything you need, right to your doorstep, all with minimal contact.While we can go without non-essential items, we all need our groceries. Luckily, Ocado has all your favourite brands on offer with the Ocado food delivery service. With everything from a delicious weeknight pizza to your 5-a-day, you can't go wrong. Ocado even offers M&S products, so you won't have to go without your top-quality food favourites.With a lot of demand for ordering your Ocado groceries online, it's vital to get in there in advance. Plan out your shopping list and book a week ahead to make sure you get the things you need in good time. You can let them know of your situation, and the delivery drivers will take steps to make sure your order is delivered safely and with reduced risk in the current climate.Your Ocado driver will leave your delivery on your doorstep, and you'll then get a call to let you know that it's arrived. Be sure to let them know if you live in a flat, so they can try and make sure they can leave the delivery outside your door.The Coronavirus pandemic has left people with a little less money than usual, so keep an eye out for the biggest and best Ocado offers. That way, you can stay safe with an Ocado delivery, all without breaking the bank.Save even more on your shop with an Ocado discount code on your next order!
Save with the Ocado Smart Pass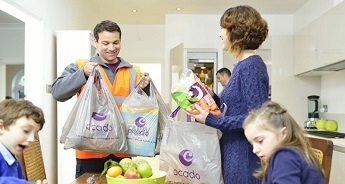 Online shopping is a convenience we can't live without, and with the Ocado Smart Pass, you can make your experience even more convenient and a little more affordable.One of the perks is that Smart Pass members can wave goodbye to those pesky delivery charges. However, Ocado suspends free delivery during the Christmas period (20th-24th December), but members get priority access to festive delivery slots. Especially handy if you're hosting this year! Another money-saving benefit that comes with a Smart Pass is Ocado discounts. You'll save at least 10% on a specific range of over 500 items, including big bands, when you sign up for one, and we all love saving! So, whether you're shopping for the essentials or you've got something special in mind, you can bet you're getting the same quality groceries for less.When you sign up for the Smart Pass, you'll get exclusive access to incredible Ocado sales. In these sales, you can get up to 50% off, which is hugely helpful if you're a little strapped for cash. Ocado knows how to treat you on your anniversary, so every year you're signed up, they'll send you a fabulous freebie. Not to mention, you can get a few free samples with your pass too.Prices start at £3.99 monthly for a midweek pass and £8.99 monthly for the anytime pass, so sign up today and start saving on your weekly shops with Ocado. Why not browse the MyVoucherCodes page for an Ocado discount code for an even bigger saving.
Convenience on the Go with the Ocado App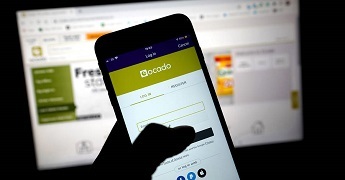 When it comes to our weekly shop, convenience and affordability should be top of the pile. Luckily, with the Ocado app, you can bet you're getting both of those boxes ticked.You can browse thousands of cracking Ocado offers with the app, so you can bet you're getting the best deal. The app is available on Apple and Android devices, so you're covered whatever mobile device you prefer.On the app, you can pick a 1-hour slot for your delivery, so your groceries arrive at just the right time. And to top it off, if you've left something out of your order, you can quickly add it using the Ocado one-click feature, so you won't have to check out again. Shop at your own pace and add things throughout the week up until your order is dispatched.Another handy feature is that you can get your receipts stored in the app so you can keep on top of your spending easily, perfect for those who have a budget. Better yet, Ocado makes it easier than ever to identify places where you could save even more! When it's time to do your weekly shop, grab yourself an Ocado discount code or make the most of the many offers to save on your groceries.