FAQs
Is there a Fitflop sale?
They have regular sales where you can get incredible discounts. It's worth keeping an out at MyVoucherCodes for all the latest Fitflop clearance information, including the discounts you can get and what categories they cover.
Can I get a Fitflop discount code?
Yes, you can get a Fitflop voucher code. They offer them regularly and they can give discounts on full-priced and sale items. It's worth keeping an eye out at MyVoucherCodes for all the latest deals, offers and even a Fitflop promo code.
What is the Fitflop returns policy?
Returns are accepted up to 28 days from your order date. You'll need the proof of purchase and the items to be unworn. Sale and clearance items do not qualify for free returns. The cost of delivery will be refunded if the whole order is returned.
Can I get free delivery at Fitflop?
Yes, they offer free delivery on orders over £79, otherwise it's £3.95. Next day delivery is £5.95, and they also click & collect through DPD for £5.95.
Is there a Fitflop student discount?
Yes, you can. They offer a 20% discount to students who can verify their status via Student Beans on the Fitflop student discount page.
Hints & Tips
For fabulous footwear, they don't come much better than FitFlop, and with these hints and tips, you can treat your feet for less:
Get yourself over to the FitFlop sale section for some serious savings on all thing's footwear. Typically, with up to half price off, you can save big on your order.


Take advantage of the FitFlop free delivery offer, where you won't have to pay a penny for shipping if you spend £99 or more.


Sign up for the newsletter, where you'll not only have the latest FitFlop deals and offers sent straight to your inbox, but you'll get a warm, welcome discount of 20% off!


Grab yourself an incredible 20% off with the FitFlop student discount, saving you a small fortune on your footwear.
Using Your Fitflop Discount Code
Using our website, find a discount code that fits your order. Once found, unlock your code for later.


Open up the Fitflop website in a second tab and browse the site for the items you want to buy.


Add each item to your 'Cart' and proceed to checkout once finished.


Review your order and double-check each item is included in your code.


Copy and paste your Fitflop voucher code into the 'Promo Code' box and click 'apply' to enjoy your discount!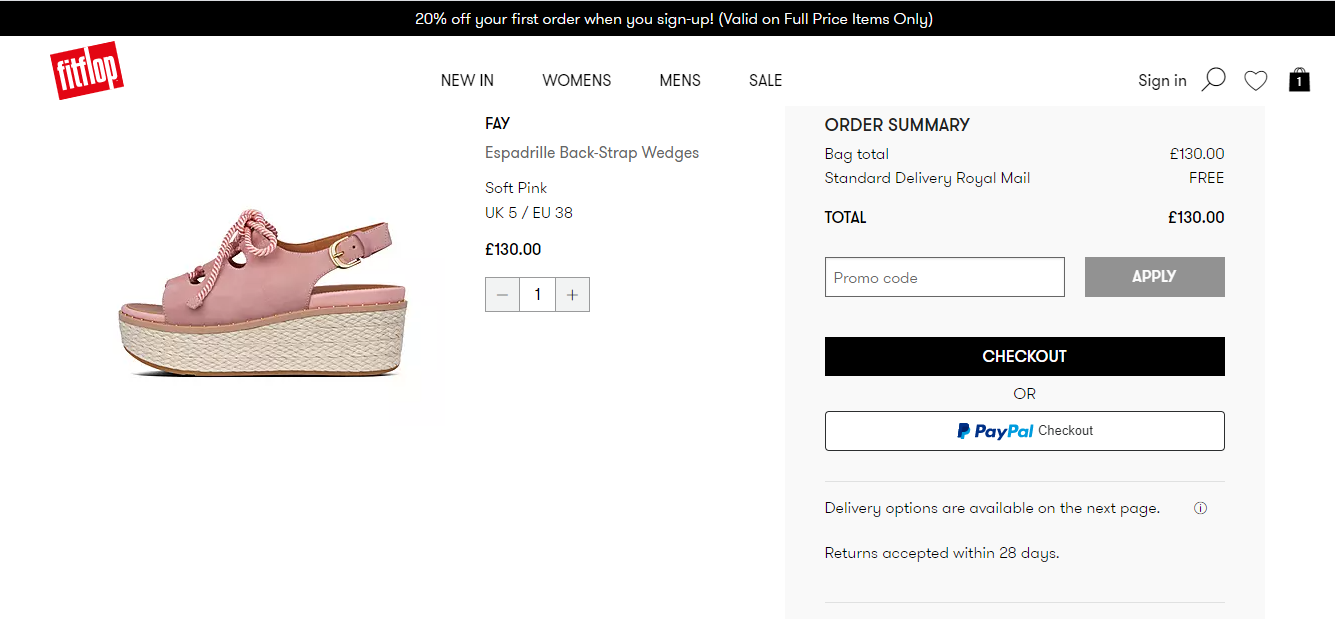 Autumn Essentials
With the cold weather fast approaching it's time to pick up the traditional pair of boots to see out the worst rain. The FitFlop boots collection is packed with style and colours that will compliment your look. The hard part is knowing what's on trend, and that's where this guide comes in.

Chelsea Boots
These things are a timeless classic and you can slip into them any time and know that your in style. But they're perfect for autumn when the leaves are falling and there's a bit of mist in the air. A chocolate brown pair bring the versatility and will pair with loads of outfits.
Over the Knee
Over the knee boots are bang on trend right now and if you can grab the slouch look as well, you'll be right on top of the style curve. They'll look gorgeous when you pair them with any mini dress to create a knockout look.
Biker Boots
Biker boots will help you create a rock and roll look that are super popular right now. It can be as casual or glam as you want to take it and a gorgeous pair of boots will always finish it off right.You can save on all these looks and more with one of our FitFlop promo codes, so have a look around and get you shoe rack ready for winter.
Winter Wellies at the Ready
Now we're well and truly into autumn, ignore the weird few days of scorching sun in the middle of September, and the winter rain won't be far away. That means it's time to ditch the sandals and get ready to keep your toes dry. Fitflop wellies are perfect winter wear if you like to get out and about, but what makes a good wellie? We're about to tell you.

Wellington boots are iconic and for over 200 years they've been keeping feet protected from the elements with their rugged all-purpose design. They might appear simple but there's more to these sturdy shoes than meets the eye. To get the best out of your pair you need to think about the job they're doing.
Every Day Wellies
If you're going to walk the dog every day or get out in the garden regularly, you want a comfy pair of wellies. They're not going to be battling against the worst conditions and they won't need to be super durable, but they need to feel good.
Workable Wellies
When you spend your days deep in the muck, you need strong footwear to stand up to it and last. You need to find the toughest pair you can but remember that you're going to in the often and they need to be comfortable.
Fashion Wellies[/h]
Fashion wellies are the boots you pack when your going to party at a festival and things are going to get muddy. This is all about looking good and dancing in the mud. You'll find to find the patterns and colours to match your personality.
The FitFlop Wonder Welly mixes a little bit of all of these to create a superb all round boot that will see you through winter 2020.
Working It 9-5
The coronavirus pandemic has kept us out of offices and while it's been nice to work from the garden all summer, the push to get everyone back in work has started. That means it's time to put the flip flops back on the shelf and pick up some new work shoes that will keep you looking your best in the new normal.

The Allegro Ballet Pumps are a perfect slip on for office days. They manage to straddle the line between casual and smart to create a super stylish shoe for work. There are 18 different colours and styles that will take care of any outfit you can come up with.
For something a little more formal, the Tomboy Oxford is a smart lace up that will take the professionalism up a notch. You can get them in play leather or add a little texture with croc and lizard embossed if you want the extra style points in the staff meeting.
Boots are essential wear for autumn and winter and the Knot collection brings style to the season. The simple boots with a 90-degree knot for a simple touch that brings the boot alive. You can pick them up in knee high and ankle to get the look you want.
When you're working 9-5 these shoes will make sure your look performs and right no you can get 20% off two pairs with a FitFlop voucher code, you'll save on your next pair.