FAQs
Can I get a Lush discount code?

Lush doesn't usually offer promo codes, but there's plenty of other ways to bag a great deal on your order. In line with their ethical mantra as a brand, Lush price all their products competitively, promising top quality, so you're always guaranteed an unmissable deal whenever you shop at Lush.
Is there free Lush delivery?

To get your order delivered for free, all you need to do is spend over £45 on your health and beauty favourites to quality. UK standard delivery arrives in 2-4 working days and will cost you £3.95 if you plan to spend below £45. For those eager for their new products to arrive, you can bag next day delivery when you order by 5 pm for £6.95.
Does Lush offer any student discounts?

Unfortunately, Lush doesn't typically offer student discount savings or student-specific offers. For the best deals at Lush, keep an eye on the page here at MyVoucherCodes to see what's currently available.
Can I buy a Lush gift card online?

It's super easy to buy and redeem gift cards online. You can get and spend a physical Gift Card in Lush stores or treat someone to an eGift Card online and send it via email for immediate use. There's plenty of other gift ideas too, perfect for a lucky special someone!
Hints and Tips
Save on your cosmetics, beauty and health essentials with these Lush hints and tips:


Lush is all about ethics and sustainability, and they even promise to treat customers who help them recycle, but where's the catch? There's not one! Bag yourself a free fresh face mask when you return your lush black pots to your nearest store. Lush's sustainable recycling scheme reformulates old, empty and unwanted containers, ready for new products. For your troubles and dedication to environmental change, Lush rewards all loyal customers with a face mask your skin will love!


The Lush subscription boxes are perfect for those who want to keep up with all the latest products from Lush. Choose from the Fresh and Flowers subscription or the Exclusive Lush Kitchen subscription to get all the latest and freshest products delivered to your doorstep. The boxes are packed with brand-new products every month that you won't find anywhere else, freshly made to ship. The monthly cost of the boxes is £35, which includes next day delivery!


Bathtime Bestsellers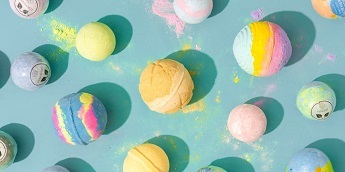 Lush provides a wide range of cruelty-free cosmetics, skincare, hair products and more, but ethical beauty lovers can't seem to get enough of Lush bath bombs, as bombs remain the store's bestselling staple. Whether you want to level up your relaxation routine, bask in some delicious new scents or plan to treat a loved one to a beautiful gift, Lush bath bombs are the way to go. There are so many bath products on offer, each with different scents, purposes and ingredients, leaving you smelling amazing and fuelling your skin with luxurious goodness it will appreciate. While you may think bath bombs are all about looking pretty and spicing up your bathtime schedule, illuminating your tub with pretty-coloured water, Lush bath bombs are full of skincare goodness, promising to bring your skin to life while you soak away. Leave your bath feeling refreshed, silky smooth and cleaner than ever every time you use a Lush bomb. The bathtime favourite only ever uses natural ingredients, so you never have to worry about sacrificing your skincare while lapping up a splash of colour or a sprinkle of glitter for some added excitement. Choose a bath bomb that suits you from the wide range available. With everything from zingy and refreshing scents to calming and relaxing aromas, it's easy to set your scene when you shop with Lush. If you're searching for the perfect gift, you can also get bath bombs gift sets full of a few eye-catching bathtime treats, guaranteed to smell out-of-this-world for the lucky receiver. The gift sets come beautifully displayed in a gift box, so all the hard work is done for you! Better yet, Lush bath bombs are mainly vegan, making it easier than ever to find top-quality bath products that perfectly fit your lifestyle and ethics!