How can I use Protect Your Bubble discount codes?
With these simple instructions, you can use a Protect Your Bubble voucher code to save money on phone insurance.
Click to show your favourite discount code on the MyVoucherCodes Protect Your Bubble page. A new window will pop up that reveals the code, which you can copy and use for great savings later.
MyVoucherCodes will send you to the Protect Your Bubble website where you can browse their extensive collection. It's easy, just open the previous window.
Browse for the insurance that suits you best. You can choose from iphone insurance, mobile phone insurance, gadget insurance and more.
Once you've selected your insurance, choose the type of gadget or phone that you want to insure.
Select the date that your gadget was booked. You can also optionally enter that gadgets serial number.
Double-check that your Protect Your Bubble discount code is valid for your insurance so you can get great savings.
Enter your Protect Your Bubble voucher code in the 'Do you have a promo code' box below your order details and click apply.
Once your order total has changed, you can check out and enjoy your discounted Protect Your Bubble insurance!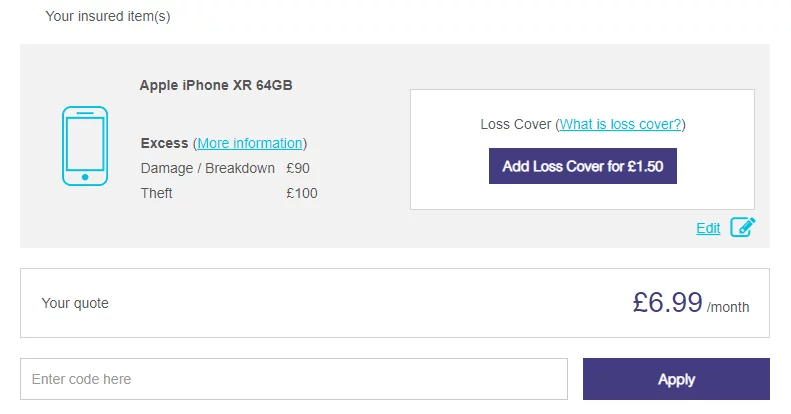 How can I find the best Protect Your Bubble deals?
Here are a few hints and tips from our experts, so you can enjoy even more savings at Protect Your Bubble.
If you want to insure multiple items at Protect Your Bubble, we recommend that you do it in one go. You can add a 2nd item for 10% off the total price, and a 3rd item for only £14.99/month as a bundle package!
Protect Your Bubble knows how tight your budget is when you're a student. And they know how easily accidents can happen! That's why you can get 15% off their gadget insurance. Simply sign up with Student Beans and enjoy your savings.
Buying on a budget? Why not sort the insurance from lowest to highest. That way, you can see the most affordable insurance first.
FAQs
How can I get a Protect Your Bubble promo code?
The simplest way to pick up Protect Your Bubble codes is to check MyVoucherCodes before you secure your policy. Our team regularly updates their page with the best deals to help you save as you get covered. You might even catch an exclusive code for savings you won't find elsewhere.
Can I get a Protect Your Bubble student discount?
Yes, if you're registered with Student Beans, you can save 15% on your gadget insurance policy. It's a handy way of stretching the student loans further and securing all the tech that gets you through student life.
How do I claim?
To make a claim, you need to visit the how to claim page. From there you can select what kind of claim you need to make. You'll find detailed instructions to see you through your claim from start to finish.
What great seasonal offers are available at Protect Your Bubble?
Whatever the season, it's so easy to insure your mobile phone or gadget with Protect Your Bubble. So whether you've gone overboard on Black Friday, or simply buying some peace of mind for your new Christmas gadget, check them out online for fast and affordable insurance.