How can I use a Thompson & Morgan discount code to get great savings?
With these simple instructions, you can use our Thompson & Morgan discount code to save money on their range of seeds and plants.
Click to show your favourite discount code on the MyVoucherCodes Thompson & Morgan page. A new window will pop up that reveals the code, which you can copy and use for great savings later.
MyVoucherCodes will send you to the Thompson & Morgan website where you can browse their extensive collection. It's easy, just open the previous window.
Shop for your favourite products at Thompson & Morgan, and add items to your shopping basket.
Click on the checkout button in the top right hand corner of the website.
Double check that your Thompson & Morgan discount code is valid for your products so you can get great savings.
Enter your Thompson & Morgan voucher code into the 'voucher code' box to the right of your order details.
Once your order total has changed, you can check out and enjoy your discounted Thompson & Morgan products.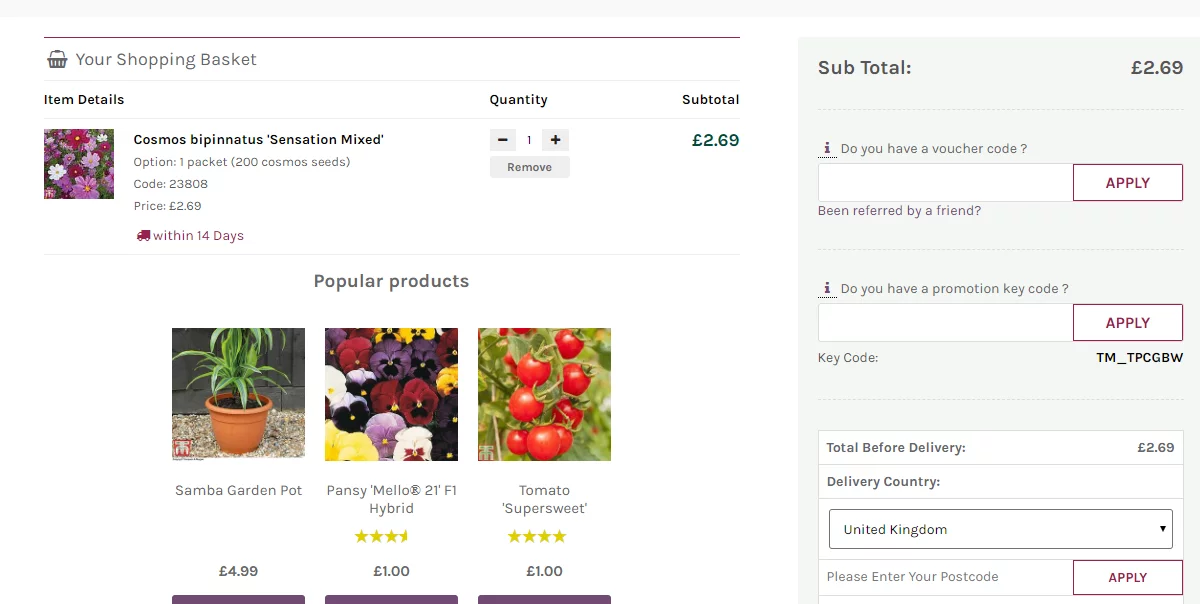 How can I get the best discounts at Thompson & Morgan?
Here are a few hints and tips from our experts, so you can make even more savings at Thompson & Morgan.
If you refer a friend to Thompson & Morgan you'll both receive an amazing 20% off your next order.
Be the first to know about exclusive offers at Thompson & Morgan by signing up to their email subscription service, They'll let you know about great savings and the latest arrivals so you'll never miss a bargain.
Also, if you sign up to their newsletter, you can enjoy 10% off your first order if you're a first time buyer!
Check their latest deals online - the Thompson & Morgan special offers section will have some great discounts. They often have clearances of seeds, discounts for their best selling products of the year, and new offers every week. So make sure to check in regularly!
What great seasonal offers are available at Thompson & Morgan?
Want to breathe a new lease of life into your home this spring? Or, struggling to figure out what to get for mother's day? Be sure to check out the offers on Thompson & Morgan, and explore the exclusive deals they announce.
Thompson & Morgan also stocks a huge collection of plants, flowers and seeds that would make the perfect Christmas gift. You can browse their festive collection and find the best seasonal deals.