Irish Ferries Hints & Tips
Take to the sea with a little help from Irish Ferries, and with these handy hints and tips you can bag yourself a bargain on your travels:
Check out the Irish Ferries special offers section for some terrific savings on your travels, with a ton of discounts on offer you can't go wrong.


For those with a Tesco Clubcard you can use your points for a wonderful Irish Ferries discount, whether it's part payment or you can pay in full.


Get yourself signed up to the newsletter for all the latest Irish Ferries deals and offers, sent straight to your inbox, and all you need to do is pop in your email address and start saving.
FAQs
What are the check-in times for ferry trips?
From Britain to Ireland, you must check-in an hour before departure if you're travelling by coach. You must arrive 30 minutes before departure if travelling in any other vehicle type, by foot or by bike.For France to Ireland routes you must arrive 2 hours before departure if travelling by coach. 1 hour and 30 minutes before departure for motorcycles, and an hour if travelling by any other vehicle type, by foot, or by bike.
What facilities are there for passengers with reduced mobility and special requirements?
The ships and ports are accessible by wheelchair, and wheelchairs are available for short-term use on-board. There's dedicated seating and specially adapted cains and bathrooms. There are also hearing loops at help desks and guide dogs are allowed on passenger decks.For more information you can e-mail disabilityofficer@irishferries.com, or check out the
facilities for each ship
.
Are there rewards for frequent travellers?
Yes. With the frequent traveller programme, you can get 20% back on every 3 return trips made with your car in one year. The
application form and more information
are available on the Irish Ferries website.
How do I apply my Irish Ferries promotion code?
Follow our simple Irish Ferries voucher code instructions to save money the next time you book a trip.


Click to discover the Irish Ferries discount code on the MyVoucherCodes page. This will pop up in a new window, where you can copy the code.


MyVoucherCodes will automatically take you to the Irish Ferries website from the previous window.


Take a look at the available routes on the website and browse for the best journey times to suit your needs.


Once you have the best route planned out, it's time to proceed with your booking.


Double check to ensure that your promotion code is valid for the journeys you've picked.


Below your journey details, there is a tick box called "with Promotion code". Click on it and a box will appear. To apply your Irish Ferries promotion code, enter it here.


Your savings will then be taken off the total amount of your booking when it comes to making payment.
Head to the Emerald Isle
The Coronavirus has made travel abroad a little trickier than usual. Luckily, when it comes to an overseas getaway, you don't have to go too far to have a cracking time. The best part is, Irish Ferries can help you get there without any hassle.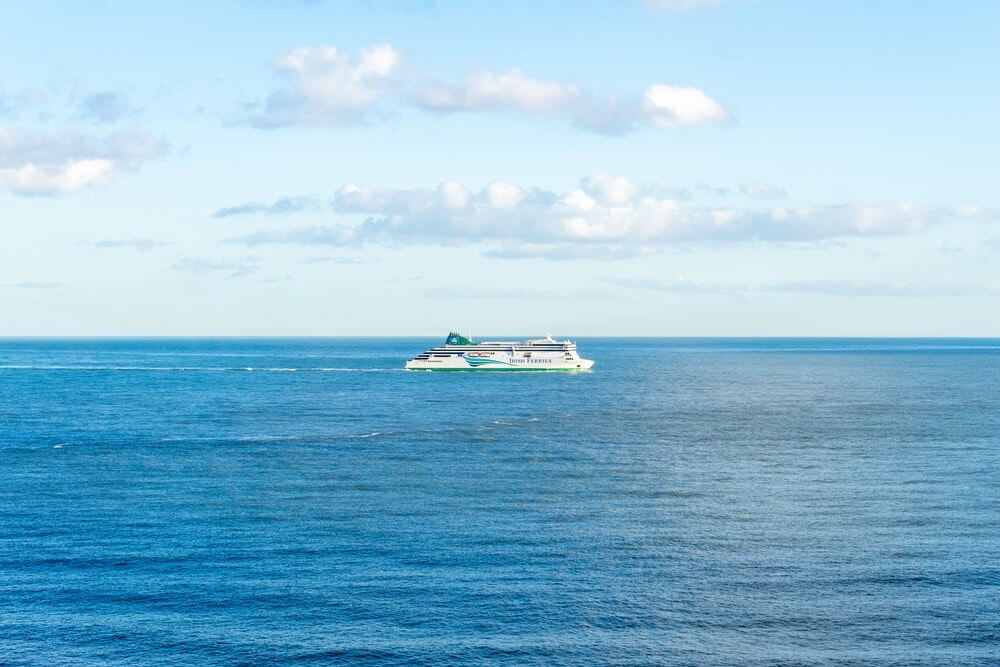 Irish Ferries to Dublin
With an Irish ferries Dublin port trip, you can see the sights in the capital of the Republic Ireland. It's packed with things to do (subject to COVID-19 guidelines), from the cracking cultural hotspots, to the famous night life and more. With museums, galleries and pubs in abundance, you won't be disappointed. And the Guinness Storehouse is always worth a visit.
Irish Ferries Holyhead to Dublin
With the Irish Ferries Holyhead to Dublin route, you can take in the luxury aboard the ferry, and enjoy a stay in stunning Ireland on the other side. And the best part is, it won't cost you an arm and a leg to make the journey. With regular crossing and a 30 minute check-in, you've got nothing to worry about.
Irish Ferries Pembroke to Rosslare
To see the sights in a different part of Ireland, check out the Irish Ferries Pembroke to Rosslare route. Taking you from the stunning coast of West Wales to Rosslare harbour, it's a beautiful trip. With links to Dublin, Belfast and a ton of other incredible areas of Ireland, it's worth planning a trip.
Irish Ferries Quick Check-In
With quick check-in, no limits on luggage and a 4-hour crossing, you'll be on the Emerald Isle before you know it. So, you won't have to worry about a thing when it comes to your Irish Ferries booking.
Irish Ferries Coronavirus Updates
Keep your eyes on the Irish Ferries timetable and check the website regularly for the latest Coronavirus updates. The Irish Ferries sailing updates will have all the information you need before you book.
What are the Irish Ferries Routes?
To help you plan your next adventure, we've put together this handy list of all the routes Irish Ferries offer. You will find out where you can go, how you'll travel, and what you'll find when you get there.
Irish Ferries Dublin to Holyhead
You can hop aboard one of the four ferries that
sail every day between Dublin and Holyhead
. And all three ships are stacked with bars, cafes, and free WIFI to make your trip as comfortable as possible. There's even a superb play area to keep the little sailors happy while you travel.
If you're heading to Dublin, you will land a short drive away from a vibrant city that is filled with shopping and culture to discover. It's an easy way to pop over to the Emerald Isle and take in the sights. Whether you're heading over for a night on the town or a long weekend, Dublin is fantastic destination.

Holyhead is a short drive from major cities like Liverpool and Manchester. Even if your only over for the day, you'll pack loads of shopping and culture into your trip. Holyhead itself is a gorgeous seaside town that is perfect for nature lovers. The walk to the lighthouse is a must for some spectacular photo ops.
Irish Ferries Rosslare to Pembroke
This route connects two beautiful seaside towns,
Rosslare and Pembroke
. You will sail on the Isle of Inishmore. A ferry packed with entertainment and eateries. There's unlimited luggage as well, so don't have to worry about over packing. To make you trip more luxurious you can upgrade to club class and have free snacks and drinks while you're onboard.
You will sail on the Isle of Inishmore. A ferry packed with entertainment and eateries to help pass the time. The cyber area will help keep you connected while you travel and when you need a break you can take in the breath-taking views on the deck. It's also a great time to grab a pre-holiday treat with the fabulous at sea deals on famous fragrances and fashion.

A short drive from Rosslare harbour you'll find traditional seaside towns with top hotels and excellent restaurants. A superb golf course makes it a fantastic place to for a break on the links. There's also blue flag beach. It's the perfect place for a picnic on the sand and watching the waves.

Pembroke is a picturesque seaside town in Wales. This historic town is a great place to spend the day. The castle is a must see while you're in town and there's miles of dramatic coastline to explore. It's the perfect place for a walking holiday.
Irish Ferries Dublin to Cherbourg
The
Dublin to Cherbourg route
is your gateway to the continent. You will sail in style and comfort on the W.B Yeats or Epsilon. The Epsilon offers the best rates but that doesn't mean you sacrifice facilities.
There's plenty of bars and cafes to choose from and a TV lounge to chill out in. If your travelling overnight, there's a choice of cabins to make sure you sleep soundly.

Cherbourg has excellent access to both the north and south of France. It makes a great starting point to explore Europe from. Cherbourg is packed with history and there are plenty of museums to wander around. The Normandy coastline has incredible views. And with stunning beaches it is a superb place to get away from it all.
To save on your next sailing you need to head over to MyVoucherCodes. You will find all the latest deals and discounts to keep money in your pocket and get you on the waves. And don't forget to check out the latest Coronavirus guidelines before you book your travels.
What seasonal offers do Irish Ferries have?
Save on Your Sailing
The
Irish Ferries winter sale
is the place to go if you're looking to book your next trip to Ireland. There are fantastic deals waiting on all Irish Sea routes. This means that wherever you're headed, you can grab a superb deal on your ferry.
With family visits and festive trips on the horizon, this sale can give you a saving just when you need it. Make sure you check the departure dates and times to ensure sure you're getting the best deal available.
Book Your Getaway
If you're planning for the year ahead, start with the most important details. Your well-deserved breaks away. There are amazing deals waiting to make sure you getaway in the new year. It's best to book early to secure the best deal you can and be as flexible as you can to find the best price. Match all that with the exclusive discount at
Centre Parcs
offers Irish Ferries customers and you sure to save on your next adventure.
Save on Spring Breaks
When temperatures start to warm up a bit it'll be the perfect time to go exploring. With amazing deals on
day trips
, there's no better way to get out than with Irish Ferries.
You can save on whisking the family away for a short adventure and pack in the quality time for less. If you fancy staying away for a little longer, there will also be amazing deals on 'Next Day Return' trips.
So, you can keep the fun going through the night and cruise back the next day. There are also great offers on group travel to make sure everyone can come along.
Going on a Summer Holiday
Make the most of summer this year and head across the Irish Sea for a relaxing getaway without sinking all your money. There are over 1000 hotels and B&Bs to choose from to make sure you get the perfect stay. There are free extra nights on offer to help you stretch out the summer fun. And with free child places, it's a great way to take your family away for the
Summer holiday
they deserve.
Whenever you travel, we want to make sure you're getting the best value out there. Check in with MyVoucherCodes before you book to make sure you're getting the right deal.