EXCLUSIVE
View Terms & Conditions

View Terms & Conditions

1. The £20 Amazon.co.uk digital gift card giveaway ("Promotion") is subject to the following terms and conditions. By entering the Promotion entrants will be deemed to have read and accepted these terms and conditions. 2. The Promotion is organised and operated by The Global Voucher Group Limited of Imperial House, Imperial Way, Newport NP10 8UH ("Promoter"). 3. The Promotion is open to all UK residents aged 18 years or over except employees of the Promoter, their families, agents and anyone else connected with administration of the Promotion. 4. The Promotion will run from 6 May 2021 23:00 until 30 Sep 2021 22:59 ("Promotion Period"). 5. All entrants who (i) subscribe to receive the Promoter's electronic marketing during the Promotion Period and (ii) Stena Line confirms have spent £350 or more (excluding all gift card purchases and top-ups and delivery or collection charges) before 30 Sep 2021 22:59 at the Stena Line via the link provided on www.myvouchercodes.co.uk ("Promoter's Website") shall be eligible to receive a free £20 Amazon.co.uk ("Gift Card"). 6. You will not be entitled to a Gift Card if you click on any other links or visit any other websites before making your purchase at the Stena Line or if you make use of any other offer or promotion in connection with your purchase which is provided by the Promoter or Stena Line (including any discounts, codes, savings, credit and/or points). 7. Only one entry per entrant during the Promotion Period shall be accepted. 8. Confirmation of purchase may be provided by Stena Line up to 90 working days following the date of the qualifying purchase. 9. Gift Cards may be downloaded via the "member section" of the Promoter's Website. Entrants should note that Gift Cards may expire after a certain date and their use may be subject to the retailer's own terms and conditions. 10. No entries from agents, third parties, organised groups or applications automatically generated by computers will be accepted. No incomplete or corrupted entries will be accepted. Any entries not made during the Promotion Period or otherwise in accordance with the entry instructions and these terms and conditions will be rejected. 11. The Promoter reserves the right to substitute, in its sole discretion, the Gift Card with an alternative award of equal or greater value. 12. The Promoter reserves the right to ask for satisfactory proof of identity, age and/or address as a condition of award of the Gift Card. 13. The Promoter reserves the right to amend or alter the Promotion or these terms and conditions at any time or to terminate the Promotion at any time without prior notice due to circumstances beyond its reasonable control. Any changes to the Promotion or these terms and conditions will be posted on the Promoter's Website at www.myvouchercodes.co.uk. 14. Personal data submitted by entrants in connection with the Promotion will be processed by the Promoter in accordance with the Promoter's privacy policy, which is available at www.myvouchercodes.co.uk/privacy. 15. The Promoter does not accept any responsibility for any damage, loss, injury or disappointment suffered by entrants or as a result of acceptance of the Gift Card, but nothing in these terms and conditions shall operate to exclude the Promoter's liability for death or personal injury suffered as a result of the Promoter's negligence. 16. The Promotion and these terms and conditions are governed by the laws of England and Wales and are subject to the exclusive jurisdiction of the English and Welsh courts.
View Terms & Conditions

View Terms & Conditions

ends 31 July and is valid on travel up to 6 January 2022.
View Terms & Conditions

View Terms & Conditions

1. Maximum saving shown of £77 is based on a crossing from Belfast to Liverpool, Dublin to Holyhead and Rosslare to Fishguard for a caravan up to 8 metres long.2. The Stena Line Terms of Business, together with these special conditions apply to all booki
Offers for Stena Line were last updated Monday 26 July 2021 14:38
Stena Line Codes That You've Missed
View Terms & Conditions

View Terms & Conditions

1. Stena Plus lounge access is from £16pp on our Cairnryan – Belfast and Harwich - Hook of Holland routes route only when booked in advance. 2. Waiter service is not available on our Harwich to Hook of Holland Route. 3. Stena Plus is currently not available on the Rosslare – Cherbourg route. 4. ~ Express boarding and disembarkation is not available for vans or horseboxes over 7m in length. 5. The complimentary food and drinks available in the Stena Plus lounge must be consumed within the lounge. 6. Stena Plus Lounge facilities vary by route and ship.
Most Popular Stena Line Code & Discount
| Offer Description | Expires | Discount Type |
| --- | --- | --- |
| Exclusive Free £20 Amazon Voucher with Orders Over £350 | | Reward |
| Britain to Ireland One Way by Car from Only £109 | | Deal |
| 10% off Economy, Flexi and Premium Fares on Sailings from Harwich to the Hook of Holland | | Voucher Code |
| Ireland Short Stays by Car from £155 for Car + Driver | | Deal |
| Holyhead to Dublin by Car + Driver Available from £109 | | Deal |
Stena Line Hints & Tips
Get the most from Stena Line Ferries with our expert hints and tips.


Online is cheapest when booking with Stena Line.


Book well in advance to make the biggest savings.


Consider the time of travel. If you don't need to travel on a weekend, then don't as midweek travel is usually always cheaper.


If you can flexible with your dates, you'll make the biggest savings.


Choose from Economy, Flexi or Premium when you make your booking, with Economy travellers benefiting from the biggest savings.


There are numerous benefits when making a group booking, so if you're travelling with others be sure to check.


Open an Extra Loyalty Club account to win loyalty rewards such as money off future trips or exclusive deals while on board the ferry.


Extra Gold members get even more benefits such as no fee to change their travel plans and being able to eat out for member only prices while travelling.


Business travellers can save up to 15% off fares.


If you have a Tesco Clubcard you can exchange your points in return for ferry travel with Stena Line.


Pets go free with Stena Line. Be sure to check your pet is eligible to travel and booked in before you go.


Sign up to the Stena newsletter to be the first to hear about special offers and discounts.


Regularly check MyVoucherCodes for Stena Line voucher codes.


FAQs
How can I get a Stena Line discount code?

The quickest way to pick up Stena Line codes is to check MyVoucherCodes before you book. Our team regularly updates their page with the best available offers to help you save on your next trip. You might catch an exclusive code for savings you won't find anywhere else.

What is Stena Line Extra?

This is the free to join loyalty scheme that gives you extra every time you travel. You'll earn points from every trip that you put towards future sailing. On top of that, you'll unlock exclusive member offers onboard. Visit the Extra page for all the details and sign up.

Can I get a Stena Line student discount?

While there is no student discount available across the site, there are regular deals for students on specific sailings. One month it will be on Holland crossings, the next Ireland. To help you keep track, you'll find details of any current student offer on their MyVoucherCodes page.
How to use your Stena Line promo code?


Open up our website and search for a promotional voucher that applies to the journey you want to make.


Double-check your voucher to make sure it applies to your journey.


Open up the Stena Line website in an alternative tab and browse for the journey you want. Alternatively, search for it in the search bar.


Once found, copy and paste your Stena Line voucher code into the "Offer Code" box and click "Continue".


Fill in all of your details and complete the order to get your discounted price.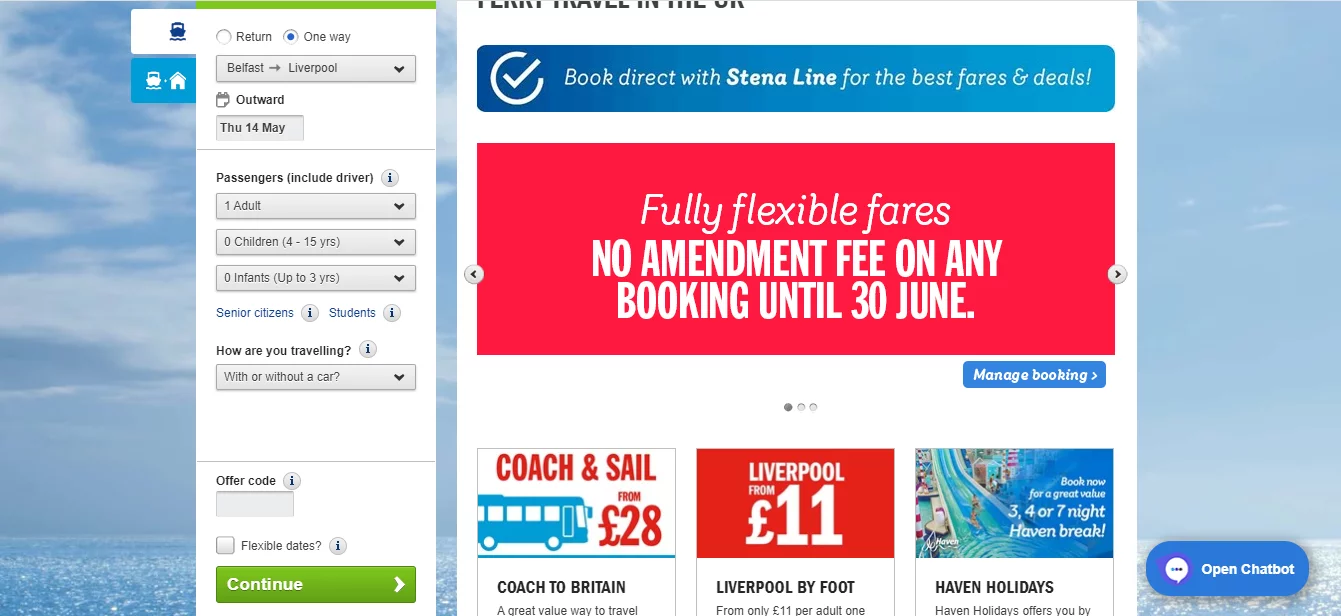 An Incredible Trip to the Emerald Isle
With COVID-19 making travel trickier, staycations became a more regular occurrence. But that doesn't mean you can't get out of the mainland UK and see a few sights in a stunning country. With Stena Line Ireland trips, you can see the glory of the Emerald Isle, and enjoy a fabulous ferry trip on your way. So, as Coronavirus restrictions begin to ease, you may want to look abroad in 2021.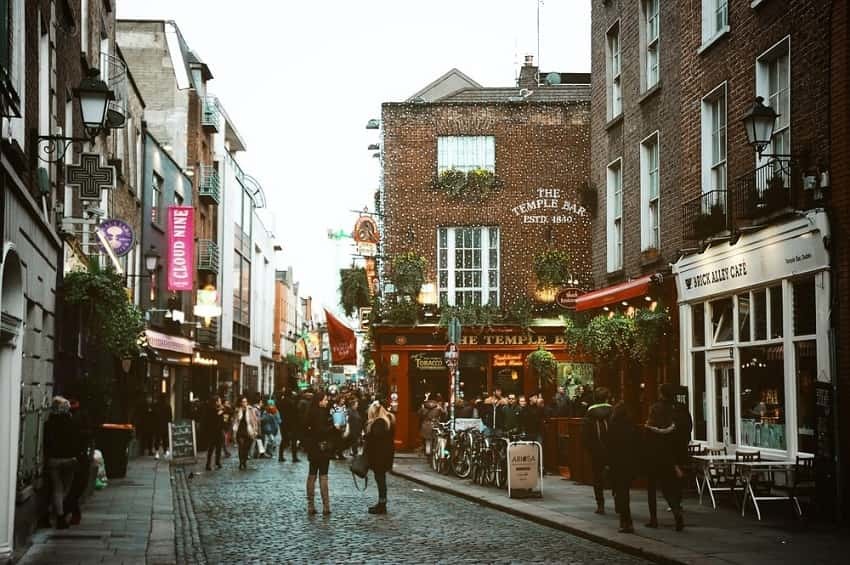 With Stena Line Belfast trips, you can see the beauty of the capital of Northern Ireland. With a ton of stunning architecture, historical sites and cultural landmarks, you'll be spoiled for choice when it comes to things to do in the beautiful city. So, look ahead for a holiday in Summer 2021 and check out Stena Line ferries to Belfast.
On the other hand, you could travel to the capital of the Republic of Ireland with a Stena Line Dublin trip. It's the largest city in Ireland has the activities to back it up. From the Guinness storehouse and the Jameson distillery to Giant's Causeway and more, you'll be spoilt for choice.
With a ton of social distancing and hygiene measures in place aboard the ferries, you can rest assured your safety is a priority on your Stena Line travels. So, you can get away without worrying about a thing. It is important to check the latest news from their website and the latest government guidelines before you travel.
So, grab a Stena Line discount code and get a terrific price on your travels to the Emerald Isle in 2021.
What seasonal offers do Stena Line have?
Cracking Savings on Christmas Breaks
For a stunning winter break, it's time to hit the seas! Whether it's Ireland, Holland, France or another part of Europe, you can save yourself a small fortune on a fabulous trip to the mainland.Check out what's on offer in
the winter sale
for some serious savings on your holiday. Whether it's a day trip or you fancy a longer break, there's some big discounts to be had if you keep an eye out for the best deals.If a Christmas break is what you fancy, it's worth checking out what's on offer in the
Christmas promotion
, you never know what kind of savings you could get your hands on.
Beat the January Blues for Less
Booking early in the year is a great way to save money, and with some incredible discounts popping up for trips across Europe, you don't want to miss out. Check out the
voucher code page
for some serious savings.For those with furry friends, you'll be pleased to hear that pet's go free! So, you can take them along for the ride without worrying about a big bill. They deserve a holiday too.
Springtime Savings
With the weather heating up and the sun coming out, it's a beautiful time to be on the ocean. Take advantage of the Easter holidays and take a city break on the mainland. Is there any better way to spend a bank holiday weekend?It's always worth checking out what
the spring sale
has to offer, you could soak up some springtime sunshine for a stunning price. For those with kids off school, you might just be looking for a way to spend a day, and there's no better way than a day trip. Explore Britain with the whole family, for a lovely, low price.
Hit the Seas and Save this Summer
With the summer holidays well underway, you might be eyeing up some stunning getaways for you and the whole family. For some sizzling savings on summertime sunshine,
check out the sale
. To really make the most of your travels, check out MyVoucherCodes for some incredible savings on the most wonderful getaways. With the latest offers and deals right at your fingertips, you can save big.