Offers for Marks and Spencer were last updated Monday 19 April 2021 12:38
Marks and Spencer Codes That You've Missed
Most Popular Marks and Spencer Code & Discount
| Offer Description | Expires | Discount Type |
| --- | --- | --- |
| Save up to 30% off with Deal of the Week Orders | | Deal |
| Get 2 for £18 on Bras | | Deal |
| Delivery from £3.50 | | Deal |
| Choose Next Day Delivery from £4.99 | | Deal |
| Free Gifts with Selected Beauty Orders | | Deal |
Marks and Spencer
Can I get a Marks and Spencer discount code?
Our team works hard to gather all the M&S discount codes, deals and sales in one place. The best way to make sure you don't miss out on saving is to check in with MyVoucherCodes before you place an order.
Can I get Marks & Spencer food offers?
Absolutely. There's more than fashion on their page. If M&S have an offer available, you'll find it on their MyVoucherCodes page.
Can I get free Marks & Spencer delivery?
Yes, you can get free delivery on most categories when you meet order thresholds. If you're shopping for M&S bedding, for example, you'll get free delivery when you spend £30. See the delivery page for
all the thresholds and delivery options
.
Is there a Marks & Spencer Sale?
Marks and Spencer run sales throughout the year to help customers save money. You'll find full details of any M&S offers on the dedicated MyVoucherCodes page. However, a good rule of thumb is to shop when the seasons are changing as that's when the new collections arrive.
Marks and Spencer
With fashion, furniture, food and even flowers on offer, Marks & Spencer truly have everything, and with these hints and tips you can save big across their range of categories:


Scroll through the homepage to find the Marks & Spencer deals of the week, you could save a small fortune across the site so it's worth checking out.
Check out the M&S offers section for all the latest and greatest discounts, from multi-buy deals to price-drops it's worth checking out for saving.
Take advantage of the Marks and Spencer free delivery offer to save yourself a few quid on the extra costs, and all you need to do is spend £50 or more to qualify for complimentary delivery.


Marks and Spencer


Click to show your favourite discount code on the MyVoucherCodes M&S page. A new window will pop up that reveals the code, which you can copy and use for great savings later.


MyVoucherCodes will send you to the M&S website where you can browse their extensive collection. It's easy, just open the previous window.


Shop for your favourite products at M&S, and add items to your shopping basket.


Click on the checkout button in the top right-hand corner of the website.


Double-check that your Marks and Spencer discount code is valid for your products so you can get great savings.


Enter your M and S voucher codes into the 'promotion code' box below the payment details and click apply.


Once your order total has changed, you can check out and enjoy your discounted M&S products.



Marks and Spencer
Spring is in the air and that can only me one thing, it's time to ditch the heavy duty layers and freshen up the wardrobe for another year. This season Marks and Spencer are taking things back to the essentials with everyone's favourite fashion staple, the humble pair of jeans. The iconic everyday wear that no wardrobe can afford to be without. Here is what you can expect from the latest M&S jeans offering.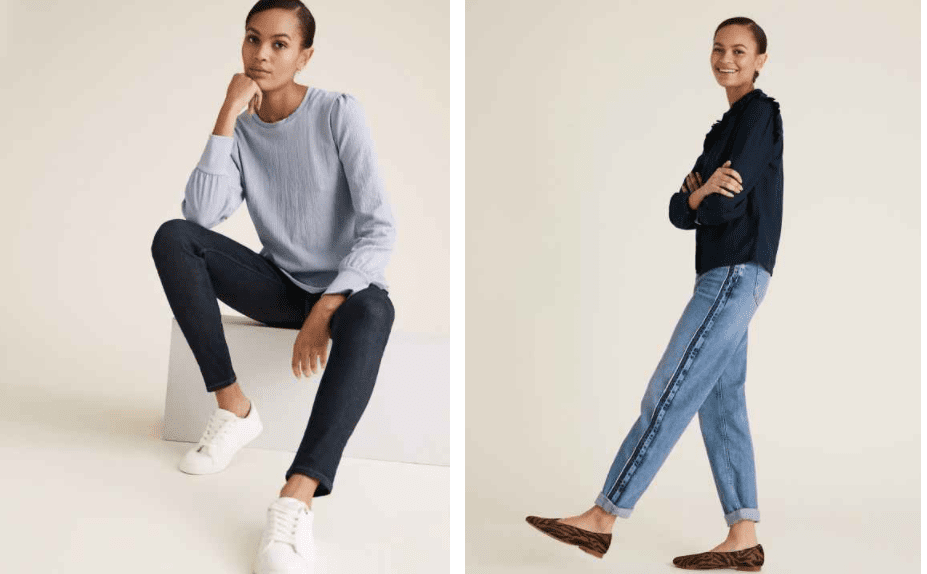 Marks and Spencer Ladies Jeans
The women's selection takes tough denim and turns it into something flattering and feminine for your casual days. This season it's all about bootcut, mom high waist, and the boyfriend jean if you're looking to stay on-trend. But jeans are a classic because every one has their favourite, and no matter what style you go for you'll look you beautiful best on the weekend.
Marks and Spencer Men's Jeans
For men, there's no item of clothing that's more essential than a pair of jeans. It's real every day style that goes with just about anything. But not all denim outfits, just say no guys. Whether you're a regular, straight, or skinny kind of man, M&S men's jeans bring all the laid back style you need to seamlessly pull off your, I don't care but really I do look. And yes, everyone knows that's a thing.
Marks and Spencer

Coronavirus has turned all our lives upside down this summer and we're all getting used to the new ways we do simple things. There are big changes to your local M&S and if you're not shopping online, you'll notice that the in-store experience has adjusted to the pandemic. When you arrive, you may notice a queue because there is a limit to the number of shoppers inside. This is to make socially distancing easier and keep everyone safe. There will always be a member of staff to guide you and make sure you get inside as quickly as possible.Hand sanitiser will be available at the door and if you are visiting in England or Scotland, you will be required to wear a face covering. As you shop there will be plenty of signs and floor markings that will help you stick to social distancing measures and move around the shop with minimal contact.While all M&S stores have reopened, there are still some services that are unable to resume. Close contact services like Bra fitting remain closed for now, but there will always be a knowledgeable member of staff on hand to help you out.If you'd rather not risk it you can still shop online and there is a new 8 pm cut off for contactless next day delivery. Slight delays are possible with the new measures in practice at the distribution centre, but the deliveries team are working hard to ensure this doesn't happen.
Marks and Spencer
The new normal has been the buzz word of the summer as we've all been forced to come to terms with the impact of coronavirus. One of the features of this brave new world that nobody could miss is face coverings. They're a spark point of 'debate' on socials, and in England and Scotland, they're a requirement if you want to shop in stores.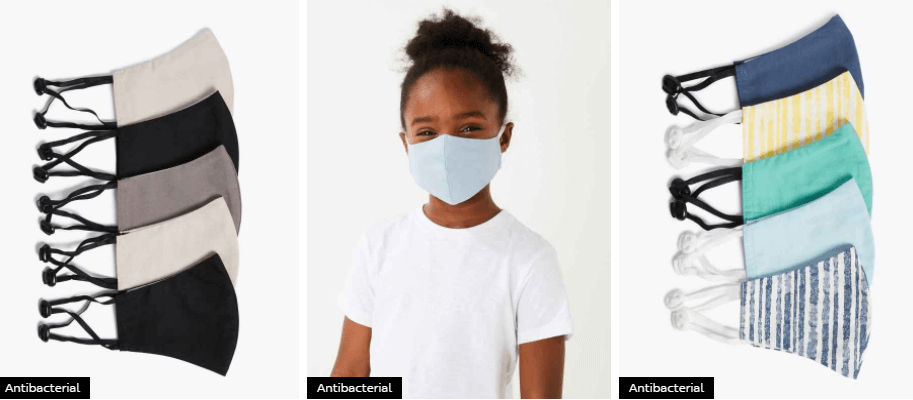 The collection of Marks and Spencer face masks flew off the shelves and sold out within 24 hours. But they're back on the shelves and there's plenty to go around to make sure everyone can shop and stay safe.The 5 packs come in a variety of muted shades to match with your outfits and keep you safe on your commute to work. They are designed to keep your look smart as you travel, and they will compliment your business attire well.These reusable masks can be washed up to 40 times and they'll stay fresher for longer thanks to an antibacterial coating. But the biggest complaint most people have is how uncomfortable masks are. All of the masks available at M&S have elastic ear straps and adjustable toggles that will help fit them to your face and stay comfortable for longer.There's even a more vibrant selection with bright colours and funky patterns to keep your little ones happy and safe when you take them to soft play.Now that they're compulsory, masks are an essential item - and the Marks and Spencer collection will keep you safe and stylish while you're out.