EXCLUSIVE
View Terms & Conditions

View Terms & Conditions

1. The £10 Costa digital gift card giveaway ("Promotion") is subject to the following terms and conditions. By entering the Promotion entrants will be deemed to have read and accepted these terms and conditions. 2. The Promotion is organised and operated by The Global Voucher Group Limited of Imperial House, Imperial Way, Newport NP10 8UH ("Promoter"). 3. The Promotion is open to all UK residents aged 18 years or over except employees of the Promoter, their families, agents and anyone else connected with administration of the Promotion. 4. The Promotion will run from 4 Mar 2021 00:00 until 3 Oct 2021 22:59 ("Promotion Period"). 5. All entrants who (i) subscribe to receive the Promoter's electronic marketing during the Promotion Period and (ii) Shark confirms have spent £200 or more (excluding all gift card purchases and top-ups and delivery or collection charges) before 3 Oct 2021 22:59 at the Shark via the link provided on www.myvouchercodes.co.uk ("Promoter's Website") shall be eligible to receive a free £10 Costa ("Gift Card"). 6. You will not be entitled to a Gift Card if you click on any other links or visit any other websites before making your purchase at the Shark or if you make use of any other offer or promotion in connection with your purchase which is provided by the Promoter or Shark (including any discounts, codes, savings, credit and/or points). 7. Only one entry per entrant during the Promotion Period shall be accepted. 8. Confirmation of purchase may be provided by Shark up to 90 working days following the date of the qualifying purchase. 9. Gift Cards may be downloaded via the "member section" of the Promoter's Website. Entrants should note that Gift Cards may expire after a certain date and their use may be subject to the retailer's own terms and conditions. 10. No entries from agents, third parties, organised groups or applications automatically generated by computers will be accepted. No incomplete or corrupted entries will be accepted. Any entries not made during the Promotion Period or otherwise in accordance with the entry instructions and these terms and conditions will be rejected. 11. The Promoter reserves the right to substitute, in its sole discretion, the Gift Card with an alternative award of equal or greater value. 12. The Promoter reserves the right to ask for satisfactory proof of identity, age and/or address as a condition of award of the Gift Card. 13. The Promoter reserves the right to amend or alter the Promotion or these terms and conditions at any time or to terminate the Promotion at any time without prior notice due to circumstances beyond its reasonable control. Any changes to the Promotion or these terms and conditions will be posted on the Promoter's Website at www.myvouchercodes.co.uk. 14. Personal data submitted by entrants in connection with the Promotion will be processed by the Promoter in accordance with the Promoter's privacy policy, which is available at www.myvouchercodes.co.uk/privacy. 15. The Promoter does not accept any responsibility for any damage, loss, injury or disappointment suffered by entrants or as a result of acceptance of the Gift Card, but nothing in these terms and conditions shall operate to exclude the Promoter's liability for death or personal injury suffered as a result of the Promoter's negligence. 16. The Promotion and these terms and conditions are governed by the laws of England and Wales and are subject to the exclusive jurisdiction of the English and Welsh courts.
EXCLUSIVE
View Terms & Conditions

View Terms & Conditions

1. The £10 Amazon.co.uk digital gift card giveaway ("Promotion") is subject to the following terms and conditions. By entering the Promotion entrants will be deemed to have read and accepted these terms and conditions. 2. The Promotion is organised and operated by The Global Voucher Group Limited of Imperial House, Imperial Way, Newport NP10 8UH ("Promoter"). 3. The Promotion is open to all UK residents aged 18 years or over except employees of the Promoter, their families, agents and anyone else connected with administration of the Promotion. 4. The Promotion will run from 16 May 2021 23:00 until 31 Aug 2021 22:59 ("Promotion Period"). 5. All entrants who (i) subscribe to receive the Promoter's electronic marketing during the Promotion Period and (ii) Shark confirms have spent £200 or more (excluding all gift card purchases and top-ups and delivery or collection charges) before 31 Aug 2021 22:59 at the Shark via the link provided on www.myvouchercodes.co.uk ("Promoter's Website") shall be eligible to receive a free £10 Amazon.co.uk ("Gift Card"). 6. You will not be entitled to a Gift Card if you click on any other links or visit any other websites before making your purchase at the Shark or if you make use of any other offer or promotion in connection with your purchase which is provided by the Promoter or Shark (including any discounts, codes, savings, credit and/or points). 7. Only one entry per entrant during the Promotion Period shall be accepted. 8. Confirmation of purchase may be provided by Shark up to 90 working days following the date of the qualifying purchase. 9. Gift Cards may be downloaded via the "member section" of the Promoter's Website. Entrants should note that Gift Cards may expire after a certain date and their use may be subject to the retailer's own terms and conditions. 10. No entries from agents, third parties, organised groups or applications automatically generated by computers will be accepted. No incomplete or corrupted entries will be accepted. Any entries not made during the Promotion Period or otherwise in accordance with the entry instructions and these terms and conditions will be rejected. 11. The Promoter reserves the right to substitute, in its sole discretion, the Gift Card with an alternative award of equal or greater value. 12. The Promoter reserves the right to ask for satisfactory proof of identity, age and/or address as a condition of award of the Gift Card. 13. The Promoter reserves the right to amend or alter the Promotion or these terms and conditions at any time or to terminate the Promotion at any time without prior notice due to circumstances beyond its reasonable control. Any changes to the Promotion or these terms and conditions will be posted on the Promoter's Website at www.myvouchercodes.co.uk. 14. Personal data submitted by entrants in connection with the Promotion will be processed by the Promoter in accordance with the Promoter's privacy policy, which is available at www.myvouchercodes.co.uk/privacy. 15. The Promoter does not accept any responsibility for any damage, loss, injury or disappointment suffered by entrants or as a result of acceptance of the Gift Card, but nothing in these terms and conditions shall operate to exclude the Promoter's liability for death or personal injury suffered as a result of the Promoter's negligence. 16. The Promotion and these terms and conditions are governed by the laws of England and Wales and are subject to the exclusive jurisdiction of the English and Welsh courts.
Offers for Shark were last updated Thursday 29 July 2021 14:10
Shark Codes That You've Missed
Most Popular Shark Code & Discount
| Offer Description | Expires | Discount Type |
| --- | --- | --- |
| Exclusive £10 Costa Voucher with Orders Over £200 | | Reward |
| Exclusive Free £10 Amazon Voucher with Orders Over £200 | | Reward |
| Up to 25% off Corded Stick Vacuum Cleaners | | Sale |
| Sign up to the Newsletter for Special Offers | | Deal |
| 12 Month Warrranty | | Deal |
Shark Hints and Tips
Use our hints and tips to save even more money as you upgrade your floor care tech.
Shark Offers

The offers page should always be your first stop when you visit the site. It's where you'll find the best discounts available and you could save £100s.
Shark Discount Code

Before you checkout, always check if there's a code available that will cut the cost of your new vacuum cleaner.
Join the Mailing List

The mailing list is the easiest way to keep up with the latest innovations and catch any exclusive offers that come your way.
FAQs
How can I get a Shark Clean discount code?
The easiest way to pick up a Shark discount code is to check MyVoucherCodes before you order. Our team collects the best deals available, including the now famous Shark Duo Clean TV offer, to help you save on a high-tech new vacuum cleaner.
Can I get free delivery?
Yes, all orders currently come with free delivery as standard. They aim to get all products to you the very next day, however, this is not always possible. You can find
all the delivery details
on the dedicated page.
Next Level Floor Care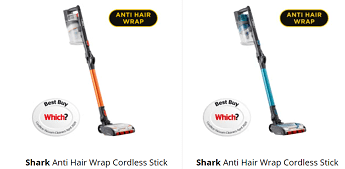 You know you're an adult when getting a new vacuum cleaner, but that's only because we didn't have Shark back then. These high tech machines make cleaning easy and will leave your house as fresh as the day you moved in.
Shark Cordless Vacuum
Cordless vacuums making cleaning the simple and you won't have to dangle a lead over your shoulder. With run times up to 120 and light weight models, they make cleaning your living room a breeze.
Shark Upright Vacuum
The selection of upright cleaners brings the latest cleaning technology to your home. Features like Shark Duo Clean and Anti Hair Wrap can take on the toughest mess while blending power with portability. The TruePet models are perfect if you have furry friends that you're constantly cleaning up after.
Shark Steam Mop
They've even given the Shark treatment to steam mops. These hard wood floors work chemical free to sanitise your floors using only the power of steam. These cleaners come with features like Kick and fip technology for seamless cleaning and Steam Blaster for the stubborn patches.
How to Use Your Shark Discount Code
Use these simple instructions to apply your discount code and save on the latest floor care technology.
Browse the Shark MyVoucherCodes and find the best deal for your order.
Click 'Get Discount' and you'll be taken to the relevant webpage with the code automatically copied.
Shop for your new vacuum cleaner or steam mop and click your basket when you're ready to checkout.
Fill out your billing and delivery information in the forms provided.
Click 'Redeem Here' and paste your code into the box.
Double check your order information and ensure your saving has been applied.
Click checkout and look forward to hassle free cleaning.