Marks & Spencer Hints & Tips
With fashion, furniture, food and even flowers on offer, Marks & Spencer truly have everything, and with these hints and tips you can save big across their range of categories:
Scroll through the homepage to find the Marks & Spencer deals of the week, you could save a small fortune across the site so it's worth checking out.
Check out the M&S offers section for all the latest and greatest discounts, from multi-buy deals to price-drops it's worth checking out for saving.
Take advantage of the Marks and Spencer free delivery offer to save yourself a few quid on the extra costs, and all you need to do is spend £50 or more to qualify for complimentary delivery.
FAQs
Can I get a Marks and Spencer discount code?
Our team works hard to gather all the M&S discount codes, deals and sales in one place. The best way to make sure you don't miss out on saving is to check in with MyVoucherCodes before you place an order.
Can I get Marks & Spencer food offers?
Absolutely. There's more than fashion on their page. If M&S have an offer available, you'll find it on their MyVoucherCodes page.
Can I get free Marks & Spencer delivery?
Yes, you can get free delivery on most categories when you meet order thresholds. If you're shopping for M&S bedding, for example, you'll get free delivery when you spend £30. See the delivery page for
all the thresholds and delivery options
.
Is there a Marks & Spencer Sale?
Marks and Spencer run sales throughout the year to help customers save money. You'll find full details of any M&S offers on the dedicated MyVoucherCodes page. However, a good rule of thumb is to shop when the seasons are changing as that's when the new collections arrive.
Using Your Marks and Spencer Discount Code
Click to show your favourite discount code on the MyVoucherCodes M&S page. A new window will pop up that reveals the code, which you can copy and use for great savings later.
MyVoucherCodes will send you to the M&S website where you can browse their extensive collection. It's easy, just open the previous window.
Shop for your favourite products at M&S, and add items to your shopping basket.
Click on the checkout button in the top right-hand corner of the website.
Double-check that your Marks and Spencer discount code is valid for your products so you can get great savings.
Enter your M and S voucher codes into the 'promotion code' box below the payment details and click apply.
Once your order total has changed, you can check out and enjoy your discounted M&S products.

Buyers Guide: Most Wanted Face Coverings
The new normal has been the buzz word of the summer as we've all been forced to come to terms with the impact of coronavirus. One of the features of this brave new world that nobody could miss is face coverings. They're a spark point of 'debate' on socials, and in England and Scotland, they're a requirement if you want to shop in stores.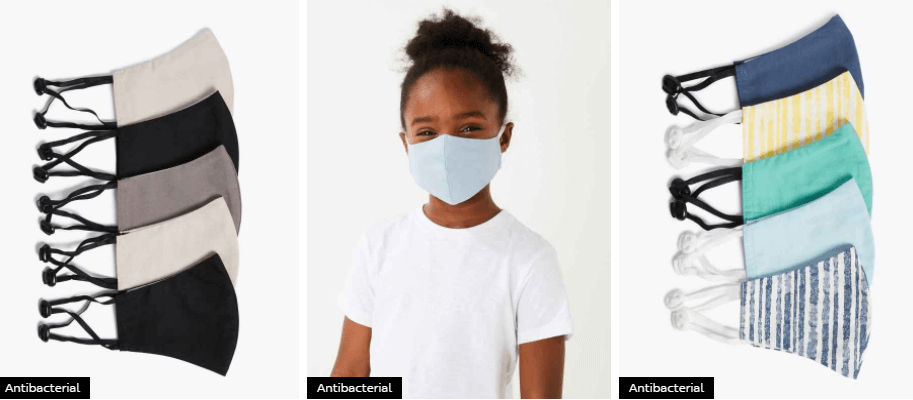 The collection of Marks and Spencer face masks flew off the shelves and sold out within 24 hours. But they're back on the shelves and there's plenty to go around to make sure everyone can shop and stay safe.
The 5 packs come in a variety of muted shades to match with your outfits and keep you safe on your commute to work. They are designed to keep your look smart as you travel, and they will compliment your business attire well.
These reusable masks can be washed up to 40 times and they'll stay fresher for longer thanks to an antibacterial coating. But the biggest complaint most people have is how uncomfortable masks are. All of the masks available at M&S have elastic ear straps and adjustable toggles that will help fit them to your face and stay comfortable for longer.
There's even a more vibrant selection with bright colours and funky patterns to keep your little ones happy and safe when you take them to soft play.
Now that they're compulsory, masks are an essential item - and the Marks and Spencer collection will keep you safe and stylish while you're out.
Buyers Guide: Shop with Confidence

Coronavirus has turned all our lives upside down this summer and we're all getting used to the new ways we do simple things. There are big changes to your local M&S and if you're not shopping online, you'll notice that the in-store experience has adjusted to the pandemic.
When you arrive, you may notice a queue because there is a limit to the number of shoppers inside. This is to make socially distancing easier and keep everyone safe. There will always be a member of staff to guide you and make sure you get inside as quickly as possible.
Hand sanitiser will be available at the door and if you are visiting in England or Scotland, you will be required to wear a face covering. As you shop there will be plenty of signs and floor markings that will help you stick to social distancing measures and move around the shop with minimal contact.
While all M&S stores have reopened, there are still some services that are unable to resume. Close contact services like Bra fitting remain closed for now, but there will always be a knowledgeable member of staff on hand to help you out.
If you'd rather not risk it you can still shop online and there is a new 8 pm cut off for contactless next day delivery. Slight delays are possible with the new measures in practice at the distribution centre, but the deliveries team are working hard to ensure this doesn't happen.
Buyers Guide: Party Season Done Better

If there was a party season needed, it is in 2020. It's been a grim year all round and everyone deserves to enjoy themselves a little bit. It's not going to be the same this year, but getting your shopping right will put an extra special touch on your scaled-down celebrations. So don't just make it Christmas, Make it a Marks and Spencer Christmas.
Marks and Spencer Christmas Food
It wouldn't be the festive season if you didn't treat yourself to all the sinful food you can handle, and it doesn't get more luxurious than the M&S Catalogue. But you've seen the food adverts, cream oozing down a Christmas pudding, slowly carving succulent turkeys, lashings of gravy flowing freely from the bot and… sorry we got a bit distracted there for a minute.
Marks and Spencer Wine
Christmas is all about stuffing your face with top quality food, there's also indulging in your favourite drinks too. The M&S wine cellar is packed with the sort of bottles and special offers that take your Christmas dinner to another level.
Marks and Spencer Home
The M&S home collection takes a magical turn in the festive season with the kind of decorations and homeware that leave your 2 bed look like a stately home inside. And for a show-stopping finishing touch, a stunning Marks and Spencer Christmas tree will make all the presents look better.This Christmas is going to be a little different and if we can help you celebrate in style with a Marks and Spencer discount code, think of it as our gift to you.