Hotel Chocolat Hints & Tips
Secure yourself a great saving or two today with these money-saving Hotel Chocolat hints & tips:
Keep an eye out for free delivery on selected products, with items like the Hotel Chocolat velvetiser and other treats coming with free shipping, you can save a few quid.
You can join the Hotel Chocolat Tasting Club, with a new box every month, it's a chocolate-lovers dream, not to mention you can special members discounts and exclusive treats.
It's worth looking at what's on offer in the sale, with a ton of offers on products that are essential for any chocolate lover, you can big on tasty treats.
Check out the lucky dip deals, it's a box of chocolates where you won't know what you're getting but you'll save a small fortune, and it's going to be delicious.
FAQs

Can I Get Free Delivery At My Hotel Chocolat?
Hotel Chocolat delivery starts from £3.95 for standard delivery of one item. There is a range of options to ensure your treats arrive when you need them. You can find delivery and returns page on the dedicated page. You can also find free fantastic Hotel Chocolat discount codes on the MyVoucherCodes website when they become available.
When Is The Hotel Chocolat Online Sale?
There sales throughout the year that deliver fantastic savings. Keep an eye on MyVoucherCodes for all the details and you'll be able to pick up premium chocolate for less.
How Can I Get A Hotel Chocolat Discount Code?
The best way to catch a Hotel Chocolat code is to regularly check in with MyVoucherCodes. The team regularly updates the page with all the best offers to make sure you never miss a deal. You'll also find exclusive codes for savings you won't find anywhere else.
What's In A Hotel Chocolat Hamper?
There is a wide selection of gift hampers available to suit all budgets. There is a range of flavours and occasions to make sure you get the perfect gift. You can even pick hampers with a paired bottle of wine to make the perfect evening.
A Gorgeous Gift For Any Occasion
When it comes to picking out the perfect present, chocolate is a reliable choice. But with Hotel Chocolat gifts, you can satisfy their sweet tooth with something truly special. Whether it's an anniversary gift or a beautiful birthday present, chocolate is a fantastic option.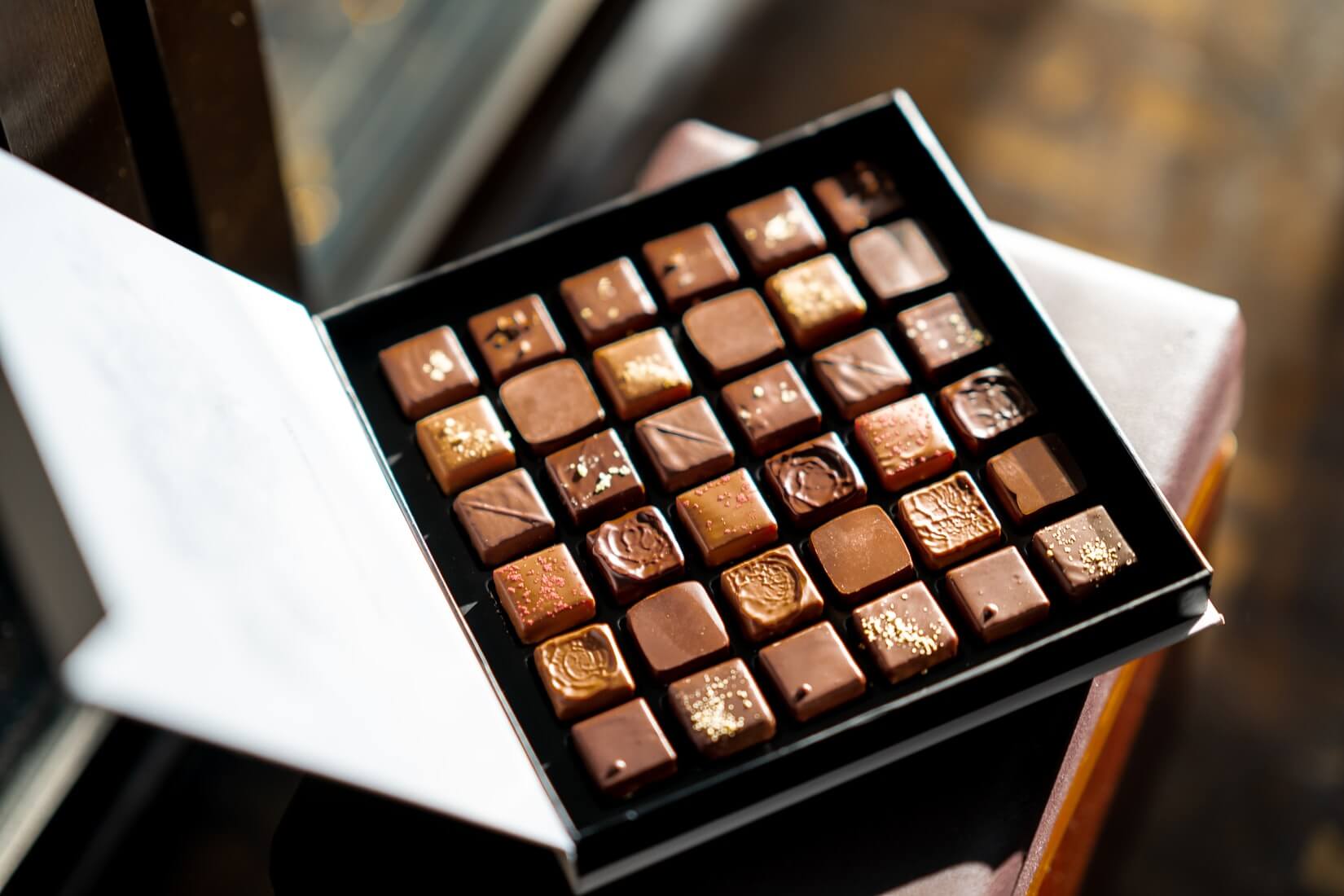 They have different gifts depending on the occasion, so if you're after a Hotel Chocolat birthday gift, they've got luxury chocolates, cocoa gin or salted caramel vodka. For something to celebrate an anniversary, there's the Hotel Chocolate velvetiser, or a beautiful hamper.

The Hotel Chocolat hampers are a perfect choice if you're not certain what to get. With hampers for every price point, featuring a whole range of gifts, you can't go wrong. With vegan hampers, salted caramel hampers or even beer hampers, there's something for everyone.

You can also treat the special person to a chocolate tasting adventure. A wonderful day out that puts you with an expert to learn about tasting chocolate. You'll get prosecco, chocolates, goody bags, and a fabulous day out. So, it's a cracking choice if you're after something unconventional for a chocolate lover.

So, whether it's a birthday, an anniversary, a christening, a wedding or you just want to show a little love, check out the Hotel Chocolat gift section for a delightful and decadent present.
The Definition of Hot Chocolate
With the British weather taking a turn for the worse and with the Winter here, many eyes are set on those cosy nights in. Sat around the telly with the family, under a blanket, with a lovely, warm mug of hot chocolate in your hands. It's the perfect way to weather the rain.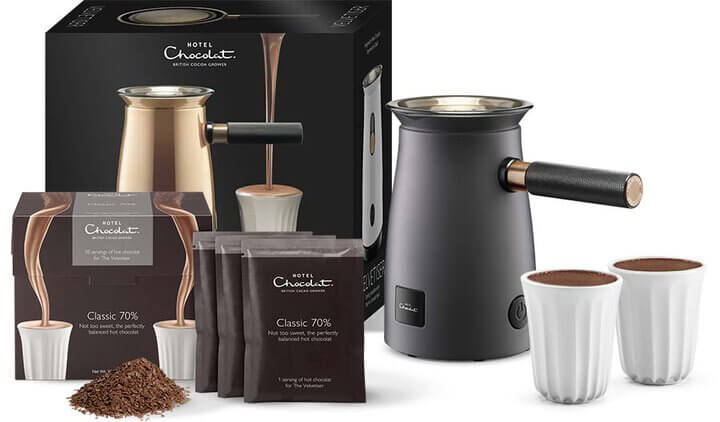 And as a company that knows a thing or two about incredible confectionery, they know a little something about hot chocolate too. With the Hotel Chocolat velvetiser, you'll be getting a top-quality hot chocolate, without any hassle at all.

It takes two and a half minutes to turn hot chocolate powder and the milk of your choice, into a delicious, velvety, cloud-like cup of cracking cocoa. Not to mention it's easily cleaned so you can make it part of your daily ritual without any worries about having to tackle the dishes.

There's a ton of stunning flavours of hot chocolate to choose from too. With salted caramel, orange chocolate, raspberry and white chocolate and mint chocolate flavours on the menu, you'll be spoilt for choice on your cup of cocoa. Not to mention they offer a subscription service, so you won't have to worry about running out.

So, spend your Winter evenings indoors and do it right with a Hotel Chocolat hot chocolate. It really is the perfect way to beat the cold weather and get cosy in the house.
What Else Does Hotel Chocolat Offer? 

Get your fix of delicious chocolate delivered straight to your door by taking advantage of the innovative subscription service available at Hotel Chocolat. Offering a choice of different subscription boxes, you can choose which types of chocolate please your taste buds best and what gorgeous box pops through your letterbox on a monthly basis.