How to use your Ebookers promo code?
Start the process by finding a promotion code that applies to the products you wish to order. Once found, copy your code.
Head over to the Ebookers website and search for the booking that suits you.
Double-check your code to guarantee it will apply to your booking.
Proceed to checkout and fill in all required details for your booking.
Paste your Ebookers voucher into the "Coupon Code" box and click "Apply Coupon".
Your page will refresh with a new discounted price for your order.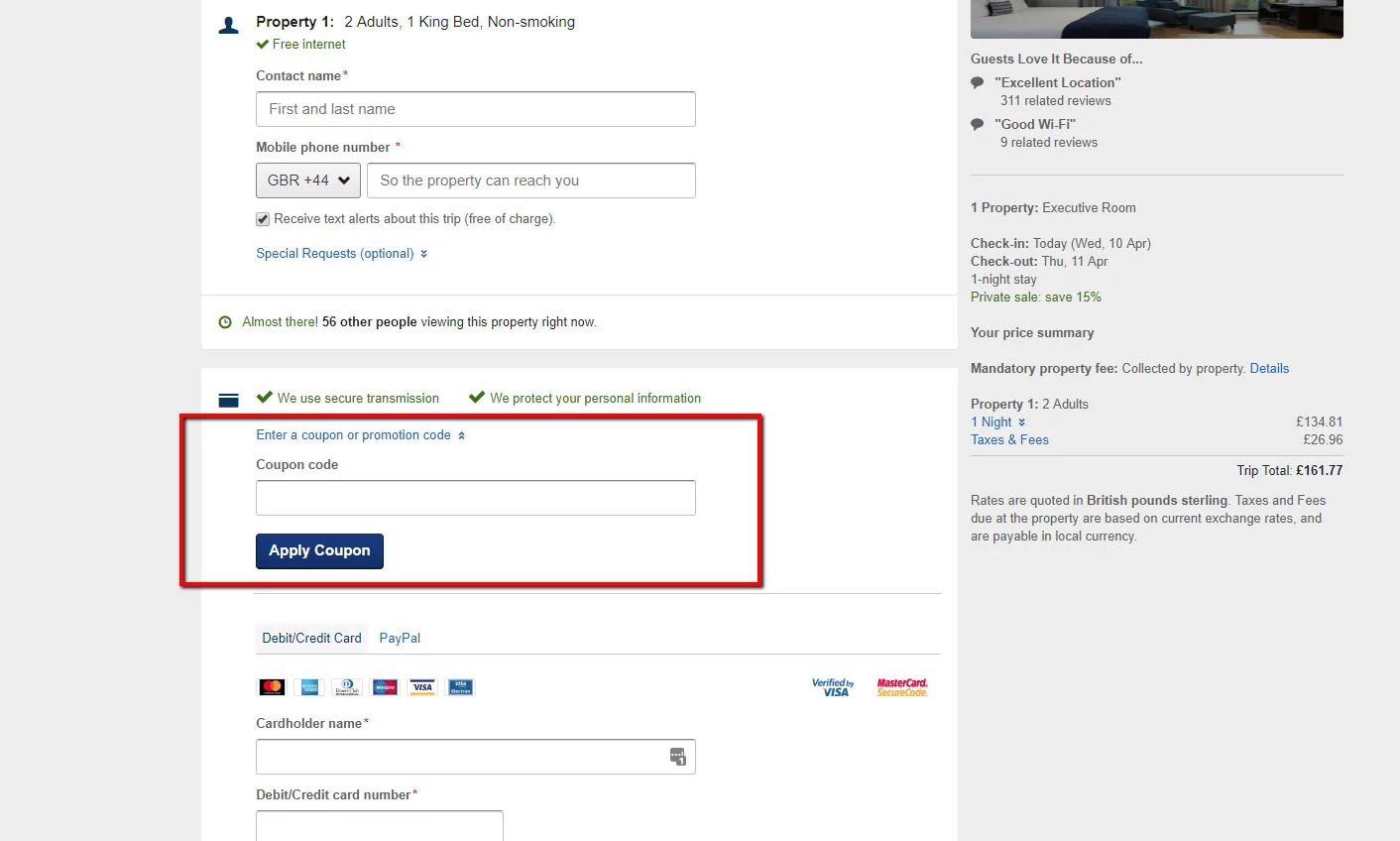 FAQs
Can I get an eBookers discount code?
Yes, you can get an eBookers voucher code. They'll be listed on MyVoucherCodes alongside other deals and offers, and some exclusive eBookers promo codes that can't be found anywhere else.
What is an eBookers BONUS+ membership?
There are tiered rewards with silver, gold and platinum memberships. The benefits include rewards, insider prices and other holiday extras that can be found on
the BONUS+ page
of the eBookers website.
Can I make changes to my booking?
eBookers charge a change fee of £25, and airlines generally charge for charges per person. You'll also need to pay for any increases in airfare for a flight change. To find out the cost of your changes to
the 'My Trips' section
of the website.
eBookers Hints & Tips
Book yourself a bargain with eBookers, where you can get your trip sorted for less, and by taking advantage of these top money-saving tips, you can grab a great deal on your getaway:
The eBookers deal section should be the first stop for anyone looking to save, where you can find the top deals of the day, or find a deal based on where you're heading, and when you're heading there.
Check the eBookers last minute offers and you'll start to see some savings, and on top of the discounts, you'll get free cancellation on selected hotels, for extra peace of mind.
Sign up to the eBookers Bonus+ scheme for free, and you'll start earning points that can be used for discounts on future bookings.
What Else Does ebookers Offer? 
Not only does ebookers offer the best flight and hotel deals, the travel agency can also give you a helping hand when it comes to finding the right car hire, tours and travel extras to suit your journey.  
The hottest place to fly with ebookers
There are so many destinations to choose from that it can be hard to pick your next holiday. With ebookers flights jetting all over the world, you can end up in some incredible places. To help you step away from the ordinary and discover something special, we've put together this list of the soon to be hottest destinations for holidaymakers.
Bilbao Cultural Hub
Since the opening of the world-famous Guggenheim Museum in 1997,
Bilbao has been a culture hotspot
in Spain. It's worth taking the flight to see that building alone. If you've not heard of it, give a google because it's incredible. The largest city in Basque country has loads more to offer though.
Old Town is a reminder of the city's past and walking through the atmospheric streets of Casco Viejo is a superb way to spend the day. You'll find loads of shops and bars tucked away in these colourful streets. It's a fantastic place to pick up an authentic souvenir and laze away the day.
For spectacular views of this stunning city you'll want to head to the top of Mount Artxanda. Don't panic, there's no need to get the hiking boots on, unless that's something you're into I suppose. The old funicular will help you reach the top without all the sweating. It's still works fine and is perfectly safe, we swear. At the top you'll take in the sprawling city with gorgeous hills rolling in the background.
Pintxos bites are a delicious delicacy in the Basque region. It's basically small bites of bread topped with delicious local ingredients. There are plenty of bars that specialise in these treats and they are a must. But once you start you won't stop, you've been warned.
Senegalese Sensations
Any visit to Africa will be bursting with energy, and
the vibrant city of Dakar
is no exception. You'll discover a lively atmosphere and loads of colour the minute you land. The sights and smells of traditional Senegal are intoxicating, and it won't take long for you to be swept up in the African way of life.
Lake Retba is one of the must-see sites when you're in Dakar. The pink water looks magical thanks to the salt in the water. This is Senegal's very own Dead Sea and it makes for a great day out.
Dakar is a little-known surf secret. You can catch some of Africa's most consistent waves in Senegal's capital. There are loads of spots along the coast that offer something for every level. There are forgiving waves for beginners at Virage and Yoff. Ouakam and Vivier have beach breaks that will test seasoned pros. You'll find loads of surf hostel and rental shops in northern Dakar that'll make sure your surf trip flows smoothly.
Getting a boat to Ile Gorée often described as the number one trip in Dakar. The island is a UNESCO world heritage site because of it's dark past in the slave trade. Now, the island has been established as a museum dedicated to teaching people about this harrowing time and serves as a reminder of a brutal past.
Discover Galway
Galway is the European Capital of Culture
for 2020 and it's every bit as vibrant as you'd expect. This diverse city is manages to mix Irish tradition with colourful multicultural life. This is most evident in the famous Latin Quarter. The hook-shaped district in the old centre of Galway is the place to go to experience the city's sociable side. The quaint cobbled streets are packed with bars and restaurants, and there are always street performers to bring the folk atmosphere.
To get a different perspective on Galway, a Corrib Princess River Cruise is a must. You'll float gently past picturesque banks. The highlight of the trip is an ivy clad mansion that delivers the perfect photo op. It's a great way to while away the day.
The Aran Islands make for an incredible day trip too. Many an Irish poet has written about these gorgeous islands and you will see why. Its dramatic scenery is sure to get your creative juices going.
If you need more wanderlust inspiration, ebookers regularly update their travel blog with fresh destinations and must-visit gems.