View Terms & Conditions

View Terms & Conditions

Excludes Performance Parts, Tools, Accessories, Clearance & Garage Equipment
View Terms & Conditions

View Terms & Conditions

T&Cs apply.
View Terms & Conditions

View Terms & Conditions

40% Off Brakes2. 40% Off Filters3. 40% Off Oils4. 40% Off Batteries                                                             40% Off Wipers
Offers for Euro Car Parts were last updated Wednesday 20 October 2021 10:25
Euro Car Parts Codes That You've Missed
Euro Car Parts Discount Codes
| Offer Description | Expires | Discount Type |
| --- | --- | --- |
| Up to 40% off Your First Order with Newsletter Sign-up | | Deal |
| Save up to 40% off Orders | | Voucher Code |
| Up to 60% off Car Parts in the Clearance | | Sale |
| Sign up to the Newsletter for Special Offers and Exclusives | | Deal |
| 42% off Brakes, Filters, Oils, Batteries and Wipers | | Voucher Code |
FAQs
How Can I find a Euro Car Parts near me?

You can enter your postcode into the 'Store Locator' to find the nearest centre to you. With over 250 stores and over 130,000 car parts stocked, you'll likely find exactly what you need in a convenient location.
Can I get a Euro Car Parts discount code?

Yes, voucher codes are regularly to save you even more money on selected parts and products. Check in with MyVoucherCode before you checkout to catch all the latest codes and money saving deals.
What delivery options are available at Euro Car Parts?

Standard delivery is free on all orders over £15 and will get your order to you within 3-4 working days. Alternatively there are express and premium DPD delivery options available from £4.95. You can also opt for premium Saturday or Sunday delivery for an extra fee.
Do Euro Car Parts fit batteries?
The Fit It For me service now has over 50,000 parts available for fitting, and yes, that includes batteries. All you have to do is select the 'Fit It For Me' option when you shop, and select your garage location, date and time to secure your booking.How to cancel a Euro Car Parts order?
Should you wish to cancel an order you can email the customer service team on custservice@eurocarparts.com or call 0203 474 0500. This must be done before your order is dispatched, otherwise you will need to follow the returns policies.
Hints & Tips
Roll up to more value every time you shop at Euro Car Parts with our Handy hints and Tips:
Make sure you're signed up to the newsletter before you start your shop. It's the easiest way to stay up to date with all the latest news, motoring advice, and exclusive discounts that might not make it to the site. All it takes is an email and you'll get all the latest direct in your inbox.
The clearance section is where you'll find incredible sale prices all year round. The deals are changing regularly with new products being added all the time and covering everything from car parts to cleaning products. It's an easy way to score a saving on top products without sacrificing any quality.
The seasonal sales bring massive discounts to essential products that will see summer or winter. Check in early to catch the best prices and get prepared for whatever the weather is going to throw at you. They usually offer at least 40% off for superb savings on all things car.
Don't be fooled by their name, there's way more than car parts on offer. They always offer superb deals on cleaning products, including pressure washers, tools, and leisure products. Their seasonal selection always delivers a few surprises that cut the costs of your everyday living.
How to use your Euro Car Parts promo code?


Start by browsing our page to find a code that applies to you. Once found, unlock and copy the code.


Before you buy, check that the code applies to your products.


Using another tab, open up the Euro Car Parts website.


Add the products you would like to buy to your basket and fill in your number plate before you buy.


Proceed to checkout and double-check you have everything you wanted.


Paste your Euro Car Parts discount code and click "Add Code" to apply to your order.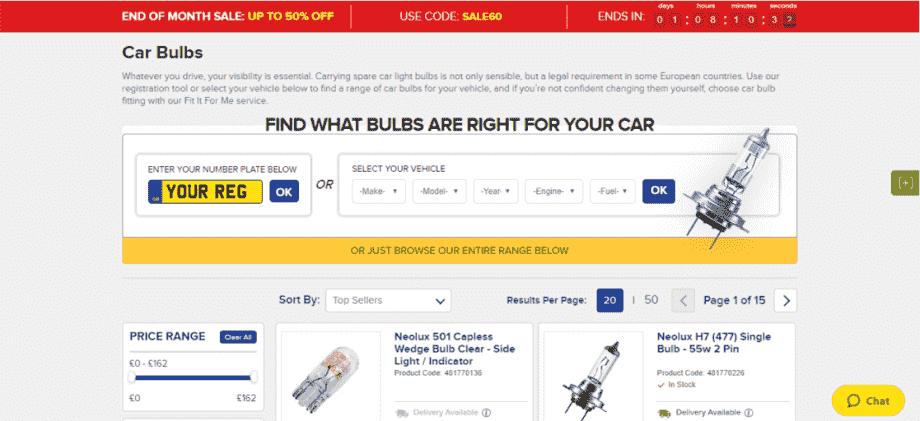 No Stress Fittings
Buying car parts is one thing, but fitting them safely is another ball game entirely. If you're less than handy or super busy, you probably don't need the stress of trying to fit that new battery yourself. You could, obviously, but with the Euro Car Parts 'Fit It For Me' service, it's easy to get the job done.
There are over 50,000 parts available for fitting including alternators, batteries, and fuel filters. This comprehensive service covers all the essentials that keep things running smoothly when you need it most.
The quick, simple, and safe service offers competitive rates and with over 1,000 workshops across the UK, it's the convenient option. You simply select the 'Fit It For Me' option when you shop and book your location, time and date that suit you best.
Their motoring experts will have you ready to drive away fast and you won't make payment until the work is complete. This service makes it simpler to take care of your car. So forget about scrabbling with your tools and put your feet up.
Don't forget to add a Euro Car Parts voucher code to you parts order to save even more on your maintenance.
Fully Charged Service
The battery is one of the most import parts in your car. It supplies the starter motor, ignition system, and all the electrical systems in your vehicle. This makes it essential and if you neglect it, sooner or later, your car won't start. That's why Euro Car Parts make sure everyone has the expertise to help motorists all over Britain.
To make sure you matching your motor with the right battery, they have a simplified things with a superb search tool that lets you search your reg, or vehicle make, model and year, to connect you with the product that will get you moving again.
You'll also be able to take advantage of some of the best prices around to give you the best deal around. The Euro Car Parts price match promise means you can count on a great deal because they won't get beaten on price.
They will even fit it for you if you're not confident of doing it yourself. All you have to do is select 'Fit It For Me' when you order online and select a date and time. Then all you need to do is drop your car off at the chosen location and an experience mechanic will take care of everything. It really is that simple.
Euro Car Parts are a trusted name in motoring because they only stock quality parts and provide the best service. Take a look at their vast range today and keep your engine running smoothly.
Small and Mighty
The little things are easy to forget but without them, everything grinds to a halt. This is particularly true when you're talking about your beloved car. Luckily, Euro Car Parts are stocked with all the essentials you need to keep everything running smoothly.
Their oil selection is second to none and you'll find the biggest brands in motoring to give your car exactly what it needs. With names like Castrol, Shell, and Mobil, you can count on picking up quality every time you shop. Just make sure you check your manual before you order to ensure you're getting right bottle.
You can also pick up all the bulbs you could ever need to keep your lights bright. It's always worth stocking up so you don't get hit with Vehicle Defect Rectification order or a £60 fine and 3 points if one breaks. Picking them up and keeping them tucked away in the garage.
There's even a massive selection of wiper blades to keep your view crystal clear when you head out for a drive in the sun and it hammers down after five minutes. The fantastic deals and simple delivery makes it easy to pick up all the little essentials and keep your car tip top.