Halfords Hints & Tips
For all your vehicular needs, you can't go wrong with Halfords, from bike to car, they do it all. With these top hints and tips, you can get yourself a huge saving at Halfords:
All orders are eligible for free click and collect if there's a branch near you, and Halfords free delivery is available on orders over £40, and on top of that, they offer free returns


Take advantage of Halfords free services, with a free car check, free tyre check and a free bike check, so you can get peace of mind before you hit the road.


Scroll through their homepage to get the latest Halfords deals, this is where they highlight the biggest and best offers so it's well worth a look.


Bikes, especially top quality ones, can come close to £1000. But with us there are savings to be made, so you can be cycling the open road for less. Don't worry about the price tag and grab a great deal thanks to our voucher codes.


Cars are pretty high maintenance and it's not uncommon to fork out hundreds of pounds a time on services, MOTs and accessories. Halfords offer a cheaper approach, with services from just £6. You'll be saving a bundle if you go to Halfords from now on!


Trade members can save a small fortune with the Halfords Trade Card, where you'll get trade prices both in-store and online.
FAQs
How Can IFind A Halfords Near Me?
From the
Halfords locations page
, you can put in your town or your postcode and it will return all your nearest Halfords retail stores, garages and pickup points.
What Are Halfords Open Hours?
This varies between stores, so you'll need to find the nearest Halfords and check their opening times from there.
Can I Get A Halfords Discount Code?
Yes, you can get a Halfords discount code. These can be found listed on MyVoucherCodes and offer discounts on specific products and categories. You'll also find the latest deals, offers and sale information.
Can I Get Free Delivery At Halfords?
Yes, on orders over £40 you'll get free next-day delivery, it's £3.99 under this threshold. You can also get free delivery on bikes. Bulky items will cost £39.99 to be delivered.
Do Halfords Offer Flexible Pay?
They do! Finance is available on bikes of over £399. You can apply either online or in-store, but you need to see if you are eligible. Once approved, Halfords will begin building your bike. You'll be riding off into the sunset in no time.
Using Your Halfords Discount Code
Click the reveal Halfords discount code on our website to unlock your code.



Make sure the discount code applies to the products you'd like to purchase.



Open up the Halfords website and browse the different items you want to purchase, adding each to your basket.



Once finished, view your basket to ensure you have everything you want.



Scroll down and click on the 'Do you have a promo code' tab to open up the box.



Paste your code and click 'Apply'. You will then receive your discount and proceed to the checkout screen.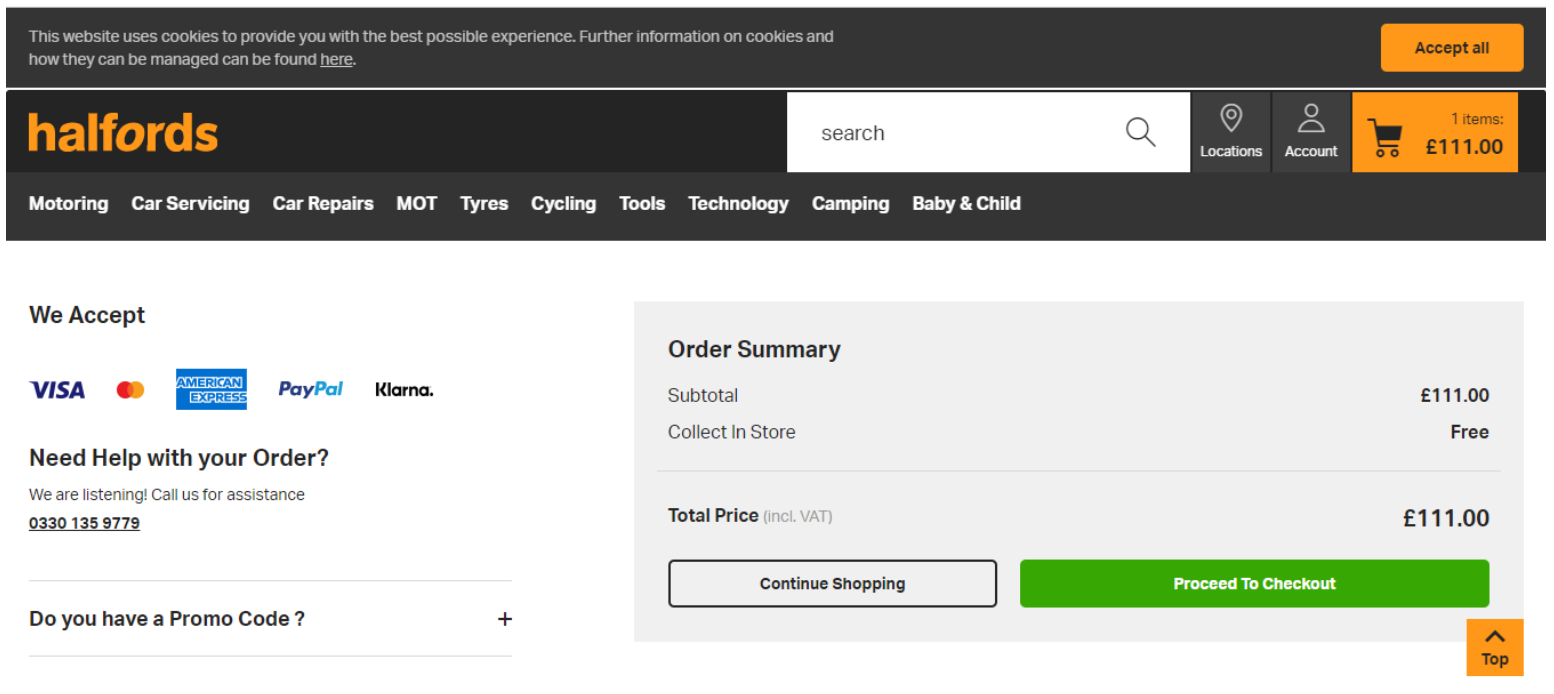 Car Parts & Accessories
You'll know about the Halfords Autocentre, where you can get a full MOT to keep your car on the road. But, did you know Halfords stock, in-store and online, a huge variety of car parts and accessories for when your car needs a little routine maintenance rather than the full works.

Car parts including brakes, suspension and steering elements are essential for keeping your car in good working order when faced with the challenging road conditions you'll experience in the wet and windy UK winter months. Give your car some tender loving care, you'll be glad you did in the long run.

There are also replacements for interior lighting, with an array of bulbs and batteries, and to keep your windscreen in tip-top condition there are wiper blades just in case yours have had too hard a time keeping the rain off.

For those adventurous types, one of their bike racks will get you all set for seeking out the ultimate bike rides or for taking your bike with you on holidays, you'll find racks suitable for three and more bikes.

Speaking of holidays, check out their selection of roof boxes with capacities up to 630L, choose from the premium brands Thule and Exodus and of course Halfords' own brand. You can even filter results to determine how long your box will take to assemble, its width to ensure its viability for your vehicle and there's a sliding price scale to assess options within your budget. So hit the road jack.
Kid's Bikes from Halfords, Your Ultimate Gift Guide
If you ever received a bike as a birthday or Christmas present as a kid, you'll probably remember the excitement of seeing those handles peeking out from behind the miles of wrapping paper (and if you've ever tried to wrap a bike, you'll probably remember the miles of wrapping paper and trying to cover up those handles).

Halfords kid's bikes cater for all ages and tastes, from balance bikes for two-year-olds, to first bikes for three to five-year-olds, bikes without stabilisers as they get bigger and more confident, to bikes with properly grown-up gears for the most adventurous.
Balance Bikes from Two Years Old
Balance bikes let kids practice for the real thing in a few years, building confidence and strength in their little legs. Among their best sellers are the Spiderman 10" Balance Bike with a durable steel frame and the Apollo Wooden Balance Flower Bike.
First Bikes for Three to Five-Year-Olds
As kids grow in cycling confidence they can transition from a balance bike to one with pedals, and with a little encouragement could be speeding off on their own in no time, with stabilisers for added stability. Choose from 12" or 14" for kids between 98 and 112cm in height and get them the Disney, floral, cosmos, honeybee or monkey themed bike of their dreams!
Five to Eight-Year-Olds Saying No to Stabilisers!
Kids between 112 and 127cm in height, or five to eight years old will more than likely want to move on to a bigger bike frame (16" to 18") without stabilisers. You might be nervous at this but Halfords range of kids cycling helmets should give you more peace of mind. Carrera and Apollo are among their top sellers and come decorated with whatever level of Disney character, superheroes, baskets or tassels you like!
Super Grown Up Gears for Seven Year Olds Plus
It's official, hit 117cm in height and you're considered BIG at Halfords. These bikes start with 20" frames and include BMX bikes, road bikes and mountain bikes. A lot of them include gears so your growing little (big) child can really get into some serious cycling. Apollo and Indi are among the bestsellers and the Pendleton Junior Hanberry Bike has purely grown upcycling heaven!
Kid's Cycling Accessories
Designed with safety first, the Halfords range of helmets also injects fun and colour into safe cycling. Full face motorbike-style helmets, fire chief or Disney, there's a helmet for every kid. Halfords also stock a wide range of bells, horns, baskets and water bottles to really get your kids excited about cycling. Whatever their favourite TV or film character there's a themed bike and all its matching accessories to make them smile as the wrapping paper gets ripped off! Many Halfords kid's bikes come endorsed by Netmums and Halfords is Netmums most trusted bike retailer. For top class advice and service, head over to Halfords with one of our price promotion codes and get a fantastic deal on your kid's bike.