EXCLUSIVE
View Terms & Conditions

View Terms & Conditions

Terms and conditions apply.
View Terms & Conditions

View Terms & Conditions

T&Cs apply.
View Terms & Conditions

View Terms & Conditions

The discount applies to the individual tyre price on the day of purchase and excludes additional charges for fitting costs (valve, balance and tyre disposal).
View Terms & Conditions

View Terms & Conditions

The discount applies to the individual tyre price on the day of purchase and excludes additional charges for fitting costs (valve, balance and tyre disposal).
View Terms & Conditions

View Terms & Conditions

All discounts apply to the individual tyre price on the day of purchase and exclude additional charges for fitting, balancing, valve and disposal.
View Terms & Conditions

View Terms & Conditions

See website for details.
Offers for Kwik Fit were last updated Friday 15 October 2021 13:30
Kwik Fit Codes That You've Missed
Most Popular Kwik Fit Code & Discount
| Offer Description | Expires | Discount Type |
| --- | --- | --- |
| 15% off Servicing for Students with Student Beans | | Deal |
| Exclusive 5% OFF Tyres plus Up To 15% Off with Special Offers | | Voucher Code |
| Sign Up to the Newsletter for Special Offers and Exclusives | | Deal |
| Get Combined Service and MOT from Just £99 | | Deal |
| Receive Great Benefits with Kwik Fit Club Membership | | Deal |
FAQ's
How much are MOT's at Kwik Fit?
MOT's start at £25 and can be up to £45 depending on your booking method. There are often deals available when you book two services together too. Before you book your car in, have a look around the site to see if any could apply to you and your car.
Where's My Nearest Kwik Fit?
To find your nearest branch, enter your postcode in the '
Centre Locator
' page. This will give you all the details including opening hours and contact information.
What if my vehicle isn't listed on the Kwik Fit website?
While the system is comprehensive, some models and years may not be included. In this case, choose the closest one to your car and advise them on arrival for your service.
Do Kwik Fit have offer codes?
Yes. Depending what you need it's worth checking MyVoucherCodes. There are discount codes for MOT's, services, tyres and more at different times.
How can I contact Kwik Fit/
You can call their customer service team at 0800 75 76 77. Alternatively, if your query isn't urgent, you can write to their head office at::Kwik Fit (GB) Limited
ETEL House
Avenue One
Letchworth Garden City
Herts
SG6 2HU
Hints & Tips
From MOT time to tyre top ups, get it sorted at Kwik Fit, and with these handy hints and tips you can grab a bargain on your booking.
The offers section should be your first stop on the site. It's where you'll find all the best offers and biggest discounts to save on keeping your car running. They change regularly and cover everything from free products and services to budget saving discounts on everything from tyres to taillights.
Being a student is hard enough without piling car trouble on top while you're away for the term. To make sure the student loans go on the important stuff, that's books not freshers, make sure you take advantage of the generous 15% discount on all products and services while you're studying. There is also a fabulous 10% discount waiting for all NHS staff as a little thank you for all you do for us.
Before you head off on your next big trip, make sure you take advantage of the free services on offer to drive with confidence. They cover free tyre, brake, and even air con checks that will highlight any issues you need to be aware of before you find yourself on the hard shoulder in the rain.
It sounds super obvious, but it's worth giving the homepage a quick scan before you head to the section you visited the site for. They like to shout about their best offers and you'll find impressive discounts and deals. You might catch a saving on exactly what you're looking for, and you'll never miss out on an incredible.
Fitted on Your Drive
No one needs the extra stress of car trouble intruding on busy lives. The extra cost, losing the car for a few days, and having to get your car to the garage are a hassle you just don't need, right? Kwik Fit agrees and they're doing everything they can to make it as easy as possible for customers to stay on top of their car maintenance.
That starts with off-site fittings for all new tyres. That means your new rubber will be taken to your driveway, or even your work car park, and fitted there by experienced mobile technicians and then for the simplest service possible.
With UK wide service, all you have to do is book by 11am the day before and you can have your new tyres rolling the very next day. And that's a 7 days a week service, so even if you need to get moving on Sunday, they've got you covered.
Their high tech vans come equipped with the latest tyre and balancing technology to make sure you're getting the best service and will drive away happy the first time. And you can even choose a time slot that suits your schedule.
Grab a Kwik Fit promo code when you need to switch out the tyres and save more on your next fitting.
How to Use Your Kwik Fit discount code?
When you have chosen your Kwik Fit voucher code, follow these instructions to put it to
good use.


Begin by revealing your Kwik Fit promo code by clicking on the offer on the MyVoucherCodes Kwik Fit page. A separate window will pop open and you will be able to copy the code displayed.


You will be automatically redirected to the Kwik Fit website via MyVoucherCodes. All you need to do is visit the previous window after copying your code.


Work through the website and add anything that you wish to purchase to your basket by clicking 'Add to Order'.


Proceed to the check out by clicking on the 'Basket' icon, which is found on the top right of the page.


Select your fitting. You will need to choose between Centre Fitting and Mobile Fitting. Enter your post code or select your nearest centre.


Fill in your details as requested and apply your Kwik Fit discount code by pasting it into the 'Offer Code' box provided. Click 'Apply Code' and your order total will change automatically.


Continue with the rest of your purchase as normal and enjoy your savings.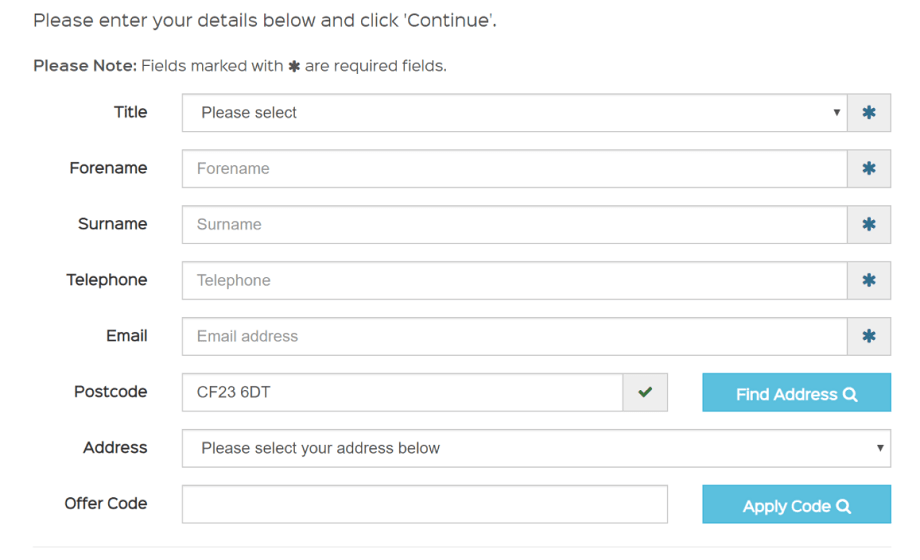 Tyres Will Roll
Tyres are a simple but essential part of any car and when you need to replace yours, going to the experts will save you time, money, and stress. And when it comes to tyres, no one is more knowledgeable than the mechanics at Kwik Fit.
The Kwik Fit Tyres selection is vast because the company is partnered with the Britain's biggest distributer of tyres. This means they can to stock a massive collection and supple treads for practically any make or model at the best prices.
It's not all about picking up cheap tyres though, it's the Kwik Fit services that bring their customers back every time their car has an issue. That all starts with the 'Tyre Hub'. This free resource is packed full of useful information and FAQs that will help you get the right tyres for you first time around.
You won't be left to it once you've ordered you tyres either. The fitting services will make sure your new rubber gets on your wheels with the minimum of fuss. You can choose between Kwik Fit mobile or express fitting. Express offers same day and next day appoints for fitting while mobile will bring the experts to your drive or work to make things even easier for you
This is the best place to go when you need a new set of tyres and when you grab a Kwik Fit discount code, they'll be even better value for money.
Get Set for Summer Road Trips
There's still a lot of uncertainty around foreign travel this summer and many of us are going to opt for staycations this year. If that means a long road trip, getting your car checked be for the journey is essential. No one wants to be stuck on the hard shoulder with the kids arguing in the back.
Kwik Fit offer a massive range of free checks that will give the essentials a once over and make sure everything is running smoothly before you hit the road. They can also catch problems early and let you et them sorted before poor Bettsy shudders to a stop. This could save you a fortune in the long run.
If you only get two things checked, make it the brakes and battery. They're kind of a big deal to your car and it's worth making sure everything's tip top before you hit the road. A bit extra piece of mind is never a bad thing, especially when you can get it for free.
The free checks aren't limited to the bare essentials though. You can have your wheel alignment and air conditioning checked without paying a penny. It's an easy way to ensure you don't get stuck in a sweltering traffic jam without your air con keeping you comfortable.
Check out all the fabulous free checks today and get booked in before you head off on your Summer holiday.