Offers for Poundshop were last updated Thursday 24 March 2022 14:33
Poundshop Codes That You've Missed
FAQs
What are my delivery options at Poundshop?
Standard delivery costs £4.95 and will take 10-15 days to arrive. You can also opt for the next working day optio that will get your orders to you faster for a £6.45 fee. Some delivery services have been affected by the Covid 19 crisis but they will return as soon as possible.
Can I get free delivery at Poundshop?
Unfortunately, there is no free delivery option available as standard. All deliveries are currently charged, but you will find any delivery offer that becomes available on their page.
What is the Poundshop returns policy?
If you wish to return an unwanted item you need to email service@poundshop.com within 14 days of your delivery date and let them know. Any items need to be unopened and in original condition to be eligible for a refund and this will be processed to your original payment method.
How do I contact Poundshop?
If you need to get in touch with the customer service team you can call 0121 647 2569 and speak to a member of the team directly. Alternatively, you can send an email to service@poundshop.com if your question is less urgent.
How can I get a Poundshop discount code?
Voucher codes do come around occasionally, but they are rare. As soon as they become available you'll find them on their MyVoucherCodes page first. But our team regularly updates their page with the biggest discounts and best deals to ensure there's always a way to save on your shop.
Hints & Tips
Use our hints and tips to get more out of every visit to Poundshop and unlock extra savings on everyday essentials:
The seasonal sections are a fantastic place to secure savings on upcoming events. Want to get the garden summer ready? Need a Halloween costume for the kids? Starting to shop for Christmas stocking fillers? You'll find dedicated sections packed full of seasonal value that get you prepared for less.
Signing up for the rewards scheme is the easiest way to get more of the brands you love for less. You'll start earning points on your first shop and you can use them to save on future orders. There's a variety of ways to earn points and it won't be long until you save £10 on a shop. Sign up is simple and it's the best way to make your shopping work for you.
Make sure you sign up to the newsletter to stay up to date with all the latest news. You'll get a first look at new products and exclusive discounts in your inbox to make sure you save on every order. All it takes is an email to get started and you'll never miss a thing.
How To Use a Poundshop Discount Code
Follow these instructions to apply your Poundshop voucher code and save more on the bands you love:
Start by looking through our website for a relevant discount code that applies to the product(s) you want to purchase.
Using a different tab, open up the Poundshop website.
Browse for the items you wish to buy, or alternatively search for them directly using the search bar.
When finished, proceed to checkout and review your order. Make sure all your products are covered by your code.
Copy and paste your Poundshop promo code into the "Enter Discount Code" box and click "Apply" to complete the process.
Trick or Treats
Summer has ended and that means it is officially spooky season. You can now throw cobwebs over your living room, stick some skulls on the front door, and get stuck into the sweet treats, to test them for the big day. If that sounds like a plan to you, you need to check out the Poundshop Halloween collection.
It's packed with enough goulish essentials to get Gomes and Morticia excited, and you can stock up on everything you need for spooktacular season.
Whether you want to turn the scares up to 11 or add some lighthearted whimsy to the day, there are costumes for you inside. Kids, and bigger kids can have all the dress up fun they want with a spine tingling selection of costumes for the whole family.
No Halloween would be complete without a big bowl filled with tasty treats that vaguely resemble a spooky skull, spider, or something equally creepy, the crawly is optional. And of course you need a couple of 'just in case' bags hiding in the cupboard. The sweet selection will keep you delving into the chocolate until new years with a vast collection of favourites.
The Halloween section is crammed with everything you need for a stellar celebration, and a Poundshop promo code will help you save on the lot.
Best Value Cleaning
Anyone familiar with Pound Shop knows that it's the place to go when you need to stock up the cupboard under the sink. Their deals on household essentials slash the cost of a spring clean and still manage to give you everything you need to get the house sparkling. Except motivation, you need to pull that out from somewhere.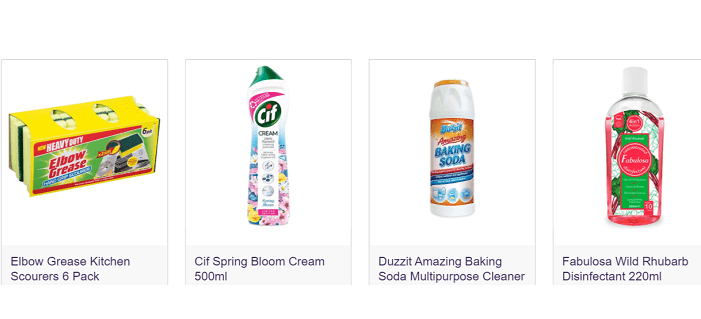 Kitchen Cleaning Products
The kitchen section has all your standard sprays and creams from trusted brands like Dettol, Flash, and Cif that keep the hub of your home safe from germs. But you can also pick up specialist cleaning products like kettle de-scaler and oven cleaner at a cut price and save on the tough jobs.
Bathroom Cleaning
Bathroom cleaning requires a different set of products and you'll find them all at Pond Shop. Alongside all the specialist sprays you'll find the essential wipes, sponges, and cloths that make scrubbing that bit easier.
Floor Cleaning
If you've got little ones running around, keeping the floor clean is a must, and a challenge. That's why you'll find all you floor care essentials with the typically low prices attached. Whether you've got carpet or laminate flooring, there's everything you need to keep them fresh and clean when you need it most.
Getting the Garden Sorted
If you're planning on spending time in the garden this summer, it's time to put the work in if you want to get the best from your space. That doesn't have to mean spending a fortune though. Poundshop prove you can get you back garden in order without making your bank angry.

Gardening Tools and Gloves
If you've got light work to get done, the fabulous range of basic tools available is perfect. These are the gardening essentials that hang in every shed and available at unbeatable prices. They won't handle a full landscaping job, but they're made for potting, bedding, and general maintenance.
Seeds and Bulbs
When your ready to get planting and grow yourself a colourful paradise for summer, the selection of seeds and bulbs available at Poundshop will transform your garden. They've got everything from lawn seeds to vegetables that will keep green fingers busy for weeks.
Hanging Baskets and Garden Pots
Hanging baskets and pots are a fantastic way of spreading the colour around when the soil isn't where it needs to be. A fantastic range of pots a baskets come in a variety of sizes and colours to bring the soil and the style to any patio.