FAQs
Can I get a La Redoute discount code?
Yes, you can get a La Redoute promo code. They regularly offer them, and they can be found at MyVoucherCodes alongside deals, offers and information on the La Redoute sale.
What is the La Redoute returns policy?
They offer 21 days to return the item providing they're in they're in their original packaging and unused. Returns are free with their policy.
What delivery options do you have at La Redoute?
You can get home delivery for £3.99 with it being £8.99 for bulky items. You can also get free Click & Collect with ParcelShop when you spend £50 or more. It's £1.99 if orders aren't over £50.
Is there a La Redoute size guide?
Yes, to ensure you're getting the right size you can check out their size guide. It tells you where to measure and gives a detailed breakdown of what the right size for you would be based on those measurements.
La Redoute Hints & Tips
From fashion and home, to essential electricals, you can't go wrong with La Redoute, and with these hints and tips, you can make the most of your money:
Check out the La Redoute sale for some stunning savings on essential style, homeware and more.
Head over to the La Redoute clearance for some incredible discounts across all categories, but hurry, when it's gone, it's gone.
For those who live near a branch, save on the delivery costs with free La Redoute click and collect.
Get signed up to the newsletter to get all the La Redoute deals straight to your inbox, and all you need to do is pop in your email address to start saving.
How to use your La Redoute promo code?
Start the process by searching for a discount code that fits the order you want to make.
Unlock your code and double-check that it applies to your particular product.
Open the La Redoute website in a different tab and browse the items available on the site.
Add any items you want to buy to your "Cart". Once finished, proceed to checkout and review your order.
After making sure you have everything, copy and paste your La Redoute discount code into the "ADD A PROMOTIONAL CODE" box and click "Ok" to enjoy your discount!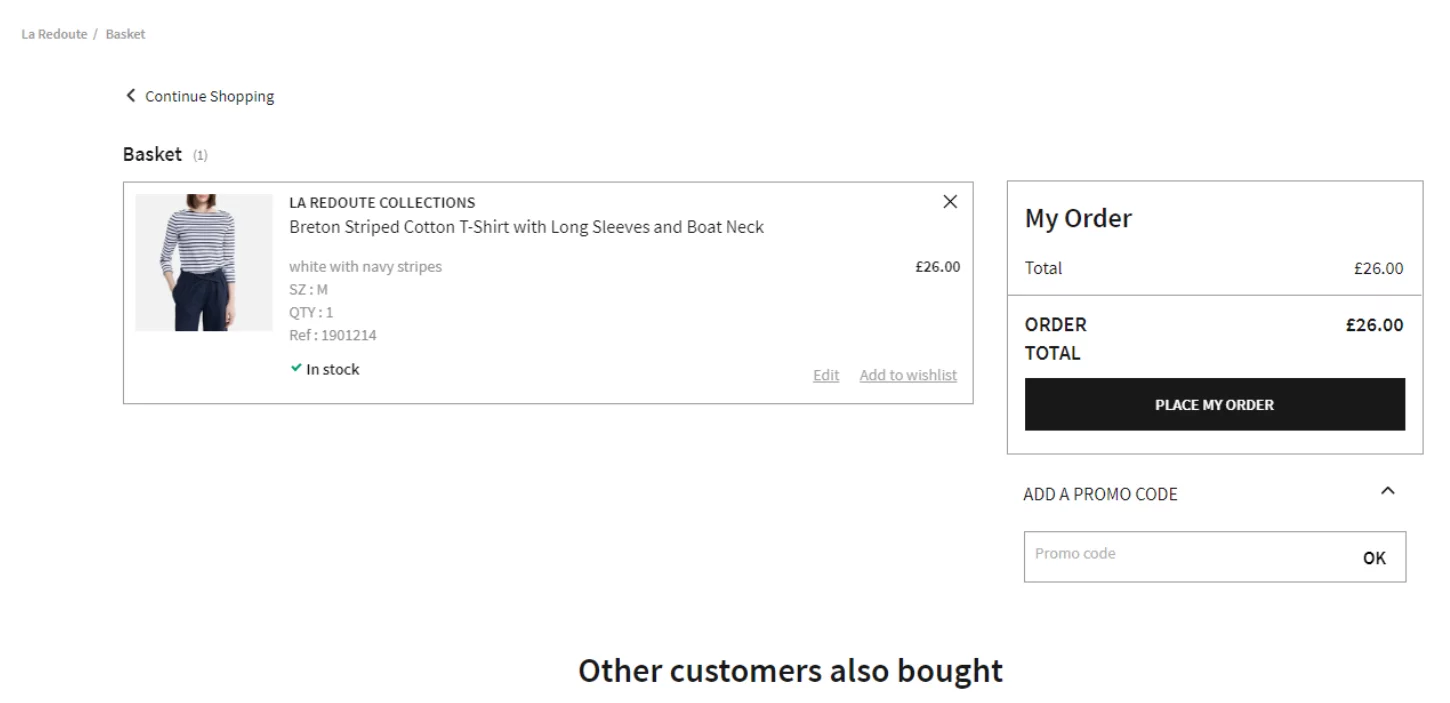 What Seasonal Offers Do La Redoute Have?
Layer Up for Less
Winter is one of the most important times to refresh your wardrobe. When temperatures plummet, it's time to layer up and get comfy to see out the wind and rain in style.The
Winter Sale
at La Redoute makes this easy. You can grab huge savings on all the seasons essential fashion. Think cosy coats and waterproof boots and you'll get the picture. The sale is a great way to get your wardrobe ready for winter and keep your style fresh.
New Year Home Style
If you want to
update your home style
in the new year, head to the January sale. Whether you're looking to pick up a new sofa or a pair of curtains, you can grab an amazing saving.
It's a great time to add some designer style to your home without paying those designer prices. You can pick up stylish furniture for loads less. There's also massive range of gorgeous home and kitchenware included in the offers to help you save all over the house.
This sale lets you switch up your homestyle for the new year without spending a fortune. There's no better time to get add something gorgeous to your house.
Kids Style Savings Spring Up
The Spring Sale is a superb time to save on all the
kid's clothes
. Which is great since they insist on growing every week. So, when you can save on stylish clothes for the little ones, you need to get involved.
There's offers on everything for tiny newborns all the way to teens to help you cut the cost of the kiddie wardrobe. All with the same stylish quality you expect from this fabulous store.
If you've got no kids and can spend your money on things you actually want, there are also incredible deals on selected electricals. You can pick up an amazing saving on a new TV or smartening up your home with a fancy new gadget, all with massive savings.
Let the Holiday Shop Begin
Holiday shops
are the best shops. That's why the Summer Sale is a fantastic time to get on La Redoute. You can fill your suitcase with style and still save your money for sangria.
Whether you're going away or staying home, this sale has the savings on essential summer wear. They've got all the light layers you need to own the sunny season.
Whatever you're wearing this year, we want you to save on your style. Checkout MyVoucherCodes for the latest La Redoute offers.