More information about Cosmos Holidays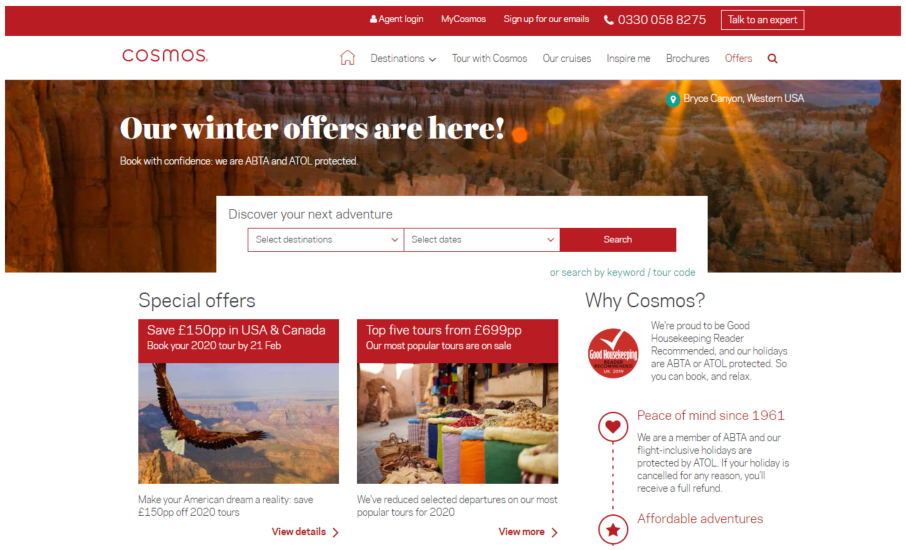 Cosmos Holidays offers a huge range of both mainstream and specialist holidays in 65 worldwide destinations including beach, city breaks and multi-centre.Cosmos Holidays have been in business for over 50 years and are one of the oldest and well established tour operating brands in the UK, and provide 780,000 holidays to UK customers in 65 destinations every year.
Cosmos Holidays – Voucher Codes


Up to 50% Off Universal Orlando Theme Park Tickets

Sign Up To Newsletter For Promotional Discounts and Special Offers

Free Concierge Service with Holidays

Great Savings with Hotel of the Month


How to Redeem a Voucher Code
Sign Up To Newsletter For Promotional Discounts and Special Offers from the Cosmos Holidays. There are several voucher codes available, such as Great Savings with Hotel of the Month. In order a redeem any available (note: some codes have an expiry date, you should check to make sure it is still usable, or it will return with an error) voucher code go to the online store, select the item along with its size and then you get an option at the end of the page to enter your voucher code, giving you the option to avail any discount available on that offer.
Frequently Asked Questions


Why is my voucher code not working?
All vouchers are published with an expiry date, if you cross that date then you will not be able to use that specific code, you will need to get a new code if that offer is still available.
Where to enter my voucher code?
Go to the site where you want to make the purchase, go to its store and you will get a relevant field where you can enter the voucher information.
Why don't I see any box to enter my voucher information?
Voucher codes are not usable on all store items. You will get that option only the items for which those codes Cosmos Holidays generated.

Contact information
Address
Cosmos HolidaysCustomer ServicesWren Court, 17 London RoadBromley Kent, BR1 1DE
Email
cosmosairadmin@cosmos.co.uk