View Terms & Conditions

View Terms & Conditions

T&Cs apply.
View Terms & Conditions

View Terms & Conditions

T&Cs apply.
Offers for Dreamplace Hotels were last updated Wednesday 16 June 2021 21:46
Dreamplace Hotels Codes That You've Missed
Using our Dreamplace Hotels discount to get the best deals
With these simple steps, you'll be saving money with a Dreamplace Hotels promo code in no time.


Click to show the voucher code on the MyVoucherCodes Dreamplace Hotels webpage. A separate window will pop up revealing the code, which you can then copy and use for great discounts later.


MyVoucherCodes will take you to the Dreamplace Hotels website automatically. You just need to visit the previous window.


Take a look at the Dreamplace Hotels website, browse their stunning range of hotels, and book your favourite destination.


Once you've decided on your destination, you should be directed to a new webpage where you can browse the luxurious room options.
Make sure your discount code is valid for your ideal room, then click 'book now' to take you to your luxury booking.


At the online checkout find the box asking if you have a promotional code and apply your Dreamplace Hotels discount code by entering it here.


After you press enter, your order total will change. You can then continue with the checkout process and look forward to your luxury stay at Dreamplace Hotels.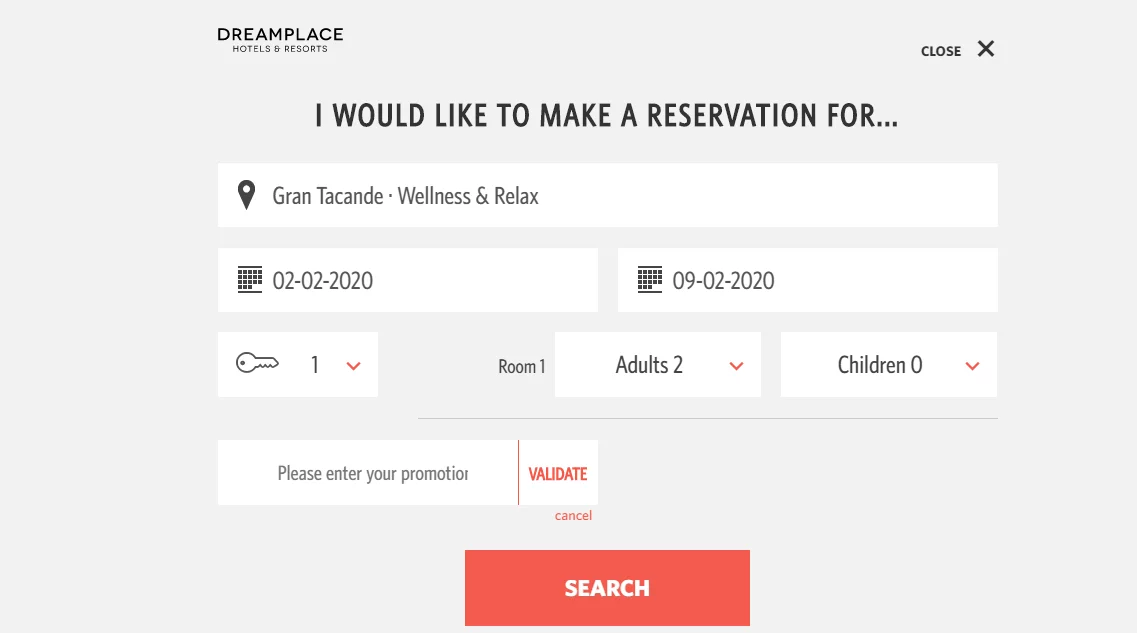 How can I save even more money at Dreamplace Hotels?
Try these tips and hints from our experts to save even more cash at Dreamplace Hotels.


Dreamplace Hotels have a variety of ongoing discounts online. Sign up with your email and Dreamplace Hotels will send you exclusive promotional offers before anyone else. You can also be on top of all of the great seasonal deals that Dreamplace Hotels offers.


You can sort the price of the rooms from lowest to highest. Then you can see the best and cheapest hotel offers first.
What seasonal offers do Dreamplace Hotels have?
No matter what the season, Dreamplace Hotels will help you find the sunshine. Make sure you check the January sales, as they are always one to watch for some great deals at your favourite holiday destinations. Whether it's your next big family holiday, or a small weekend escape, sign up to the promotional newsletter so Dreamplace Hotels can send you the latest discounts and exclusive offers.If you're desperately seeking that winter sun, then Dreamplace Hotels have got you covered. They have a range of deals to make sure that you've got a little extra sunshine in your life, whatever time of year.