Using our Titan Travel voucher codes to get the best deals
With these simple steps, you'll be saving money with our Titan Travel promo code in no time.


Click to show the voucher code on the MyVoucherCodes Titan Travel webpage. A separate window will pop up revealing the code, which you can then copy and use for great discounts later.


MyVoucherCodes will take you to the Titan Travel website automatically. You just need to visit the previous window.


Choose your preferred date and destination and browse the fantastic holiday packages.


Once you've chosen your ideal holiday, and perfect room, you can view your itinerary one more time.


Enter your passenger details for the desired holiday of choice.


This will take you to the confirmation page. Once here, add your Titan travel promo code to get the best discount on top quality holiday packages.


Make sure your discount code is valid for your ideal package, then go on to the next web page to pay the deposit.


You can then continue with the checkout process and look forward to your luxury holiday package with Titan Travel.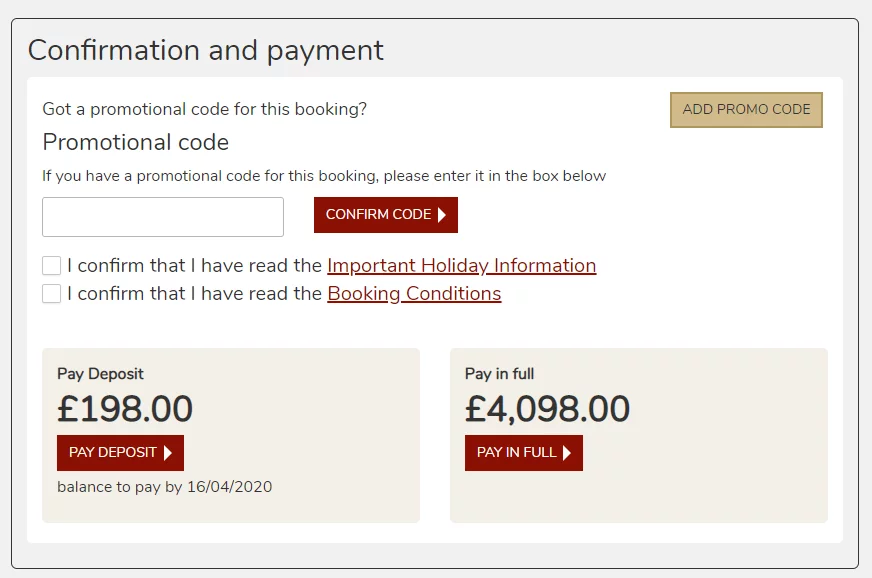 How can I get the best savings at Titan Travel?
Try these tips and hints from our experts to save even more cash at Titan Travel.


Buying on a budget? Sort the price of the holiday package from lowest to highest. Then you can see the best and cheapest offers first.


You can book your flights and hotel with Titan Travel. That way you can save time and money, giving you more time to plan that perfect getaway.


Find all the latest offers at Titan Travel. Just click on the offers option on the front page, and you'll be shown the most exclusive deals for your favourite holiday packages. They often sell out quickly, so make sure you check them out as soon as possible.


Sign up to the email subscription list and get sent the latest special offers.


What seasonal offers do Titan Travel have?
January sales are a busy time of year at Titan Travel. You should make sure that you check online and see what kind of offers they have. Never miss the latest deals by signing up to the email subscription list.It doesn't matter what season you're looking to travel in, the
Early Bird Price Promise
guarantees the best possible price the earlier you decide to book it. If you want to travel in the peak seasons, it's almost always better to book in advance. Use our Titan Travel voucher codes to make the most of the early bird price guarantee.
What Titan Travel Cruises are available?
There's something romantic about sailing from port to port, sampling the food and culture as you go. That's why cruises are a fabulous way to travel. You get to mix luxurious comfort with adventure. With the massive range of Titan Travel cruises on offer, choosing one can be daunting. To help you out, we've handpicked the top destinations for your sailing expedition.
Ocean Cruising
Europe has so much to offer so you want to pack as much into your holiday as possible. That's what makes the Titan Travel
ocean cruises
an ideal way over quenching your wanderlust. The southern Europe and Mediterranean cruises offer everything you could want from a holiday. You'll lounge on the sun-soaked deck, visit quaint coastal towns dripping with history, and plenty of exploring. There are loads of destinations to choose from and all will deliver an incredible getaway. You can get a true taste of Italy by sailing the coast. Along the way you will stop off for exciting excursions to world famous historical sites. Once you've finished exploring Pompei or taking in a show at the Goldoni Theatre, you can dine on authentic dishes and sip delectable wines that come from one of the many vineyards.The Croatian city of Dubrovnik is another top choice. You will sail along the Adriatic coast and visit the gorgeous Dalmatian islands. Along the way you'll stop at wild pine forests and chic beach bars before you reach your final destination. Dubrovnik is a city place that is packed with history. Ancient walls circle the city and make for an incredible photo opportunity. That's not just our opinion, the makers of Game of Thrones fell in love with the place too. Scandinavia is another massively popular cruise choice. It's a place that has vibrant cities with a relaxed vibe, and vast wilderness waiting to be explored.Norway, with its coast line carved with fjords, is always a popular cruise destination. The historical home of the Vikings offers some of the most incredible views in the world. The steep cliffs and verdant landscape make for a spectacular backdrop. The natural beauty might be what Scandinavia is most famous for, but there's so much more to see. Scandinavian cities are buzzing with energy and the laid back atmosphere will rub off on any traveller. Oslo is a city brimming with culture thanks to its avant-garde architecture and fine dining scene. Iceland's capital, Reykjavik, is famed for incredible nights out and vibrant Copenhagen mixes the bohemian with high art.There's something for everyone in Scandinavia, which is why it's consistently one of the most popular destinations for cruisers.
River Cruises
River cruises
are a superb way of cramming more sites into your break. You will sail along at a sedate pace and experience all a city has to offer. The Rhine is an ever-popular choice for sailors thanks to the fairy tale sites along its banks. You will sail along the Germany stretch of the river and hop off for plenty of excursions to see the sights. It'll give you a unique view of baroque palaces and sombre battlefields as you travel. The Nile is one of the most famous rivers in the world. When you step onto dry land, you'll explore Luxor's renowned open air museum. It's the perfect place to unleash your inner Indiana Jones as you explore ancient temples. Luxor is also home to the Pyramids and the Sphynx, so you won't be short of incredible sights.For those that really want to step outside of the ordinary, the Yangtze river cruise will drop you into a new world. This river has been a merchant and traveller hub for centuries, and you'll feel every drop of that along the way. You'll sail in luxury as you take in the breath-taking panoramas from an opulent observation deck.It's a superb way to experience Chinese culture and visit sites like the Great Wall as you go. When you stop off along the way you will immerse yourself in traditional Chinese life and get a true flavour of the country.With tons of options to choose from, all that matters is getting there. At MyVoucherCodes, you can make that dream come true with one of our fabulous deals.
FAQs
If my holiday is cancelled, will I get my money back?
If you book a package with Titan Travel, you will be protected under the Package Travel Regulations. You'll have the right to a full refund if your holiday can't be provided any longer.
What if the cost of the holiday I've booked is reduced after I've booked?
You'll be guaranteed the best price with the Titan Travel price promise. You won't have to pay more if the price increases and you'll be refunded the difference should the cost decrease.
What is there to do on board with Titan Travel UK?
There's sightseeing and shore excursions. There's an expansive sun deck with loungers, peaceful reading rooms, lounges and saunas. There are also activities on board that depend on which cruise ship you're on.