Offers for Topdeck Travel were last updated Thursday 23 September 2021 06:39
Topdeck Travel Codes That You've Missed
Most Popular Topdeck Travel Code & Discount
| Offer Description | Expires | Discount Type |
| --- | --- | --- |
| Sign up to the Newsletter for Special Offers | | Deal |
| Japan Highlights - 12 Days from £3,278 | | Deal |
| Jordan & Israel - 10 Days from £1,783 | | Deal |
| Egypt Express - 9 Days from £953 | | Deal |
| Australia Southern Explorer - 7 Days from £909 | | Deal |
Using our Topdeck voucher to get the best deals
With these simple steps, you'll be saving money with our Topdeck voucher in no time.


The quick and easy process starts with clicking to show the voucher code on the MyVoucherCodes Topdeck webpage. A separate window will pop up revealing the Topdeck discount code, which you can then copy and save for great discounts later.


MyVoucherCodes will take you to the Topdeck website automatically. You just need to visit the previous window.


Choose your preferred date and destination and go ahead with the next stage of booking.


Go through the simple sign up process, and register with Topdeck.


Next, enter your passenger details and select the accommodation that's best for you.


Once you've selected your ideal accommodation, you can continue to the payment process. On this page you can apply your Topdeck promo code.


If your Topdeck promo code is valid you can enjoy your savings and prepare for the trip of a lifetime.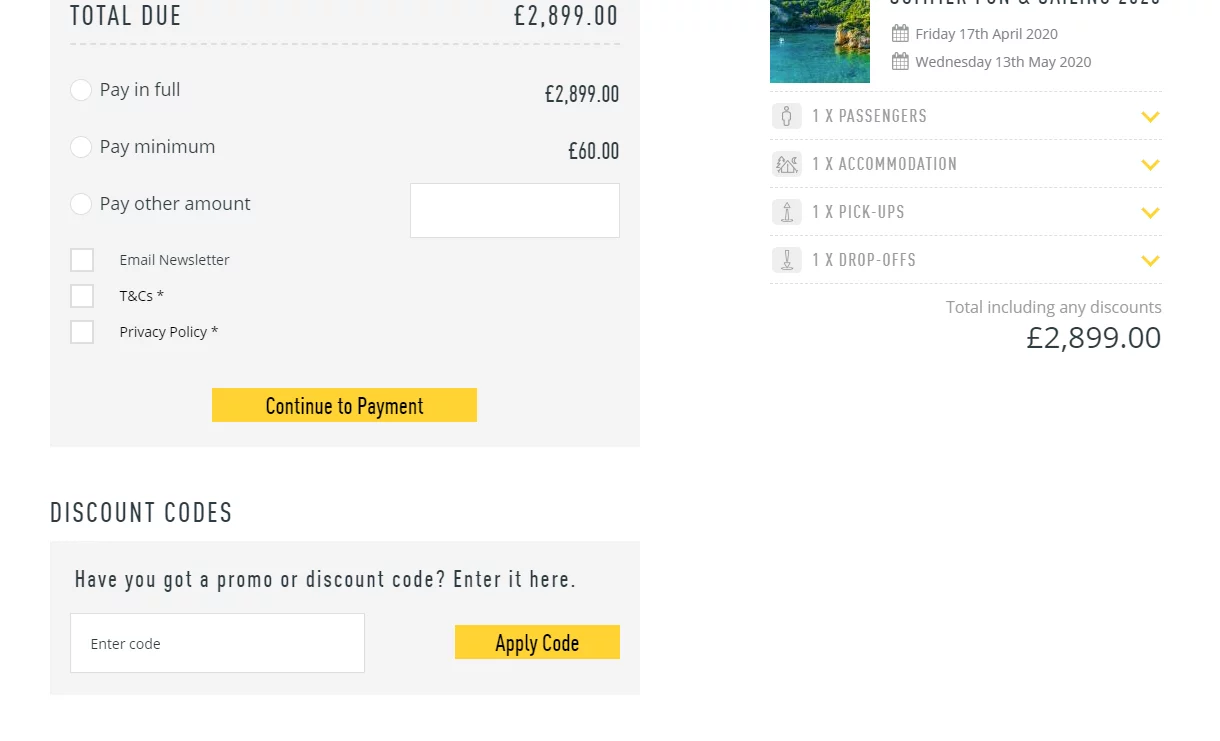 How can I get the best savings at Topdeck?
Try these tips and hints from our experts to save even more cash at Topdeck.


If you love Topdeck, then you'll love their latest offer. You can receive 5% off your next trip if you've booked with them before, so you can enjoy more great holidays for less.


You can also get a sweet early bird discount with Topdeck. If you pay everything off more than six months in advance, you get a 5% discount on your next amazing trip.


Topdeck also gives you up to 10% off your next trip if you invite your friends.


When you search for your next holiday destination, you can sort the prices from lowest to highest. That way, you can see the cheapest deals first.


Use social media platforms like Facebook, Twitter and Instagram to connect with Topdeck. Here you can keep up to date with the best offers and browse your potentially new holiday destination.


Make sure you check their latest deals section online.
What seasonal offers do Topdeck have?
No matter what the season, Topdeck offers some excellent savings on last minute trips. If you want to bask in the Ibiza sun in the next few months, then get to Topdeck for great discounts. They offer up to 30% discount on trips that are booked in the next four months.Keep an eye out for those winter deals at Topdeck. It doesn't matter if you've been naughty or nice this year, using a Topdeck promo code can save you even more on exclusive winter getaways.
What's New at Topdeck Travel?
Topdeck Travel are the touring holidays and Gap breaks experts. All of the holidays they offer are packed with experiences that will leave you with incredible memories. But where will the latest tours take you? Here you'll discover the latest packages available and all the exciting stuff you can expect.
Adventures in India
India
is right in the middle of the historic hippy trail from the 60s. And with good reason too. It's a place of spirituality, aromatic spices, and ancient temples.Over the course of up to twenty days you'll get a sensory overload as you explore this exotic land. We're talking about everything, from tranquil house boats to lively city chaos of Delhi. You will grow as you spend time with the elephants or stand in awe of exquisite palaces at sunset. India has something for everyone and it's easy to see why travellers of the world can't get enough. These fabulous tours will bring a new flavour to life and you'll never be the same again.
Make it to Mexico
Mexico
is a traveller's paradise because it has a bit of everything. You can spend one day lounging on a gorgeous beach and swimming amongst coral reefs. Next you'll be walking jungle paths searching for Mayan pyramids.On the new tour you will get the chance to experience some of the most famous sites in the world. Chichen Itza sits on the 7 Wonders of the World list for a reason, it's incredible. You'll also visit Coba and Tulum to see the incredible temples. Give these a google to get an idea of how spectacular your Facebook photos will look.Between all the spectacular sites, you'll have plenty of time to hit the beach and sip cocktails beside glittering Caribbean waters. For a dip with a twist, a trip to one of the many Cenotes is an absolute must. These places are incredible and will be one of the highlights of your trip.You've got eleven packed days to sample delicious food, sights, and smells of this incredible country before you wind things up in Cancun for one hell of a leaving party.
Sri Lankan Summer
Sri Lanka
is fast becoming the flavour packed choice for backpackers all over the world. There are loads of tours and trips to make sure your 11 days are crammed with experiences. They range from visiting exotic temples to local cooking classes, and all offer something incredible.You might think Sri Lanka is all about the beaches. And to be fair they are pretty incredible, but the Teardrop of India is much more.
The wildlife is incredible, and you'll get to see elephants how they were meant to be seen, roaming free in the Udawalawe National Park. As well as the gentle giants, you might catch a glimpse of leopards, crocs, and sloths. It's a nature-lovers dream and worth the trip on its own.There are tons of sights to see and temples to explore so you will get the dose of culture that these trips are all about.
Experience Ecuador
South America has long been a vibrant hub for the world's travellers. The intoxicating Latin rhythm and flavour has always been attractive. That's why Topdeck Travel are super excited to bring an
incredible Ecuadorian tour
to their line-up.In the Light of America, you'll immersive yourself in colourful culture as you visit local communities. It gives you the chance to get to grips with the true nature of the place and broaden your horizons.Over the course of 14 glorious days, you'll take soul-soothing hikes and dip in to natural hot springs. Nature is a key part of this trip. With trips to the Galapagos Islands and Cotopaxi National Park, you'll get up close to some incredible creatures. Life changing is an easy term to throw around. But when you come back from this trip rejuvenated, you'll never be the same.We want to help you take that horizon expanding trip. We collect all the best Topdeck Travel deals on MyVoucherCodes to keep some money in your pocket for souvenirs, or wine.
FAQs
Can I get a Topdeck discount code?
They don't typically offer voucher codes, however, all the deals and offers they have running will be listed on MyVoucherCodes.
Can I get discounts for big groups?
With the friends and family discount you can get 10% off when you invite people on the tours that Topdeck offer. You'll get 7.5% off when you have a group of 7-9 people and 10% off with a group of 10 or more.
Can I get discounts for being a frequent traveller?
With proof that you've travelled with Topdeck before, you can get 5% off your next tour.
How much luggage can I bring on my trip?
You'll be allowed one standard sized item of luggage and a 'day pack'. The weight of your luggage can't exceed 20kg.
More information can be found in the FAQs section of the Topdeck website
.